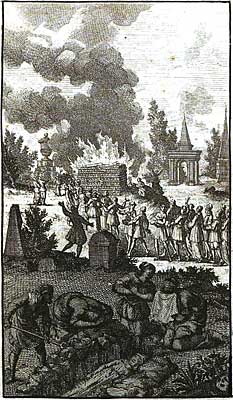 Excerpt from Utopia, Book 2.

[DEATH, FUNERALS, AFTERLIFE]
They are nearly all of them firmly persuaded that good men will be infinitely happy in another state. Therefore, though they be compassionate to the sick, they lament no man's death, unless they see him loath to part with life. This they esteem a very bad presage; as if the soul, conscious of guilt, and hopeless, feared to leave the body from some prepossession of approaching misery. They think a man's appearance before God cannot be acceptable to him, who, being called, goeth not cheerfully, but is backward, unwilling, and as it were dragged to it. They are struck with horror when they see any die in this manner; and carrying them out in silence and sorrow, praying God to be merciful to the errors of the departed soul, they inter them.

But when they die cheerfully and full of hope, they mourn not, but sing hymns when they carry out their bodies, commending their souls very earnestly to God. Their whole behaviour then, is rather grave than sad. They burn the body, and erect a pillar where the pile was made, with an inscription to the honour of the deceased. When they return from the funeral, they discourse of his good life and worthy actions, but speak of nothing oftner, or with more pleasure, than of his serenity at the hour of death. They think such respect, paid to the memory of good men, to be, as well the greatest incitement to others to follow their example, as the most acceptable worship which can be offered themselves. For they believe, that though, by the imperfection of human eyes, they be invisible to us, yet they are present among us and hear our discourses concerning themselves.

They deem it inconsistent with the happiness of departed souls, not to be at liberty to range where they please, and imagine them incapable of the ingratitude of not desiring to see those friends with whom they lived on earth in the strictest bonds of love and kindness. Beside, they are persuaded, that good men, after death, have these affections and all other good dispositions, increased rather than diminished; and therefore conclude, they are still present to the living, and observe all they say and do. Hence, they engage in every pursuit with greater confidence, trusting to their protection; while the same opinion of the presence of their ancestors is a restraint, which prevents their engaging in ill designs.



---

Cayley, Arthur, the Younger, ed. Memoirs of Sir Thomas More, &c.. Vol II.
London: Cadell and Davis, 1808. 129-130.


---
| | |
| --- | --- |
| | to the Works of Sir Thomas More |
Site copyright ©1996-2009 Anniina Jokinen. All Rights Reserved.
Created by Anniina Jokinen on June 3, 2009.






The Tudors

King Henry VII
Elizabeth of York

King Henry VIII
Queen Catherine of Aragon
Queen Anne Boleyn
Queen Jane Seymour
Queen Anne of Cleves
Queen Catherine Howard
Queen Katherine Parr

King Edward VI
Queen Mary I
Queen Elizabeth I
Henry Fitzroy, Duke of Richmond

Renaissance English Writers
Bishop John Fisher
William Tyndale
Sir Thomas More
John Heywood
Thomas Sackville
Nicholas Udall
John Skelton
Sir Thomas Wyatt
Henry Howard
Hugh Latimer
Thomas Cranmer
Roger Ascham
Sir Thomas Hoby
John Foxe
George Gascoigne
John Lyly
Thomas Nashe
Sir Philip Sidney
Edmund Spenser
Richard Hooker
Robert Southwell
Robert Greene
George Peele
Thomas Kyd
Edward de Vere
Christopher Marlowe
Anthony Munday
Sir Walter Ralegh
Thomas Hariot
Thomas Campion
Mary Sidney Herbert
Sir John Davies
Samuel Daniel
Michael Drayton
Fulke Greville
Emilia Lanyer
William Shakespeare


Persons of Interest
Cardinal Thomas Wolsey
Archbishop Thomas Cranmer
Thomas Cromwell
John Fisher, Bishop of Rochester
Cardinal Lorenzo Campeggio
Cardinal Reginald Pole
Stephen Gardiner, Bishop of Winchester
William Tyndale
Pico della Mirandola
Desiderius Erasmus
Christopher Saint-German
Thomas Linacre
William Grocyn
Hugh Latimer
Elizabeth Barton, the Nun of Kent
For more, visit Encyclopedia


Historical Events
Field of the Cloth of Gold, 1520
Pilgrimage of Grace, 1536
The Babington Plot, 1586
The Spanish Armada, 1588


Government
Oath of Supremacy
The Act of Supremacy, 1534
The First Act of Succession, 1534
The Third Act of Succession, 1544
The Ten Articles, 1536
The Six Articles, 1539
The Second Statute of Repeal, 1555


Images of London:
London in the time of Henry VII. MS. Roy. 16 F. ii.
London, 1510, earliest view in print
Map of England from Saxton's Descriptio Angliae, 1579
Location Map of Elizabethan London
Plan of the Bankside, Southwark, in Shakespeare's time
Detail of Norden's Map of the Bankside, 1593
Bull and Bear Baiting Rings from the Agas Map (1569-1590, pub. 1631)
Sketch of the Swan Theatre, c. 1596
Westminster in the Seventeenth Century, by Hollar
Visscher's Panoramic View of London, 1616. COLOR



For more, visit Encyclopedia