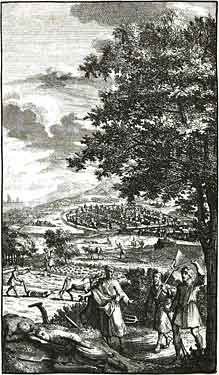 Excerpt from Utopia, Book 2.

[UTOPIAN AGRICULTURE]
They have built farm-houses over the whole country, which are well contrived and furnished with every necessary. Inhabitants for them are sent in rotation from the cities. No family in the country hath fewer than forty men and women in it, beside two slaves. A master and mistress preside over every family, and over thirty families a magistrate. Every year twenty of the family return to town after having been two years in the country, and in their place other twenty are sent to learn country business of those who have been there only one year, and must, in their turn, teach the next comers. Thus, those who live on the farms are never ignorant of agriculture, and commit no fatal errors, such as causing a scarcity of corn.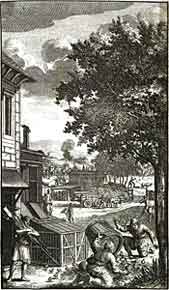 But, notwithstanding these yearly changes, to prevent any from being compelled against inclination to follow that hard course of life too long, many of them take such pleasure in it, that they ask leave to continue therein many years. These husbandmen till the ground, breed cattle, hew wood, and send it to the towns by land or water, as is most convenient. They breed an infinity of chickens in a very curious manner. They are not hatched by hens, but a vast number of eggs are hatched together by means of an equable artificial warmth; and no sooner do the young quit the shell, than they consider their feeder as their dam, and follow man as other chickens do the hen.

They breed few horses, but those they have are high-mettled, and employed in exercising their youth in horsemanship. In the cart and plough they use oxen. For, though their horses be stronger, they find their oxen more patient of labour, subject to fewer disorders, and maintained at less charge and trouble; and when no longer fit for labour, they are good meat at last.

They sow no more corn than they want for their bread, for they drink wine, cider, or perry, and often water, sometimes boiled with honey or liquorice, in which they abound. And though they know exactly how much corn every city and the tract belonging to it require, they sow much more, and breed more cattle than are necessary for their consumption, giving the overplus to their neighbours. When they want any thing in the country which it doth not produce, they fetch it from the city without carrying any thing in exchange, and the city magistrates take care to see them supplied. At harvest time, the country magistrates inform those in the city how many reapers they want, which number being supplied, they commonly dispatch the work in a day.





---

Cayley, Arthur, the Younger, ed. Memoirs of Sir Thomas More, &c. Vol II.
London: Cadell and Davis, 1808. 57-59.


---
| | |
| --- | --- |
| | to the Works of Sir Thomas More |
Site copyright ©1996-2009 Anniina Jokinen. All Rights Reserved.
Created by Anniina Jokinen on June 8, 2009.






The Tudors

King Henry VII
Elizabeth of York

King Henry VIII
Queen Catherine of Aragon
Queen Anne Boleyn
Queen Jane Seymour
Queen Anne of Cleves
Queen Catherine Howard
Queen Katherine Parr

King Edward VI
Queen Mary I
Queen Elizabeth I
Henry Fitzroy, Duke of Richmond

Renaissance English Writers
Bishop John Fisher
William Tyndale
Sir Thomas More
John Heywood
Thomas Sackville
Nicholas Udall
John Skelton
Sir Thomas Wyatt
Henry Howard
Hugh Latimer
Thomas Cranmer
Roger Ascham
Sir Thomas Hoby
John Foxe
George Gascoigne
John Lyly
Thomas Nashe
Sir Philip Sidney
Edmund Spenser
Richard Hooker
Robert Southwell
Robert Greene
George Peele
Thomas Kyd
Edward de Vere
Christopher Marlowe
Anthony Munday
Sir Walter Ralegh
Thomas Hariot
Thomas Campion
Mary Sidney Herbert
Sir John Davies
Samuel Daniel
Michael Drayton
Fulke Greville
Emilia Lanyer
William Shakespeare


Persons of Interest
Cardinal Thomas Wolsey
Archbishop Thomas Cranmer
Thomas Cromwell
John Fisher, Bishop of Rochester
Cardinal Lorenzo Campeggio
Cardinal Reginald Pole
Stephen Gardiner, Bishop of Winchester
William Tyndale
Pico della Mirandola
Desiderius Erasmus
Christopher Saint-German
Thomas Linacre
William Grocyn
Hugh Latimer
Elizabeth Barton, the Nun of Kent
For more, visit Encyclopedia


Historical Events
Field of the Cloth of Gold, 1520
Pilgrimage of Grace, 1536
The Babington Plot, 1586
The Spanish Armada, 1588


Government
Oath of Supremacy
The Act of Supremacy, 1534
The First Act of Succession, 1534
The Third Act of Succession, 1544
The Ten Articles, 1536
The Six Articles, 1539
The Second Statute of Repeal, 1555


Images of London:
London in the time of Henry VII. MS. Roy. 16 F. ii.
London, 1510, earliest view in print
Map of England from Saxton's Descriptio Angliae, 1579
Location Map of Elizabethan London
Plan of the Bankside, Southwark, in Shakespeare's time
Detail of Norden's Map of the Bankside, 1593
Bull and Bear Baiting Rings from the Agas Map (1569-1590, pub. 1631)
Sketch of the Swan Theatre, c. 1596
Westminster in the Seventeenth Century, by Hollar
Visscher's Panoramic View of London, 1616. COLOR



For more, visit Encyclopedia