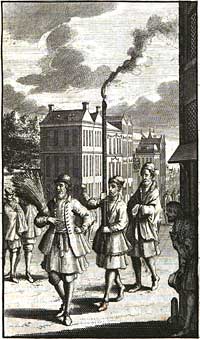 Excerpt from Utopia, Book 2.

[LAWS AND GOVERNMENT OF UTOPIA]
If a man aspire ambitiously to any office, he loseth it for certain. They live in loving intercourse with each other, the magistrates never behaving either insolently or cruelly to the people. They affect rather to be called fathers, and by really being such, well merit the appellation. The people pay them all marks of honour, the more freely because none are exacted from them. The prince himself hath no distinction either of garments or a crown; a sheaf of corn only is carried before him, and a wax-light before the high-priest.

They have few laws and such is their constitution, they require not many. They much condemn other countries, whose laws, with the commentaries on them, swell so mamy volumes; esteeming it unreasonable to oblige men to obey a body of laws so large and intricate, as not to be read and understood by every subject.

They have no lawyers among them. For they esteem them a class, whose profession it is to disguise matters, and to writhe the laws. Therefore they think it much better that every man should plead his own cause, and trust it to the judge, as elsewhere the client trusteth it to his counsellor. By this plan they avoid many delays, and find out the truth with more certainty. For after the parties have opened the merits of the cause without the artifices of lawyers, the judge examines the matter and supports the simplicity of those well-meaning persons whom otherwise the crafty would run down. And thus they avoid those evils which appear so remarkable in those countries which labour under a vast load of laws.

Every one of them is skilled in their law. It is a very short study, and the plainest meaning of which words are capable, is ever the sense of it. They argue thus. All laws are promulgated that every man may know his duty. Therefore the plainest construction of words is, what ought to be put upon them. A more refined exposition could not easily be comprehended, and would only make the laws useless to the greater part of mankind, especially to those who most need the guidance of them. It is the same thing, whether you make no law at all, or couch it in terms of which, without a quick apprehension and much study, men cannot find out the true meaning; for the generality of mankind are so dull and so busied in their avocations, that they have neither the leisure nor capacity requisite for such an inquiry.

Some of their neighbours, who long ago, by the assistance of the Utopians, shook off the yoke of tyranny, being struck with the virtue they observed among them, have come to desire magistrates of them, some changing them yearly, others every five years. When they change them, it is with strong expressions of honour and esteem; and in this they seem to have hit upon a very good expedient for their own happiness and safety. Since the good or ill condition of a country dependeth so much on its magistrates, they could not have made a better choice than men whom no advantages can bias. Wealth is of no use to them, who must so soon return to their own country; and being strangers among them, no party interests can agitate them. When public judicatories are swayed by avarice or partiality, justice, the grand sinew of society, is lost.









---

Cayley, Arthur, the Younger, ed. Memoirs of Sir Thomas More, &c.. Vol II.
London: Cadell and Davis, 1808. 108-110.


---
| | |
| --- | --- |
| | to the Works of Sir Thomas More |
Site copyright ©1996-2018 Anniina Jokinen. All Rights Reserved.
Created by Anniina Jokinen on June 8, 2009. Last updated December 11, 2018.






The Tudors

King Henry VII
Elizabeth of York

King Henry VIII
Queen Catherine of Aragon
Queen Anne Boleyn
Queen Jane Seymour
Queen Anne of Cleves
Queen Catherine Howard
Queen Katherine Parr

King Edward VI
Queen Mary I
Queen Elizabeth I
Henry Fitzroy, Duke of Richmond

Renaissance English Writers
Bishop John Fisher
William Tyndale
Sir Thomas More
John Heywood
Thomas Sackville
Nicholas Udall
John Skelton
Sir Thomas Wyatt
Henry Howard
Hugh Latimer
Thomas Cranmer
Roger Ascham
Sir Thomas Hoby
John Foxe
George Gascoigne
John Lyly
Thomas Nashe
Sir Philip Sidney
Edmund Spenser
Richard Hooker
Robert Southwell
Robert Greene
George Peele
Thomas Kyd
Edward de Vere
Christopher Marlowe
Anthony Munday
Sir Walter Ralegh
Thomas Hariot
Thomas Campion
Mary Sidney Herbert
Sir John Davies
Samuel Daniel
Michael Drayton
Fulke Greville
Emilia Lanyer
William Shakespeare


Persons of Interest
Cardinal Thomas Wolsey
Archbishop Thomas Cranmer
Thomas Cromwell
John Fisher, Bishop of Rochester
Cardinal Lorenzo Campeggio
Cardinal Reginald Pole
Stephen Gardiner, Bishop of Winchester
William Tyndale
Pico della Mirandola
Desiderius Erasmus
Christopher Saint-German
Thomas Linacre
William Grocyn
Hugh Latimer
Elizabeth Barton, the Nun of Kent
For more, visit Encyclopedia


Historical Events
Field of the Cloth of Gold, 1520
Pilgrimage of Grace, 1536
The Babington Plot, 1586
The Spanish Armada, 1588


Government
Oath of Supremacy
The Act of Supremacy, 1534
The First Act of Succession, 1534
The Third Act of Succession, 1544
The Ten Articles, 1536
The Six Articles, 1539
The Second Statute of Repeal, 1555


Images of London:
London in the time of Henry VII. MS. Roy. 16 F. ii.
London, 1510, earliest view in print
Map of England from Saxton's Descriptio Angliae, 1579
Location Map of Elizabethan London
Plan of the Bankside, Southwark, in Shakespeare's time
Detail of Norden's Map of the Bankside, 1593
Bull and Bear Baiting Rings from the Agas Map (1569-1590, pub. 1631)
Sketch of the Swan Theatre, c. 1596
Westminster in the Seventeenth Century, by Hollar
Visscher's Panoramic View of London, 1616. COLOR



For more, visit Encyclopedia