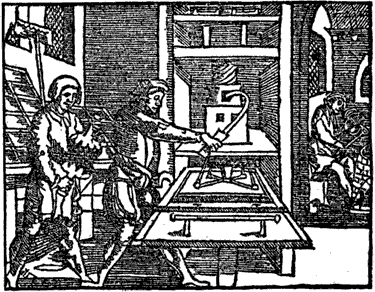 Excerpt from Utopia, Book 2.

[UTOPIANS' LOVE OF LEARNING]
They are industrious, apt scholars, and cheerful and pleasant companions. None can endure more labour when it is necessary, but unless that be the case they love ease. Their pursuit of knowledge is indefatigable. When we had given them some hints of the learning and discipline of the Greeks (of whom alone we instructed them, for we knew there was nothing among the Romans, except their historians and poets, that they would much esteem), it was strange to see with what avidity they set about learning that language. We read a little of it to them, rather in compliance with their importunity, than from any hope of their reaping much advantage by it. But after a very short trial, we found they made such progress, that our labour was likely to be much more successful than we could have expected. They learned to write the character and pronounce the language so well, had such quick apprehensions and faithful memories, and became so ready and correct in the use of it, that it would have been miraculous, had not the greater part of those we taught been men of extraordinary capacity, and of a proper age for instruction. They were most of them selected among the learned men, by their chief council; though some learned it of their own accord. In three years they became masters of the language, and could read the best Greek authors.

Indeed, I am inclined to think they learned the language more easily, from its having some analogy to their own. For I believe they were a colony of Greeks; and though their language more nearly resemble the Persian, they retain many names, both for their towns and magistrates, which are of Greek derivation. I happened to take out a large number of books, instead of merchandize, when I made my fourth voyage. For, so far from expecting to return so soon, I rather thought I should never return; and I gave them all my books, among which were many of Plato's and some of Aristotle's works. I had also Theophrastus on plants, which to my great regret was imperfect; for, having allowed it to lay-about while we were at sea, a monkey had found it and torn out many of the leaves. They have no grammarians, except Lascares, as I brought not Theodorus with me; and no dictionaries except Hesychius and Dioscorides. They highly esteem Plutarch, and were much taken with Lucian's wit, and his pleasant way of writing. Of the poets, they have Aristophanes, Homer, Euripides, and the Aldine edition of Sophocles; and of historians, Thucydides, Herodotus, and Herodian.

My companion, Apinatus, happened to take with him some of Hippocrates' works, and Galen's Microtechne, which they hold in high esteem; for though no nation on earth needeth physic less than they do, yet none honoureth it more. They reckon this knowledge one of the pleasantest and most profitable parts of philosophy; as it searcheth the secrets of nature, is highly agreeable in the pursuit, and probably acceptable to the Author of our being. Who (like the ingenious mechanic among men) having exposed this grand machine of the universe, to the view of the only creature capable of contemplating it, they imagine that an exact and curious observer who admireth his work, is far more acceptable to him than one of the herd, who, like a beast incapable of reason, looketh on this glorious scene with the eyes of a dull and unconcerned spectator.

Their minds thus filled with a love of learning, they are very ingenious in the discovery of all those arts which are necessary to its promotion. Two of these they owe to us, the manufacture of paper, and the art of printing. Yet are they not so entirely indebted to us for these discoveries, but that a great part of the invention was their own. We shewed them some books printed by Aldus, and explained to them the process of paper-making and printing; but having never practised these arts ourselves, we described them very superficially. They seized the hints we gave them; and though they could not immediately arrive at perfection, yet by repeated essays they discovered and corrected all their errors, and conquered every difficulty. Formerly they wrote only on parchment, reeds, or the bark of trees. Now they have established paper-manufactures and printing-presses; and, had they but a good number of Greek authors, they would quickly be supplied with many copies of them. At present they have only those I mentioned, yet have they, by repeated impressions, multiplied them to many thousand.





---

Cayley, Arthur, the Younger, ed. Memoirs of Sir Thomas More, &c.. Vol II.
London: Cadell and Davis, 1808. 98-101.


---
| | |
| --- | --- |
| | to the Works of Sir Thomas More |
Site copyright ©1996-2018 Anniina Jokinen. All Rights Reserved.
Created by Anniina Jokinen on June 8, 2009. Last updated December 11, 2018.






The Tudors

King Henry VII
Elizabeth of York

King Henry VIII
Queen Catherine of Aragon
Queen Anne Boleyn
Queen Jane Seymour
Queen Anne of Cleves
Queen Catherine Howard
Queen Katherine Parr

King Edward VI
Queen Mary I
Queen Elizabeth I
Henry Fitzroy, Duke of Richmond

Renaissance English Writers
Bishop John Fisher
William Tyndale
Sir Thomas More
John Heywood
Thomas Sackville
Nicholas Udall
John Skelton
Sir Thomas Wyatt
Henry Howard
Hugh Latimer
Thomas Cranmer
Roger Ascham
Sir Thomas Hoby
John Foxe
George Gascoigne
John Lyly
Thomas Nashe
Sir Philip Sidney
Edmund Spenser
Richard Hooker
Robert Southwell
Robert Greene
George Peele
Thomas Kyd
Edward de Vere
Christopher Marlowe
Anthony Munday
Sir Walter Ralegh
Thomas Hariot
Thomas Campion
Mary Sidney Herbert
Sir John Davies
Samuel Daniel
Michael Drayton
Fulke Greville
Emilia Lanyer
William Shakespeare


Persons of Interest
Cardinal Thomas Wolsey
Archbishop Thomas Cranmer
Thomas Cromwell
John Fisher, Bishop of Rochester
Cardinal Lorenzo Campeggio
Cardinal Reginald Pole
Stephen Gardiner, Bishop of Winchester
William Tyndale
Pico della Mirandola
Desiderius Erasmus
Christopher Saint-German
Thomas Linacre
William Grocyn
Hugh Latimer
Elizabeth Barton, the Nun of Kent
For more, visit Encyclopedia


Historical Events
Field of the Cloth of Gold, 1520
Pilgrimage of Grace, 1536
The Babington Plot, 1586
The Spanish Armada, 1588


Government
Oath of Supremacy
The Act of Supremacy, 1534
The First Act of Succession, 1534
The Third Act of Succession, 1544
The Ten Articles, 1536
The Six Articles, 1539
The Second Statute of Repeal, 1555


Images of London:
London in the time of Henry VII. MS. Roy. 16 F. ii.
London, 1510, earliest view in print
Map of England from Saxton's Descriptio Angliae, 1579
Location Map of Elizabethan London
Plan of the Bankside, Southwark, in Shakespeare's time
Detail of Norden's Map of the Bankside, 1593
Bull and Bear Baiting Rings from the Agas Map (1569-1590, pub. 1631)
Sketch of the Swan Theatre, c. 1596
Westminster in the Seventeenth Century, by Hollar
Visscher's Panoramic View of London, 1616. COLOR



For more, visit Encyclopedia