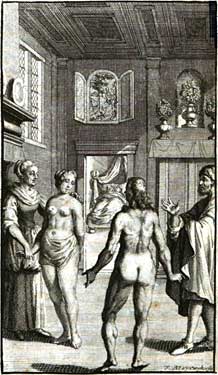 Excerpt from Utopia, Book 2.

[MARRIAGE & DIVORCE IN UTOPIA]
Their women are not allowed to marry before eighteen, and their men not before twenty-two. If any of them be guilty of unlawful intercourse before marriage, they are severely punished, and they are not allowed to marry unless they can obtain an especial warrant from the prince. Such disorderly conduct also bringeth a severe reproach on the master and mistress of the family in which it happened; for it is concluded that they have been negligent in their duty. Their reason for punishing this so severely is, because they think, were they not strictly restrained from all vagrant appetites, very few would engage in a state, in which they hazard the peace of their whole lives by being tied to one person, and are obliged to endure all the inconveniencies with which that state is accompanied.

In matching, they adopt a plan which appears to us very extravagant, yet is constantly observed among them and accounted very wise. Before marriage, a grave matron presenteth the bride (be she virgin or widow) naked, to the bridegroom; and after that, some grave man presenteth the bridegroom naked to the bride. We laughed at this, and condemned it as very indecent. They, on the other hand, wondered at the folly of mankind in all other countries; who, if they buy but an inferior horse, examine him all over and take off his trappings; yet a wife, on whom dependeth the happiness of the remainder of life, they take upon trust, regarding only her face, and leaving the rest of her body covered, where contagious and loathsome disorders may lie concealed. All men are not so wise as to choose a woman only for her good qualities; and even the wise consider the body as adding not a little to the mind. It is certain the clothes may conceal some deformity which may alienate a man from his wife when it is too late to part with her. If such a thing be discovered after marriage, he hath no remedy but patience. They therefore think it reasonable, that good care should be taken to guard against such mischievous deception.

There was the more reason for this regulation among them, because they are the only people of those parts who allow not polygamy or divorce, except in case of adultery or insufferable perverseness. In these cases the senate dissolveth the marriage, and granteth the injured leave to marry again; but the guilty are made infamous and never allowed the privilege of a second marriage. No one is suffered to put away his wife against her inclination, on account of any misfortune which may have befallen her person. They esteem it the height of cruelty and treachery to abandon either of the married pair, when they most need the tenderness of their partner; especially in the case of old age, which bringeth many diseases with it, and is itself a disease. But it often happens, that, when a married pair do not agree, they separate by mutual consent, and find others with whom they hope to live more happily. Yet this is not done without leave from the senate, which never alloweth a divorce without a strict inquiry, by the senators and their wives, into the grounds on which it is desired. Even when they are satisfied as to the reasons of it, the matter proceedeth but slowly, for they are persuaded that a too ready permission of new marriages, would greatly impair the kind intercourse of the married.

They severely punish those who defile the marriage-bed. If both the offenders be married, they are divorced, and the injured may intermarry, or with whom else they please; but the adulterer and adultress are condemned to slavery. Yet if the injured cannot conquer the love of the offender, they may still live together, the partner following to the labour to which the slave is condemned; and sometimes the repentance of the condemned, and the unaltered kindness of the injured, have prevailed with the prince to take off the sentence. But who relapse after they are once pardoned, are punished with death.



---

Cayley, Arthur, the Younger, ed. Memoirs of Sir Thomas More, &c.. Vol II.
London: Cadell and Davis, 1808. 103-106.


---
| | |
| --- | --- |
| | to the Works of Sir Thomas More |
Site copyright ©1996-2018 Anniina Jokinen. All Rights Reserved.
Created by Anniina Jokinen on June 2, 2009. Last updated December 11, 2018.






The Tudors

King Henry VII
Elizabeth of York

King Henry VIII
Queen Catherine of Aragon
Queen Anne Boleyn
Queen Jane Seymour
Queen Anne of Cleves
Queen Catherine Howard
Queen Katherine Parr

King Edward VI
Queen Mary I
Queen Elizabeth I
Henry Fitzroy, Duke of Richmond

Renaissance English Writers
Bishop John Fisher
William Tyndale
Sir Thomas More
John Heywood
Thomas Sackville
Nicholas Udall
John Skelton
Sir Thomas Wyatt
Henry Howard
Hugh Latimer
Thomas Cranmer
Roger Ascham
Sir Thomas Hoby
John Foxe
George Gascoigne
John Lyly
Thomas Nashe
Sir Philip Sidney
Edmund Spenser
Richard Hooker
Robert Southwell
Robert Greene
George Peele
Thomas Kyd
Edward de Vere
Christopher Marlowe
Anthony Munday
Sir Walter Ralegh
Thomas Hariot
Thomas Campion
Mary Sidney Herbert
Sir John Davies
Samuel Daniel
Michael Drayton
Fulke Greville
Emilia Lanyer
William Shakespeare


Persons of Interest
Cardinal Thomas Wolsey
Archbishop Thomas Cranmer
Thomas Cromwell
John Fisher, Bishop of Rochester
Cardinal Lorenzo Campeggio
Cardinal Reginald Pole
Stephen Gardiner, Bishop of Winchester
William Tyndale
Pico della Mirandola
Desiderius Erasmus
Christopher Saint-German
Thomas Linacre
William Grocyn
Hugh Latimer
Elizabeth Barton, the Nun of Kent
For more, visit Encyclopedia


Historical Events
Field of the Cloth of Gold, 1520
Pilgrimage of Grace, 1536
The Babington Plot, 1586
The Spanish Armada, 1588


Government
Oath of Supremacy
The Act of Supremacy, 1534
The First Act of Succession, 1534
The Third Act of Succession, 1544
The Ten Articles, 1536
The Six Articles, 1539
The Second Statute of Repeal, 1555


Images of London:
London in the time of Henry VII. MS. Roy. 16 F. ii.
London, 1510, earliest view in print
Map of England from Saxton's Descriptio Angliae, 1579
Location Map of Elizabethan London
Plan of the Bankside, Southwark, in Shakespeare's time
Detail of Norden's Map of the Bankside, 1593
Bull and Bear Baiting Rings from the Agas Map (1569-1590, pub. 1631)
Sketch of the Swan Theatre, c. 1596
Westminster in the Seventeenth Century, by Hollar
Visscher's Panoramic View of London, 1616. COLOR



For more, visit Encyclopedia