to Chaucer's Cook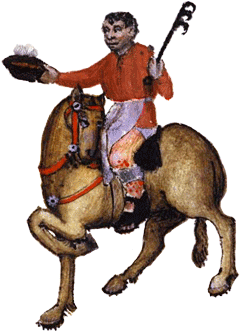 Audio Reading by Anniina Jokinen, ©2006.
Anniina studied Chaucer at UCLA under V. A. Kolve.


For the direct .MP3 file, click here.

A COOK they hadde with hem for the nones,
To boille the chiknes with the marybones
And poudre-marchant tart and galyngale;
Wel koude he knowe a draughte of Londoun ale;
He koude rooste and sethe and broille and frye,
Máken mortreux and wel bake a pye.
But greet harm was it, as it thoughte me,
That on his shyne a mormal hadde he,
For blankmanger, that made he with the beste.




380




385



[AJ Notes:]

379. for the nones, for the nonce; for the occasion.
380. chiknes, chickens.
marybones, marrowbones.
381. poudre-marchant tart, a tart, powdered spice mix, possibly made from nutmeg, pepper, etc.
galyngale, a sweet spice made from cypress root.
382. Wel koude... Londoun ale, he was a good judge of London ales.
383. rooste... sethe... broille... frye, roast... boil... broil... fry.
384. mortreux, a medieval stew made with chicken and pork. See recipe.
385. greet harm, a great detraction.
as it thoghte me, in my opinion.
386. shyne, chin.
mormal, an oozing sore.
387. blankmanger, blancmanger or blancmange, a dessert made with rice, milk, and sugar. See recipes.
that made he with the beste, he was one of the best at making it.



---

Source:

Pollard, Alfred W., ed. Chaucer's Canterbury Tales. Vol I.
London: Macmillan and Co., Ltd., 1907. 20.


---
| | |
| --- | --- |
| | to Chaucer's Cook |
| | to the Canterbury Tales |
| | to the Works of Geoffrey Chaucer |



Copyright ©1996-2023 Anniina Jokinen. All Rights Reserved.
Created on October 29, 1998 by Anniina Jokinen. Last updated on February 4, 2023.