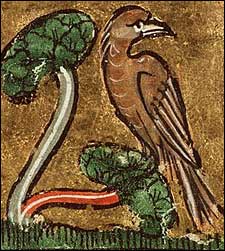 Nightingale. Alciato's Book of Emblems, c.1350.


WHEN THE NYHTEGALE SINGES
Harley MS. c. 1310.



When the nyhtegale singes,
The wodes waxen grene,
Lef ant gras ant blosme springes
In Averyl, Y wene ;
Ant love is to myn herte gon
With one spere so kene,
Nyht ant day my blod hit drynkes
Myn herte deth me tene.

Ich have loved al this yer
That Y may love na more;
Ich have siked moni syk,
Lemmon, for thin ore,
Me nis love neuer the ner,
Ant that me reweth sore;
Suete lemmon, thench on me,
Ich have loved the yore.

Suete lemmon, Y preye thee,
Of love one speche;
Whil Y lyve in world so wyde
Other nulle Y seche.
With thy love, my suete leof,
My blis thou mihtes eche;
A suete cos of thy mouth
Mihte be my leche.

Suete lemmon, Y preye thee
Of a love-bene:
Yef thou me lovest, ase men says,
Lemmon, as I wene,
Ant yef hit thi wille be,
Thou loke that hit be sene;
So muchel Y thenke vpon the
That al y waxe grene.

Bituene Lyncolne ant Lyndeseye,
Norhamptoun ant Lounde,
Ne wot I non so fayr a may,
As y go fore ybounde.
Suete lemmon, Y preye the
Thou lovie me a stounde;
Y wole mone my song
On wham that hit ys on ylong.



---

Source: A Literary Middle English Reader.
Albert Stanburrough Cook, Ed.
Boston: Ginn & Co., 1915. 408-409.


---
AJ transl.
When the nightingale sings,
The trees grow green,
Leaf and grass and blossom springs,
In April, I suppose;
And love has to my heart gone
With a spear so keen,
Night and day my blood it drains
My heart to death it aches.

I have loved all this past year
So that I may love no more;
I have sighed many a sigh,
Beloved, for thy pity,
My love is never thee nearer,
And that me grieveth sore;
Sweet loved-one, think on me,
I have loved thee long.

Sweet loved-one, I pray thee,
For one loving speech;
While I live in this wide world
None other will I seek.
With thy love, my sweet beloved,
My bliss though mightest increase;
A sweet kiss of thy mouth
Might be my cure.

Sweet beloved, I pray thee
For a love token:
If thou lovest me, as men do say,
Beloved, as I think,
And if it be thy will,
Make sure that others see;
So much I think upon thee
That I do grow all pale.

Between Lincoln and Lindsey,
Northampton and London,
I know no maiden so fair
As the one I'm in bondage to.
Sweet loved-one, I pray thee
Thou love me for a while;
I will moan my song
To the one on whom it is based.


---
| | |
| --- | --- |
| | Manuscript image from Harley MS 2253 |
---
| | |
| --- | --- |
| | to Middle English Lyrics |
| | to Luminarium Main |
| | to Middle English Literature |




Site copyright ©1996-2018 Anniina Jokinen. All Rights Reserved.
Created by Anniina Jokinen on November 26, 2008. Last updated on November 12, 2018.





Middle English Literature
Geoffrey Chaucer
John Gower
Sir Gawain and the Green Knight
William Langland / Piers Plowman
Julian of Norwich
Margery Kempe
Thomas Malory / Morte D'Arthur
John Lydgate
Thomas Hoccleve
Paston Letters
Everyman
Medieval Plays
Middle English Lyrics
Essays and Articles


Sciences
Medieval Cosmology


Historical Events and Persons

Hundred Years' War (1337-1453)
Edward III
Edward, Black Prince of Wales
Lionel of Antwerp, Duke of Clarence
John of Gaunt, Duke of Lancaster
Edmund of Langley, Duke of York
Thomas of Woodstock, Gloucester
Richard of York, E. of Cambridge
Richard II
Henry IV
Edward, Duke of York
Henry V
Thomas, Duke of Clarence
John, Duke of Bedford
Humphrey, Duke of Gloucester
Catherine of Valois
Charles VII, King of France
Joan of Arc
Louis XI, King of France
Charles the Bold, Duke of Burgundy


The Wars of the Roses (1455-1485)
Causes of the Wars of the Roses
The House of Lancaster
The House of York
The House of Beaufort
The House of Neville

Henry VI
Margaret of Anjou

Richard Plantagenet, Duke of York
Edward IV
Elizabeth Woodville
Edward V
Richard III
George, Duke of Clarence



More at Encyclopedia and at
Additional Medieval Sources