| | |
| --- | --- |
| | to Chaucer's Parson |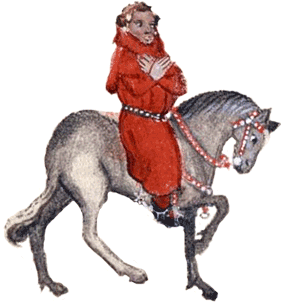 A good man was ther of religioun,
And was A POURE PERSOUN OF A TOUN;
But riche he was of hooly thoght and werk;
He was also a lerned man, a clerk,
That Cristes Gospel trewely wolde preche:
Hise parisshens devoutly wolde he teche.
Benygne he was and wonder diligent,
And in adversitee ful pacient;
And swich he was y-preved ofte sithes.
Ful looth were hym to cursen for hise tithes,
But rather wolde he geven, out of doute,
Unto his povre parisshens aboute,
Of his offryng and eek of his substaunce:
He koude in litel thyng have suffisaunce.
Wyd was his parisshe, and houses fer asonder,
But he ne lafte nat for reyn ne thonder,
In siknesse nor in meschief to visíte
The ferreste in his parisshe, muche and lite,
Upon his feet and in his hand a staf.
This noble ensample to his sheepe he gaf
That first he wroghte and afterward he taughte.
Out of the gospel he tho wordes caughte,
And this figure he added eek therto,
That if gold ruste what shal iren do?
For if a preest be foul, on whom we truste,
No wonder is a lewed man to ruste;
And shame it is, if a prest take keepe,
A shiten shepherde and a clene sheepe.
Wel oghte a preest ensample for to geve,
By his clennesse how that his sheepe sholde lyve.
He sette nat his benefice to hyre
And leet his sheep encombred in the myre,
And ran to Londoun unto Seïnt Poules
To seken hym a chaunterie for soules;
Or with a bretherhed to been withholde,
But dwelte at hoom and kepte wel his folde,
So that the wolf ne made it nat myscarie,—
He was a shepherde, and noght a mercenarie:
And though he hooly were and vertuous,
He was to synful men nat despitous,
Ne of his speche daungerous ne digne,
But in his techyng déscreet and benygne,
To drawen folk to hevene by fairnesse,
By good ensample, this was his bisynesse:
But it were any persone obstinat,
What so he were, of heigh or lough estat,
Hym wolde he snybben sharply for the nonys.
A bettre preest I trowe that nowher noon ys;
He waited after no pompe and reverence,
Ne maked him a spiced conscience,
But Cristes loore, and his Apostles twelve,
He taughte, but first he folwed it hym selve.






480




485




490




495




500




505




510




515




520




525

[AJ Notes:]

478. Persoun of a Toun, parish priest; parson.
479. hooly thoght and werk, holy thought and work.
480. clerk, a scholar.
481. trewely, truly.
preche, preach.
482. parisshens, parishioners.
teche, teach.
483. benygne; benign, i.e. benevolent.
wonder, wondrously.
484. adversitee, adversity.
ful pacient, very patient.
485. swich, such.
y-preved, proved.
ofte sithes, many times; often.
486. looth were hym, hateful would it be for him.
cursen for his tithes, failure to pay tithes could be punished by excommunication.
487. geven, give.
out of doubt, without a doubt.
489. Of his offryng, from the collection box.
eek, also.
his substaunce, his own income.
490. He koude... have suffisaunce, he could make do with very little.
491. Wyd, wide.
fer asonder, far apart.
492. ne lafte nat, did not cease.
reyn ne thonder, rain nor thunder.
493. meschief, misfortune.
494. ferreste, farthest.
muche and lite, great and small; the important and the unimportant.
496. ensample, example.
he gaf, he gave.
498. tho, those. (Matthew 5:19).
499. figure, metaphor.
502. lewed, ignorant.
503. if a prest take keepe, where a priest is concerned.
504. shiten, shitty.
505. ensample for to geve, set an example.
506. sette nat... hyre, he did not rent out his benefice; i.e., hire someone else to take
care of his parish for a lower sum, while he resided elsewhere.
507. leet, left.
encombred in the myre, stuck in the swamp.
508. Seïnt Poules, st. Paul's Cathedral.
509. To seken hym, to try to get for himself.
chaunterie, a position praying for the souls of those departed.
510. bretherhed to been withholde, to be engaged as a chaplain for one of the guilds.
512. ne made it nat myscarie, could not bring it to harm.
514. noght a mercenarie, from John 10:12 (from the KJV):
But he that is an hireling, and not the shepherd,
whose own the sheep are not, seeth the wolf coming,
and leaveth the sheep, and fleeth:
and the wolf catcheth them, and scattereth the sheep.
516. despitous, spiteful.
517. daungerous, difficult to deal with.
digne, haughty.
518. déscreet and benygne, careful and kind.
520. bisynesse, business.
521. But it were, unless it were.
522. heigh or lough estate, high or low social standing.
523. snybben, reprove.
for the nonys, for the time.
524. I trowe, I trust; I believe.
noon ys, no-one is.
525. waited after, expected.
526. spiced, seasoned; overly fastidious.



---

Source:

Pollard, Alfred W., ed. Chaucer's Canterbury Tales. Vol I.
London: Macmillan and Co., Ltd., 1907. 25-28.


---
| | |
| --- | --- |
| | to Chaucer's Parson |
| | to the Canterbury Tales |
| | to the Works of Geoffrey Chaucer |



Copyright ©1996-2023 Anniina Jokinen. All Rights Reserved.
Created on October 29, 1998 by Anniina Jokinen. Last updated on February 5, 2023.