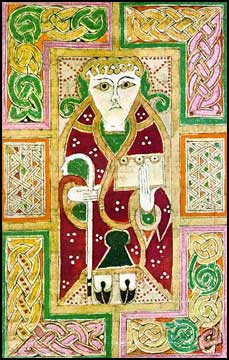 Anon. Celtic Illumination of St. Luke;
Similar to the Description of Cormac.


CORMAC MAC ART

Cormac Mac Art (son of Art), also known as Cormac ua Cuinn (grandson of Conn) and Cormac Ulfada (Long Beard), King of Ireland. He was son of King Art the Lonely and grandson of Conn of the Hundred Battles.

Cormac became king of Ireland in 218 and reigned until 254, when he handed the throne to his son, Cairbre Liffeachair. His abdication was prompted by blindness in one eye, caused by the the same poison spear which killed his son Cellach. He retired to Aicill (hill of Skreen) and turned his energies to the writing of laws.

It was King Cormac who commissioned to build the first mill in Ireland, but his reign is remembered most because of the career of the legendary warrior Finn mac Cumhail and the deeds of the Fianna.

Cormac is said to have turned to Christianity some years before his death. One account of his death says he choked on a fish bone, but according to Lebar na h-Uidhre, he was killed by the siabhra, or fairy beings, for abandoning the old religion. Cormac died at Cleaiteach in 260. His sons tried to bury him at Brugh na Boinne, but the River Boyne rose three times to oppose them because of Cormac's Christianity. Cormac was buried at Ros na righ.



---
Citation:

Jokinen, Anniina. "Cormac mac Art." Luminarium.
20 May 2007. [Date you accessed this page].
<http://www.luminarium.org/mythology/ireland/cormac.htm>