A Child My Choice
By Robert Southwell

Let folly praise that fancy loves, I praise and love that Child
Whose heart no thought, whose tongue no word, whose hand no deed defiled.

I praise Him most, I love Him best, all praise and love is His;
While Him I love, in Him I live, and cannot live amiss.

Love's sweetest mark, laud's highest theme, man's most desired light,
To love Him life, to leave Him death, to live in Him delight.

He mine by gift, I His by debt, thus each to other due;
First friend He was, best friend He is, all times will try Him true.

Though young, yet wise; though small, yet strong; though man, yet God He is:
As wise, He knows; as strong, He can; as God, He loves to bless.

His knowledge rules, His strength defends, His love doth cherish all;
His birth our joy, His life our light, His death our end of thrall.

Alas! He weeps, He sighs, He pants, yet do His angels sing;
Out of His tears, His sighs and throbs, doth bud a joyful spring.

Almighty Babe, whose tender arms can force all foes to fly,
Correct my faults, protect my life, direct me when I die!



---

Source:
A Sixteenth Century Anthology. Arthur Symons, Ed.
London: Blackie & Son, Ltd., 1905. 229-230.


---


Read by Walter Rufus Eagles.
Courtesy of Eaglesweb.com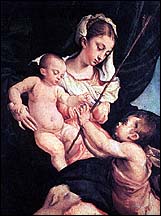 Jacopo Bassano: Madonna and Child
with St. John the Baptist. 1570.
From Web Gallery of Art