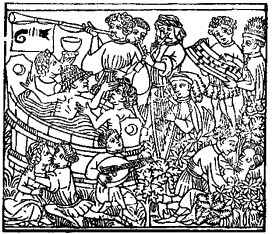 ---

Excerpted from:
Encyclopedia Britannica, 11th Ed., vol. XXI.
Cambridge: Cambridge University Press, 1910. 45.


---
GEORGE PEELE (1558 - c. 1598), English dramatist, was born in London in 1558. His father, who appears to have belonged to a Devonshire family, was clerk of Christ's Hospital, and wrote two treatises on book-keeping. George Peele was educated at Christ's Hospital, and entered Broadgates Hall (Pembroke College), Oxford, in 1571. In 1574 he removed to Christ Church, taking his B.A. degree in 1577, and proceeding M.A. in 1579. In 1579 the governors of Christ's Hospital requested their clerk to " discharge his house of his son, George Peele." It is not necessary to read into this anything more than that the governors insisted on his beginning to earn a livelihood.

He went up to London about 1580, but in 1583 when Albertus Alasco (Albert Laski), a Polish nobleman, was entertained at Christ Church, Oxford, Peele was entrusted with the arrangement of two Latin plays by William Gager (fl. 1580-1619) presented on the occasion. He was also complimented by Dr Gager for an English verse translation of one of the Iphigenias of Euripides. In 1585 he was employed to write the Device of the Pageant borne before Woolston Dixie, and in 1591 he devised the pageant in honour of another lord mayor, Sir William Webbe. This was the Descensus Astraeae (printed in the Harleian Miscellany, 1808), in which Queen Elizabeth is honoured as Astræa.

Peele had married as early as 1583 a lady who brought him some property, which he speedily dissipated. Robert Greene, at the end of his Groatsworth of Wit, exhorts Peele to repentance, saying that he has, like himself, "been driven to extreme shifts for a living." The sorry traditions of his reckless life were emphasized by the use of his name in connexion with the apocryphal Merrie conceited Jests of George Peele (printed in 1607). Many of the stories had done service before, but there are personal touches that may be biographical. He died before 1598, for Francis Meres, writing in that year, speaks of his death in his Palladis Tamia.

His pastoral comedy of The Araygnement of Paris, presented by the Children of the Chapel Royal before Queen Elizabeth perhaps as early as 1581, was printed anonymously in 1584. Charles Lamb, sending to Vincent Novello a song from this piece of Peele's, said that if it had been less uneven in execution, Fletcher's Faithful Shepherdess " had been but a second name in this sort of writing." Peele shows considerable art in his flattery. Paris is arraigned before Jupiter for having assigned the apple to Venus. Diana, with whom the final decision rests, gives the apple to none of the competitors but to a nymph called Eliza, whose identity is confirmed by the further explanation, "whom some Zabeta call."

His Famous Chronicle of King Edward the first, sirnamed Edward Longshankes, with his returne from the holy land. Also the life of Lleuellen, rebell in Wales. Lastly, the sinking of Queen Elinor, who suncke at Charingcrosse, and rose again at Pottershith, now named Queenehith, was printed in 1593. This chronicle history, formless enough, as the rambling title shows, is nevertheless an advance on the old chronicle plays, and marks a step towards the Shakespearian historical drama. Peele is said by some scholars to have written or contributed to the bloody tragedy Titus Andronicus, which is normally attributed to Shakespeare. This theory is in part due to Peele's predilection for gore, as evidenced in The Battell of Alcazar with the death of Captaine Stukeley (acted 1588-1589, printed 1594), published anonymously, which is attributed with much probability to him. The Old Wives Tale, registered in Stationers Hall, perhaps more correctly, as The Owlde wifes tale (printed 1595), was followed by The Love of King David and fair Bethsabe (written ca. 1588, printed 1599), which is notable as an example of Elizabethan drama drawn entirely from Scriptural sources. F.G. Fleay sees in it a political satire, and identifies Elizabeth and Leicester as David and Bathsheba, Mary Queen of Scots as Absalom. Sir Clyomon and Sir Clamydes (printed 1599) has been attributed to Peele, but on insufficient grounds.

Among his occasional poems are The Honour of the Garter, which has a prologue containing Peele's judgments on his contemporaries, and Polyhymnia (1590), a blank verse description of the ceremonies attending the retirement of the Queen's champion, Sir Henry Lee. This is concluded by the sonnet, "His golden locks time hath to silver turnd," quoted by Thackeray in the 76th chapter of The Newcomes. To the Phoenix Nest in 1593 he contributed The Praise of Chastity. Fleay (Biog. Chron. of the Drama) credits Peele with The Wisdom of Doctor Doddipoll (printed 1600), Wily Beguiled (printed 1606), The Life and Death of Jack Straw, a notable rebel (1587?), a share in the First and Second Parts of Henry VI, and on the authority of Wood and Winstanley, Alphonsus, Emperor of Germany.

Peele belonged to the group of university scholars who, in Greene's phrase, "spent their wits in making playes." Greene went on to say that he was in some things rarer, in nothing inferior, to Christopher Marlowe. Thomas Nashe, in his preface to Greene's Menaphon, called him "the chief supporter of pleasance now living, the Atlas of Poetrie and primus verborum artifex, whose first encrease, the Arraignement of Paris, might plead to your opinions his pregnant dexteritie of wit and manifold varietie of invention, wherein (me judice) hee goeth a step beyond all that write." This praise was not unfounded. The credit given to Greene and Marlowe for the increased dignity of English dramatic diction, and for the new smoothness infused into blank verse, must certainly be shared by Peele.

Professor F.B. Gummere, in a critical essay prefixed to his edition of The Old Wives Tale, puts in another claim for Peele. In the contrast between the romantic story and the realistic dialogue he sees the first instance of humour quite foreign to the comic business of earlier comedy. The Old Wives Tale is a play within a play, slight enough to be perhaps better described as an interlude. Its background of rustic folklore gives it additional interest, and there is much fun poked at Gabriel Harvey and Richard Stanyhurst. Perhaps Huanebango, who parodies Harvey's hexameters, and actually quotes him on one occasion, may be regarded as representing that arch-enemy of Greene and his friends.

Peele's Works were edited by Alexander Dyce (1828, 1829-1839 and 1861); by A.H. Bullen (2 vols., 1888). An examination of the metrical peculiarities of his work is to be found in F.A.R. Lammerhirts Georg Peele, Untersuchungen bei sein Leben und seine Werke (Röstock, 1882). See also Professor F.B. Gummere, in Representative English Comedies (1903); and an edition of The Battell of Alcazar, printed for the Malone Society in 1907.
---

Excerpted from:
Encyclopedia Britannica, 11th Ed., vol. XXI.
Cambridge: Cambridge University Press, 1910. 45.


---

George Peele | Life | Works | Links | Essays | Books | Renaissance Drama | Renaissance Lit



| | |
| --- | --- |
| | to George Peele |


Image. The Delights of Venus. After a woodcut, Basel, circa 1475.

Site copyright ©1996-2006 Anniina Jokinen. All rights reserved.
This page created by Anniina Jokinen on July 12, 2006. Last updated March 6, 2007.