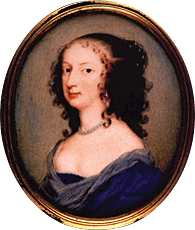 By Ron Cooley, et al.
Reprinted with permission from As One Phoenix.


I would rather die in the adventure of noble achievements than live in obscure and sluggish security.
In 1623 in Colchester, Essex, Sir Thomas Lucas and his wife Elizabeth had their eighth child, a daughter whom they named Margaret. The Lucas children were indulged, but they were also encouraged to lead kind and virtuous lives. All were taught by an elderly gentlewoman, who imparted only the rudiments of reading and writing. Margaret and her sisters also learned needle-work, singing, dancing, and were taught to play the lute and virginal (an early form of the spinet). Margaret seems to have adored every member of her family, and she was loved and cherished in return. In this secure environment Margaret developed, at a young age, an overwhelming desire to be known as a wit and a beauty. Her first efforts at writing were what she called her baby books. She wrote sixteen of these books, the shortest of which was two or three quires of paper [50-75 pages]. The more she wrote the stronger became her ambition to excel in literature.
The members of Margaret's family were devoted Royalists. In 1640, when she was seventeen, the civil war broke out in England. Margaret Lucas fled to Oxford with her sisters and their husbands, where Charles I and his court were in exile, and Margaret became a maid-of-honour to Queen Henrietta Maria. But after the royalist forces were defeated at Marston Moor in 1644 the Queen and her court fled further into exile in France. This flight was traumatic for Margaret as it was her first total separation from her family; moreover it resonates with a recurring romance motif in her books, where a lady flees to unknown lands and endures many mishaps.
In France Margaret met William Cavendish, the first Duke of Newcastle, and the couple married in 1645. They lived in comparative poverty during the Interregnum, first in Paris then Antwerp. During this time Margaret received informal lessons in science and philosophy from both her husband and his brother Sir Charles Cavendish.
Margaret Cavendish returned to England, for a time in November of 1651. During that year she spent her days and nights writing her first book, a collection of poems entitled Poems and Fancies. The book caused a sensation, provoking bot applause and derision. Many readers appreciated her originality while others criticized her spelling, grammar, and writing style. In later editions of her works Margaret refused to apologize for her spelling or grammar, affirming that it was "against nature for a woman to spell right" and that she was "unable to understand grammar and the little she knew was enough to make her renounce it" (Grant 112). She did, however, apologize for "her own audacity in writing at all, being a woman." (Jones 1). Cavendish was also criticized for her weak narrative style and poor characterization in her fiction. Her plays were censured for a lack of unity. Her critics thought her "mad, conceited, and ridiculous" (Jones 1), and ridiculed both her writing and the outrageous and original costumes she wore in public.
Margaret Cavendish was a woman of firsts, and especially displayed brilliance and freedom of thought in works of science fiction like The Blazing World. Her enthusiasm for science was reflected in books and poems where she focuses on ideas such as the smallness of an atom and imagines how there might be "other worlds within this world . . . [a] world in an ear-ring worn by some lady quite unconscious of her responsibility" (Grant, 117). She was the first woman in England who wrote mainly for publication. Despite staunchly traditional politics, and a posture of exaggerated deference towards her husband, she was capable of bold feminist statements: "Women live like bats or owls, labour like beasts, and die like worms" (Jones 1). Criticism of Margaret Cavendish outweighed praise and yet she continued to write. She published twenty-two works during her lifetime, and her modern reputation is of a truly remarkable woman. Virginia Woolf, in an essay about the Duchess, captures the ambivalence of Cavendish's readers: "though her philosophies are futile, and her plays intolerable, and her verses mainly dull, the vast bulk of the Duchess is leavened by a vein of authentic fire"(The Common Reader 77). Margaret Cavendish, Duchess of Newcastle died suddenly on 15 December 1673 at the age of fifty.


Bibliography



---

Reprinted, with express written permission, from

Cooley, Ron and Brecken Hancock, Kristen Kenyon, Annette
Lapointe, Joan Morrison, Barbara Palmer, and Lawrene Toews.
As One Phoenix: Four Seventeenth Century Women Poets.
University of Saskatchewan, 1998.


---