by John Butler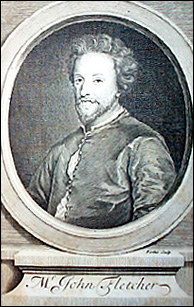 John Fletcher was born in December 1579 in Rye, Sussex, the son of Richard Fletcher, in turn Dean of Peterborough, Bishop of Bristol, Bishop or Worcester, and later Bishop of London and chaplain to the queen. John Fletcher was cousin to the poet Phineas Fletcher, author of The Purple Island. He attended Bene't College, Cambridge (now known as Corpus Christi College) of which his father had been president, but when his father died in 1596 he was in bad financial circumstances.

Virtually nothing is known about him until 1606, when he is recorded as one of the group of literary men and wits who gathered at the Mermaid Tavern. This is where he likely met his most famous collaborator, William Shakespeare, along with Ben Jonson and Francis Beaumont, with whom his name is almost inextricably bound when his comedies are discussed. Fletcher's collaboration with Beaumont lasted from 1607 until the latter's death in 1616. He also wrote plays in conjunction with Massinger, Middleton, Rowley, and Jonson himself.

Fletcher's first recorded sole-authorship play was The Faithful Shepherdess (c.1609) and he continued to write plays on his own. These included the historical tragedy Bonduca (1614), the comedies The Chances (c.1617), an adaptation from Cervantes, The Tamer Tamed (1624), which answered Shakespeare's Taming of the Shrew, a political drama, The Loyal Subject (1618), and a tragedy, Valentinian (1610-?1614). Fletcher is likely to have collaborated with Shakespeare in two plays, The Two Noble Kinsmen (1613-16) and The Life of King Henry the Eighth (1613). In the case of the latter, however, as David Bevington suggests, "the case for Shakespeare as author of essentially the entire play is impressive" (Shakespeare, Works, Ed. Bevington, 893). There seems to be some scholarly agreement, on the other hand, that Shakespeare and Fletcher did write The Two Noble Kinsmen together, although it was not printed in the 1623 folio of Shakespeare's works. It may be interesting to note that the first person to suggest Fletcher as Shakespeare's co-author in Henry the Eighth was Tennyson, followed by his friend James Spedding, who analysed the verse (see Bevington 893 for details). Bevington omits The Two Noble Kinsmen from his edition of Shakespeare but retains Henry the Eighth.

Fletcher seems to have preferred comedy as his genre, and this is certainly what he is best-known for. The first of the plays written in collaboration with Francis Beaumont (1584-1616) was The Woman-Hater (1607), but their most famous play was the uproariously-funny Knight of the Burning Pestle (1607) in which Beaumont and Fletcher, influenced of course by Cervantes, made fun of knight-errantry, heroic domestic drama like Thomas Heywood's Four Prentices of London, and the heroic verse of Shakespeare. They even satirized the audience, especially people who liked to sit on the stage and interfere with the play. After the immense success of this play, Beaumont and Fletcher never looked back. They had struck a close friendship, and a prosperous collaborative creative relationship. The two were so close, in fact, that John Aubrey reported that they even shared clothes sometimes. Their collaboration also produced Philaster (c.1609), a romantic mistaken-identity play, The Maid's Tragedy (c.1610), a play about murder and betrayal, and, finally, A King and No King (1611), a "black comedy" complete with incest and more mistaken identities, which somehow ends happily. It was a sad day for English theatre when Francis Beaumont died prematurely of a fever in 1616, the year of Shakespeare's death. The first collected edition of the plays of Beaumont and Fletcher came out in 1647. The plays remained popular down to the eighteenth century and are frequently revived today.

It is near impossible to talk about the plays in terms of who did what. Some critics argue that Beaumont wrote better plots than Fletcher, or that Fletcher had a greater poetic gift, but in fact such speculation is useless because the collaboration was so close. What can be said, is that the plays are fast-moving, well-constructed, and, in the case of the comedies, still funny. The verse in the tragedies often rises to very grand heights, and Fletcher shows a great gift for songs and lyrical writing.

The professional, salaried playwrights of the day had to agree not to publish their plays without permission of their company, which is why only nine of Fletcher's plays were published in his lifetime. It has been estimated, however, that between 1609 and 1625, Fletcher was involved in the writing of forty-two plays,1 not to mention revisions and additions to existing plays, standard fare for an 'attached' playwright.
John Aubrey in his Brief Lives left the only description of the death of Fletcher:

John Fletcher, invited to goe with a Knight into Norfolke or Suffolke
in the Plague-time of 1625, stayd but to make himselfe a suite of Cloathes,
and while it was makeing, fell sick of the Plague and dyed. This I had (1668)
from his Tayler, who is now a very old man, and Clarke of St. Mary Overy's
in Southwark. Mr. Fletcher had an Issue in his arm (I thought it had not
used so long ago). The Clarke (who was wont to bring him Ivy-leaves to dresse it) when he came, found the Spotts upon him. Death stopped his
Journey and laid him low here.2

Fletcher was buried in St. Saviour's, Southwark, (now Southwark Cathedral) on August 29, 1625.



Editions and Criticism


Appleton, William W. Beaumont and Fletcher: A Critical Study.
Fair Lawn: Allen and Unwin, 1956.

Bentley, Gerald Eades. The Jacobean and Caroline Stage. 7 vols.
Oxford: Oxford University Press, 1940-1968.
Bentley, Gerald Eades. The Profession of Dramatist in Shakespeare's Time, 1590-1642.

Bowers, Fredson, gen. ed. The Dramatic Works in the Beaumont and Fletcher Canon
Cambridge, Cambridge U.P., 1966-

Ellis-Fermor, Una. The Jacobean Drama.
London: Methuen (1936), 1965 [see Chapter XI]

Evans, G. Blakemore. Elizabethan-Jacobean Drama : The Theatre in Its Time
New York : New Amsterdam Books, 1988.

Frey, Charles H, ed. Shakespeare, Fletcher, and the Two Noble Kinsmen
Columbia : University of Missouri Press, 1989.

Glover, A. and Waller, A.R. The Works of Francis Beaumont and John Fletcher. 10 volumes.
Cambridge: Cambridge University Press, 1905-12.
A newer edition under Fredson Bowers started in 1966.

Leech, Clifford. The John Fletcher Plays.
London: Chatto & Windus, 1962.

Makkink, Henri J. Philip Massinger and John Fletcher: A Comparison
New York: Haskell House, 1966. [1927]

McIllwraith, A.K. Five Stuart Tragedies
Oxford: Oxford University Press, 1972.

McKeithan, Daniel. Debt to Shakespeare in the Beaumont and Fletcher Plays
New York: AMS Press, 1970 [c1938]

McMullan, Gordon. The Politics of Unease in the Plays of John Fletcher.
Boston: Univ. of Massachusetts Press, 1994.

Oliphant, E.H.C. The Plays of Beaumont and Fletcher; An Attempt To Determine
Their Respective Shares And The Shares Of Others.
Oxford: Oxford University Press, 1927.

Squier, Charles L. John Fletcher.
Boston: Twayne Publishers, 1986.

Thorndike, Ashley Horace. The influence of Beaumont and Fletcher on Shakspere
New York : AMS Press, 1966. [1901].

Waith, E.M. The Pattern of Tragicomedy in Beaumont and Fletcher.
New Haven: Yale University Press, 1952.

Wilson, John Harold. The Influence of Beaumont and Fletcher on Restoration Drama.
New York: Haskell House, 1969

Bentley, Gerald Eades. The Profession of Dramatist in Shakespeare's Time, 1590-1642.
Princeton: Princeton University Press, 1971. 125.

Aubrey, John. Brief Lives. Oliver Lawson Dick, ed.
Ann Arbor: University of Michigan Press, 1957. 22.