Thomas Campion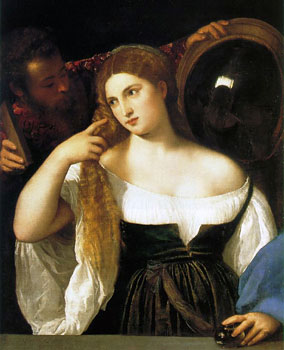 Titian.

Woman with Mirror

, c.1515. The Louvre.

A Booke of Ayres.



XI.



Faire, if you expect admiring,
Sweet, if you prouoke desiring,
Grace deere loue with kind requiting.
Fond, but if thy sight be blindnes,
False if thou affect vnkindnes,
Flie both loue and loues delighting.
Then when hope is lost and loue is scorned,
Ile bury my desires, and quench the fires that euer yet in
vaine haue burned.

Fates, if you rule louers fortune,
Stars, if men your powers importune,
Yield reliefe by your relenting :
Time, if sorrow be not endles,
Hope made vaine, and pittie friendles,
Helpe to ease my long lamenting.
But if griefes remaine still vnredressed,
I'le flie to her againe, and sue for pitie to renue my hopes
distressed.



---

Source:
Campion, Thomas. Campion's Works. Percival Vivian, Ed.
Oxford: Clarendon Press, 1909. 12.


---

Vocal clip from the album
Bawdy Elizabethan Evening in Merrie Olde England




---
| | |
| --- | --- |
| | to the Works of Thomas Campion |
Site copyright ©1996-2008 Anniina Jokinen. All rights reserved.
Created by Anniina Jokinen on April 22, 2000. Last updated November 10, 2008.