Two Bookes of Ayres:
The Second Booke.


V

II.
by Thomas Campion.




Giue beauty all her right,
Shee's not to one forme tyed

;


Each shape yeelds faire delight,
Where her perfections 'bide.
Hellen, I grant, might pleasing be

;


And Ros'mond was as sweet as shee.

Some the quicke eye commends ;
Some swelling lips and red ;
Pale lookes haue many friends,
Through sacred sweetnesse bred. 10
Medowes haue flowers that pleasure moue,
Though Roses are the flowres of loue.

Free beauty is not bound
To one vnmoued clime :
She visits eu'ry ground,
And fauours eu'ry time.
Let the old loues with mine compare,
My sou'raigne is as sweet, and fayre.




---

Text source:
Campion, Thomas. Campion's Works. Percival Vivian, ed.
Oxford: Clarendon Press, 1909. 136.


---

Vocal clip from the album
The Last of Old England




---
| | |
| --- | --- |
| | to Works of Thomas Campion |
Site copyright ©1996-2008 Anniina Jokinen. All Rights Reserved.
Created by Anniina Jokinen on December 26, 1997. Last updated November 10, 2008.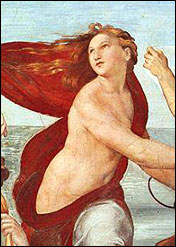 Raphael. Galatea (c.1512-14), Detail.
Villa Farnesina, Rome.