Two Bookes of Ayres:
The First Booke


V

III.
by Thomas Campion.



Tune thy Musicke to thy hart,
Sing thy ioy with thankes, and so thy sorrow

:


Though Devotion needes not Art,
Sometimes of the poore the rich may borrow.

Striue not yet for curious wayes

:


Concord pleaseth more, the lesse 'tis strained

;


Zeale affects not outward prayse,
Onely striues to show a loue vnfained.

Loue can wondrous things affect,
Sweetest Sacrifice, all wrath appeasing

;

10
Loue the highest doth respect

;


Loue alone to him is euer pleasing.



---

Text source:
Campion, Thomas. Campion's Works. Percival Vivian, ed.
Oxford: Clarendon Press, 1909. 121.


---
| | |
| --- | --- |
| | to Works of Thomas Campion |
Site Copyright © 1996-2008 Anniina Jokinen. All Rights Reserved.
Created by Anniina Jokinen on December 26, 1997. Last updated on November 10, 2008.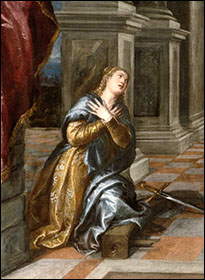 Saint Catharine of Alexandria at Prayer

, Detail.
Titian. 1567-68.