Two Bookes of Ayres:
The First Booke
XI.
by Thomas Campion.



Neuer weather-beaten Saile more willing bent to shore,
Neuer tyred Pilgrims limbs affected slumber more,
Than my wearied spright now longs to flye out of my troubled
brest

:


O come quickly, sweetest Lord, and take my soule to rest.

Euer-blooming are the ioys of Heau'ns high paradice,
Cold age deafes not there our eares, nor vapour dims our eyes

:


Glory there the Sun outshines, whose beames the blessed
onely see

;


O come quickly, glorious Lord, and raise my spright to thee.



---

Text source:
Campion, Thomas. Campion's Works. Percival Vivian, Ed.
Oxford: Clarendon Press, 1909. 122.


---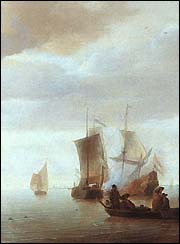 Ships on a Calm Sea near Land. Detail.
Jan van de Cappelle (c.1624-1679).