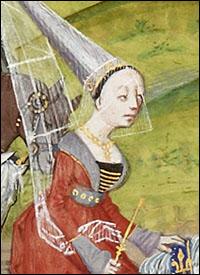 ISABELLA OF FRANCE (1292-1358), queen of Edward II, was the daughter of Philip the Fair, king of France, and of his wife, Joan of Champagne and Navarre. She is said to have been born in 1292.1 She is, however, described as about twelve years old in 1308.2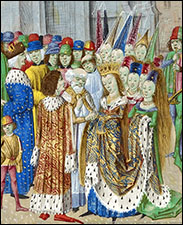 In June 1298 Boniface VIII, as mediator, brought about a truce between her father and Edward I, by which her aunt Margaret became Edward's second wife and Isabella was promised to Edward, the king's son. The renewal of the truce in 1299 contained a similar provision, and after the conclusion of the permanent peace in May 1303 Isabella was formally betrothed to young Edward at Paris.3 In January 1307 the Cardinal Peter of Spain was sent to the Carlisle parliament to conclude the marriage arrangements.4 Edward soon after became king of England, and, crossing over to France, was married to Isabella at Boulogne on 25 Jan. 1308, Philip the Fair and a great gathering of French nobles attending the magnificent ceremonies. Charles of Valois and Louis of Evreux, Isabella's uncles, accompanied her to England. On 25 Feb she was crowned at Westminster. Edward gave all her presents from her father to Piers Gaveston, and neglected her for the sake of his favourite. Her uncles left England, disgusted at her treatment.5 Isabella complained to her father of the slights she underwent and the poverty to which she was reduced.6 In May 1312 she was with Edward and Gaveston at Tynemouth. She implored Edward with tears in her eyes not to abandon her, but Edward left her with Gaveston and went to Scarborough. She was comforted by secret messengers from Thomas of Lancaster, assuring her that he would not rest till he drove Gaveston from Edward's society.7 This is the first evidence of her dealings with the opposition.

Isabella's first child, afterwards Edward III, was born on 13 Nov. 1312 at Windsor. On 29 Jan. 1313 she removed from Windsor to Westminster. On 4 Feb. the Fishmongers' Company gave a great pageant in her honour, accompanying her to Eltham, where she now took up her abode.8 In May she accompanied Edward on a visit to her father at Paris, where, on Whitsunday, her brothers were dubbed knights with great state. She returned to England on 16 July. In October she joined Gilbert Clare, tenth earl of Gloucester, in mediating a peace between Edward and the barons.9

On 15 July 1316 Isabella gave birth to her second son, John, at Eltham. In July 1318 her daughter Isabella was born at Woodstock. In August of the same year she joined the Earl of Hereford in procuring, for a second time, a peace between Edward and the party of Lancaster.10 In 1319 she went northwards with Edward. While Edward and Lancaster besieged Berwick, Isabella remained behind, in or near York. The Scots invaded Yorkshire, and James Douglas formed a plan for carrying off Isabella by surprise.11 The design was frustrated by the capture of a spy, and Isabella was sent off by water to Nottingham. The expedition which had sought to capture her defeated Archbishop Melton at Myton, Yorkshire. It was believed in France on another occasion that Robert Bruce purposely avoided capturing the queen on account of her connection with his friends.12

In June 1320 Isabella went with Edward to Amiens, where she met her brother Philip V, to whom Edward did homage for Ponthieu. In June 1321 she gave birth to her youngest daughter, Joan, at the Tower of London. In August she again joined Pembroke and some of the bishops in procuring a new peace between the king and his lords, 'begging on her knees for the people's sake.'13 But on 13 Oct. of the same year she was travelling to Canterbury and requested Lady Badlesmere to give her admission to Leeds Castle to pass the night. Though the castle belonged to the crown, and Badlesmere was a member of Pembroke's party, with whom Isabella had generally acted, her marshals were told that no one might enter. Six of her followers were slain in a scuffle that ensued.14 Edward took up his wife's cause, and his siege of Leeds brought about the beginning of the conflict which ended with the fall of Lancaster and the great triumph of Edward's reign at the parliament of York. In the disastrous campaign against the Scots which succeeded Isabella was again exposed to great personal danger. When in October Edward was nearly captured by the Scots at Byland Abbey, Isabella fled with difficulty to some castle on the sea-coast, whence she only escaped the danger of a siege by a voyage over a stormy sea, during which she suffered great hardships and two of her ladies perished.15

The influence of the Despensers over Edward in the years following his triumph soon proved no less irksome to Isabella than that of Gaveston. By their advice Edward resumed possession of her estates on 18 Sept. 1324,16 and put her on an allowance of 20s. a day.17 Her friends and servants were removed from her, the wife of the younger Hugh Despenser was appointed to look after her, and she could not even write a letter without that lady's knowledge.18 The motives for such action, apart from economy, were that Isabella was in close relations with Adam of Orleton, the disgraced bishop of Hereford, and with Bishop Burghersh of Lincoln, who was anxious to revenge his uncle Badlesmere. She was also suspected of intrigues with the French, and especially with her uncle Charles of Valois. It was rumoured that the younger Despenser had sent a friar, named Thomas of Dunheved, to Rome to ask the pope to divorce Edward from Isabella.19

Isabella's indignation with the Despensers was soon transferred to her husband. But, guided probably by the crafty Orleton, she quietly meditated revenge. She found her opportunity in the unwillingness of the Despensers to allow Edward to visit France to perform homage to her youngest brother, the new king, Charles IV. She used all her blandishments to persuade Edward to allow her to visit her brother, and begged him to desist from his attacks on Gascony. Bishop Stratford and many of the magnates approved of her design. The Despensers were not sorry to get rid of her. Early in February 1325 the prudent prior Henry of Eastry urged the necessity of restoring her to her accustomed state and following before she went abroad.20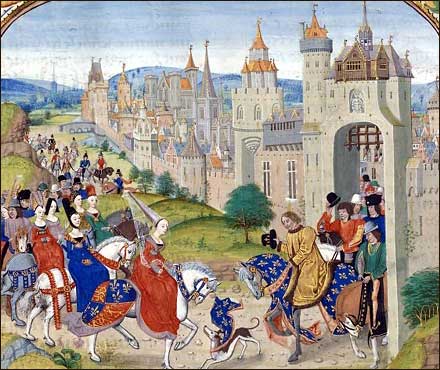 Queen Isabella being received by her brother, Charles le Bel, in France.


But the commonest precautions were neglected, and early in March 1325 she crossed over to France with a scanty following. Froissart gives a pretty picture of her reception by her brother.21 But the only political advantage she obtained for England was a prolongation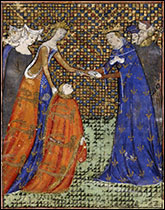 of the truce until 1 Aug.22 All through the summer Charles insisted that Edward should perform homage in person, but, instigated by Isabella, agreed to accept the homage of their eldest son, Edward [then twelve years old], if the king would invest him for that purpose with Guienne and Ponthieu. On 12 Sept. the boy left England; but after he had performed homage, he and his mother lingered at Paris.

About Michaelmas Edward wrote asking her to return. She sent back many of her retinue, and gave specious excuses for remaining at her brother's court. But her acts had now become so hostile that Bishop Stapleton, who had accompanied her son to France, escaped to England in the disguise of a pilgrim. On 1 Dec. Edward peremptorily ordered her to come home.23 But she had now formed a close political connection with the escaped traitor, Roger Mortimer, which soon ripened into criminal intimacy [i.e. an adulterous affair]. Before Christmas it was feared she would invade England.24 Her connection with Mortimer was notorious in England in March 1326. An increasing band of exiles and fugitives gathered round her. She protested that she would never return to her husband as long as the Despensers remained in power. Edward stopped all supplies, but Isabella was maintained by her brother, King Charles,25 who saw in her perfidy prospects of recovering Guienne.

In the spring of 1326 Isabella left Paris for her dower lands in Ponthieu.26 She afterwards removed to Hainault, where she obtained a valuable ally by negotiating the marriage of her son with Philippa, daughter of Count William of Hainault.27 Froissart, who gives a long romancing account of her wanderings in the Netherlands,28 says that she left Paris because her brother was ashamed to support her any longer. She had employed her daughter-in-law's marriage portion in hiring mercenaries in Germany and the Low Countries. Roger Mortimer and John, brother of the Count of Hainault, took command of her troops, and she and the Duke of Aquitaine [i.e., the future Edward III] were outlawed as traitors.

On 23 Sept. 1326 Isabella embarked at Dort, and on 24 Sept. landed at Harwich, accompanied by her son, Edmund, earl of Kent, her brother-in-law, John of Hainault, Roger Mortimer, a large number of English exiles, and her foreign mercenaries. She took Colvasse, four leagues from Harwich, about mid-day, and lodged for the first night at Walton. Her other brother-in-law, Thomas, earl marshal, amid whose estates she landed, at once joined her, along with Henry of Lancaster and most of the gentry of the neighbourhood. She then marched on Bury St. Edmunds, 'as if on a pilgrimage,' and seized there a large sum of the king's money. Thence, she went to Cambridge, stopping some days at Barnwell Priory, and went through Baldock and Dunstable, in pursuit of the king, who had fled to Wales. Bishops Orleton and Burghersh hurried to her standards, and were soon joined by Bishop Stratford, after his hollow attempt at mediation had failed. Archbishop Reynolds sent her money. She found no real resistance. At Oxford her spokesman, Orleton, explained in a sermon that she had come to put an end to misgovernment. At Wallingford she issued on 15 Oct. a violent proclamation against the Despensers.29 On the same day London rose in revolt in her behalf, the minister, Bishop Stapleton, was murdered, and a revolutionary government was established under her second son, John of Eltham.

Isabella now advanced to Gloucester, where she was joined by a northern army under Lords Percy and Wake and a strong force from the Welsh marches. She then marched from Gloucester to Berkeley, restoring the castle, which the younger Despenser had held, to Thomas of Berkeley, the lawful heir. When she advanced to Bristol, the town surrendered after a show of resistance. On 26 Oct. she proclaimed the Duke of Aquitaine [afterwards, Edward III.] guardian of the realm.30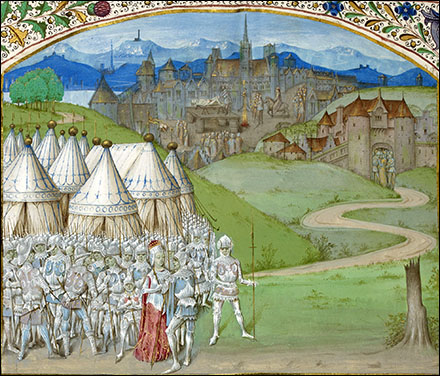 Isabella with Mortimer and her army; execution of Hugh le Despenser, the Younger, in the background.


Isabella then advanced to Hereford, where she stayed a month. The execution of the two Despensers and the capture of her husband soon completed her triumph. Returning eastwards with Mortimer and her son, she kept Christmas at Wallingford, and reached London on 4 Jan. 1327. A parliament assembled there on 7 Jan. deposed Edward II and recognised the Duke of Aquitaine as Edward III. Isabella's agent, Orleton, told the estates that if she rejoined her husband he would murder her.

The new king was only fourteen years old, and Isabella and Mortimer governed England in his name. So large a provision was made for Isabella that hardly a third of the revenue remained to the king.31 The forfeited estates of the Despensers were secured for herself and her lover. She now sought to win popularity by carrying on the war against Scotland, and after keeping Easter at Peterborough Abbey, held a great council on 19 April at Stamford, where she was ordered by the barons never to return to her husband.32 She went north for the rest of the year, dwelling mostly at York, while her son Edward led an inglorious expedition over the border. She still wrote in affectionate terms to her husband,33 but, conscious that he was a danger to the permanency of her rule, and fearful, perhaps, of being forced to return to him,34 she urged on his gaolers to treat him with the utmost severity, and in September 1327 procured his murder.35 To strengthen her position, she now concluded a permanent peace with France (September 1327). This was followed by the 'disgraceful peace'36 of Northampton, which in March 1328 gave up the overlordship of Scotland, and was especially regarded as the work of Isabella and Mortimer.37 Isabella seems to have obtained for herself a large share of the £20,000 paid by the Scots.38 Her shameless rapacity, no less than her pusillanimous policy, provoked the strongest disgust. Already in 1327 Isabella's old enemy, Thomas of Dunheved, formed an abortive plot against her.

After Trinity Sunday 1328 Isabella went to Hereford and Wigmore, to attend the marriage of two of Mortimer's daughters and the great 'round-table' that celebrated the event.39 On 19 July she was at Berwick for the marriage of her daughter Joan to David of Scotland.40 In October she was at Salisbury to meet the parliament. Henry of Lancaster refused to attend it, and Isabella and Mortimer ravaged his lands and took his town of Leicester. The mediation of the new archbishop, Meopham, secured peace for a time, but in March 1330 Isabella and Mortimer procured the death of Edmund of Woodstock, earl of Kent. This led Lancaster to make another effort against the queen and her favourite, and the king, tired of his mother's disgraceful tutelage, readily joined in his plans. In October Isabella and Mortimer, who now lived almost openly together, went to Nottingham to open a parliament.41 On the night of 18 Oct. the attack was made on them. Both were arrested, despite Isabella's despairing cry, 'Sweet son, have pity on the gentle Mortimer!' Mortimer was speedily executed as a traitor.42

Isabella's power was now at an end, but Edward at the pope's entreaty hushed up the story of his mother's shame, and showed her every deference.43 Numerous as were the articles on which Mortimer was condemned, nothing was said in the legal record of his adultery with the queen. The only charge against him which involved Isabella was one of causing discord between her and the late king.44 Though Isabella was forced to surrender her ill-gotten riches, the adequate dower of £3,000 a year45 was assigned for her maintenance.46 It has often been said that Isabella lived the rest of her life in a sort of honourable imprisonment,47 and her manor of Castle Rising, near Lynn in Norfolk, is generally regarded as the place of her confinement. But Castle Rising was only one of her favourite places of abode. The months immediately succeeding her fall were spent at Berkhampstead, while she passed her Christmas in 1330 at Windsor.48 In 1332 she received permission to dwell at Eltham whenever her health required a change of air. Her income was increased by the restoration of Ponthieu and Montreuil and other manors,49 and she was permitted to dispose of her goods by will. In June 1338 she was at Pontefract, and in 1344 she celebrated the king's birthday with him at Norwich.50

At Castle Rising she lived a comfortable and somewhat luxurious life, as the presents of meat, wax, wine, swans, turbot, lampreys, and other delicacies from the neighbouring corporation of Lynn clearly show.51 She amused herself with hawking and collecting relics, and went on pilgrimage to our Lady of Walsingham. She entertained her son on his frequent visits to her with no small state. Her numerous retinue sometimes quarrelled with the Lynn burgesses.52 In 1348 she was even proposed as a mediator for peace with France. She devoted herself to pious works, almsgiving, and charity, and finally took the habit of the sisters of Santa Clara.53 She died on 23 Aug. 1358 at her castle of Hertford, and was buried in November in the Franciscan church at Newgate in London. There is a statue of her among the figures which adorn the tomb of her son, John of Eltham, at Westminster.


—T. F. T.


1. Anselme, Histoire Généalogique de la Maison de France, i. 91;
Annales Prioratus de Wigornia in Annales Monastici, iv. 538.
2. Continuation de la Chronique de Guillaume de Nangis, i. 364, Société de l'Histoire de France.
3. Rymer's Fœdera, i. 954.
4. Chronicon de Lanercost, Maitland Club, 1839, p. 206.
5. Annales Paulini in Stubbs' Chronicles of the Reigns of Edward I and Edward II, i. 262, Rolls Ser.
6. Trokelowe, Annales, p. 68.
7. ib., pp. 75-6.
8. Annales Londonienses, in Stubbs, i. 221.
9. Trokelowe, p. 80.
10. Willelmi Monachi Malmesbiriensis (Monk of Malmesbury), De Gestis Regum Anglorum, ed. Stubbs, ii. 236.
11. ib. p. 243; Trokelowe, p. 103.
12. Cont. Guill. de Nangis, i. 410.
13. Annales Paulini, p. 297.
14. Trokelowe, pp. 110-111; Annales Paulini, pp. 298-9.
15. Cont. Guill. de Nangis, ii. 44.
16. Rymer's Fœdera, ii. 569; Chronicon Galfridi Le Baker, pp. 17-18, ed. Thompson.
17. 20 shillings in 1324 was roughly equivalent in purchasing power to £766 in 2020.
Source: Measuring Worth.
18. Lanercost, p. 254.
19. ib. p. 254; Annales Paulini, p. 337.
20. Literæ Cantuarienses, i. 137, Sheppard, ed., Rolls Series.
21. Froissart, Chronicles, ii. 29, ed. Kervyn de Lettenhove.
22. Malmesbury, p. 279.
23. Rymer's Fœdera, ii. 615.
24. Literæ Cantuarienses, i. 162.
25. Cont. Guill. de Nangis, ii. 61.
26. ib. ii. 67.
27. Chronicon Galfridi Le Baker, p. 20.
28. Froissart, ii. 43-61.
29. Rymer's Fœdera, ii. 645-6.
30. ib. ii. 646.
31. Continuation of Adam of Murimuth's Chronicle, Adae Murimuth Continuatio Chronicarum, 1889 ed., p. 52.
32. Orleton's Apology in Twysden, Historiae Anglicanae Scriptores Decem, London 1652, c. 2766;
and Chronicon Galfridi Le Baker, p. 207.
33. Murimuth, p. 52.
34. Chronicon Galfridi Le Baker, p. 29.
35. ib. p. 31.
36. Avesbury, Chronicle, p. 283. Rolls Series.
37. Lanercost, p. 261.
38. £20,000 in 1327 had roughly the same purchasing power as £18.6m in 2020.
Source: Measuring Worth.
39. Chronicon Galfridi Le Baker, p. 42; Avesbury, p. 284. 40. Lanercost, p. 261.
41. Knighton's Chronicon as published in Twysden's Decem Scriptores, c. 2553.
42. Le Baker, p. 46; French Chron. of London, ed. Aungier (Camden Society), 1844, p. 63;
Knighton, c. 2556; Annales Paulini, p. 352; De Gestis Regum Anglorum in Stubbs, ii. 101.
43. Stubbs' Constitutional History, ii. 357.
44. Rotuli Parliamentorum, ii. 53.
45. £3,000 in 1330 was roughly equivalent in purchasing power to £2.3m in 2020.
Source: Measuring Worth.
46. Rymer's Fœdera, ii. 835.
47. Cont. Guill. de Nangis, ii. 120; Froissart, ii. 247.
48. Norfolk Archæology, iv. 61. link.
49. Rymer's Fœdera, ii. 89.
50. Murimuth, pp. 155, 231.
51. Historical MSS Commission, 11th Report, Appendix iii. 213, 219.
52. ib. p 217.
53. Lanercost, p. 266.




---

Excerpted from:

Tout, T. F. "Queen Isabella of France."
Dictionary of National Biography. Vol. XXIX.
Sidney Lee, Ed.
New York: Macmillan & Co., 1892. 64-7.


---
Other Local Resources:
---
Books for further study:
Doherty, Paul. Isabella and the Strange Death of Edward II.
Carroll & Graf, 2003.

Mortimer, Ian. The Greatest Traitor: The Life of Sir Roger Mortimer.
Thomas Dunne Books, 2006.

Warner, Kathryn. Isabella of France: The Rebel Queen.
Amberley Publishing, 2020.

Weir, Alison. Queen Isabella: Treachery, Adultery, and Murder in Medieval England.
Ballantine Books, 2006.



---
Queen Isabella on the Web:
---
| | |
| --- | --- |
| | to Luminarium Encyclopedia |


Site ©1996-2023 Anniina Jokinen. All rights reserved.
This page was created on March 22, 2023.








Index of Encyclopedia Entries:

Medieval Cosmology
Prices of Items in Medieval England

Edward II
Isabella of France, Queen of England
Piers Gaveston
Thomas of Brotherton, E. of Norfolk
Edmund of Woodstock, E. of Kent
Thomas, Earl of Lancaster
Henry of Lancaster, Earl of Lancaster
Henry of Grosmont, Duke of Lancaster
Roger Mortimer, Earl of March
Hugh le Despenser the Younger
Bartholomew, Lord Burghersh, elder

Hundred Years' War (1337-1453)

Edward III
Philippa of Hainault, Queen of England
Edward, Black Prince of Wales
John of Eltham, Earl of Cornwall
The Battle of Crécy, 1346
The Siege of Calais, 1346-7
The Battle of Poitiers, 1356
Lionel of Antwerp, Duke of Clarence
John of Gaunt, Duke of Lancaster
Edmund of Langley, Duke of York
Thomas of Woodstock, Gloucester
Richard of York, E. of Cambridge
Richard Fitzalan, 3. Earl of Arundel
Roger Mortimer, 2nd Earl of March
The Good Parliament, 1376
Richard II
The Peasants' Revolt, 1381
Lords Appellant, 1388
Richard Fitzalan, 4. Earl of Arundel
Archbishop Thomas Arundel
Thomas de Beauchamp, E. Warwick
Robert de Vere, Earl of Oxford
Ralph Neville, E. of Westmorland
Thomas Mowbray, Duke of Norfolk
Edmund Mortimer, 3. Earl of March
Roger Mortimer, 4. Earl of March
John Holland, Duke of Exeter
Michael de la Pole, E. Suffolk
Hugh de Stafford, 2. E. Stafford
Henry IV
Edward, Duke of York
Edmund Mortimer, 5. Earl of March
Henry Percy, Earl of Northumberland
Sir Henry Percy, "Harry Hotspur"
Thomas Percy, Earl of Worcester
Owen Glendower
The Battle of Shrewsbury, 1403
Archbishop Richard Scrope
Thomas Mowbray, 3. E. Nottingham
John Mowbray, 2. Duke of Norfolk
Thomas Fitzalan, 5. Earl of Arundel
Henry V
Thomas, Duke of Clarence
John, Duke of Bedford
Humphrey, Duke of Gloucester
John Talbot, Earl of Shrewsbury
Richard, Earl of Cambridge
Henry, Baron Scrope of Masham
William de la Pole, Duke of Suffolk
Thomas Montacute, E. Salisbury
Richard Beauchamp, E. of Warwick
Henry Beauchamp, Duke of Warwick
Thomas Beaufort, Duke of Exeter
Cardinal Henry Beaufort
John Beaufort, Earl of Somerset
Sir John Fastolf
John Holland, 2. Duke of Exeter
Archbishop John Stafford
Archbishop John Kemp
Catherine of Valois
Owen Tudor
John Fitzalan, 7. Earl of Arundel
John, Lord Tiptoft

Charles VII, King of France
Joan of Arc
Louis XI, King of France
Charles the Bold, Duke of Burgundy
The Battle of Agincourt, 1415
The Battle of Castillon, 1453



The Wars of the Roses 1455-1485
Causes of the Wars of the Roses
The House of Lancaster
The House of York
The House of Beaufort
The House of Neville

The First Battle of St. Albans, 1455
The Battle of Blore Heath, 1459
The Rout of Ludford, 1459
The Battle of Northampton, 1460
The Battle of Wakefield, 1460
The Battle of Mortimer's Cross, 1461
The 2nd Battle of St. Albans, 1461
The Battle of Towton, 1461
The Battle of Hedgeley Moor, 1464
The Battle of Hexham, 1464
The Battle of Edgecote, 1469
The Battle of Losecoat Field, 1470
The Battle of Barnet, 1471
The Battle of Tewkesbury, 1471
The Treaty of Pecquigny, 1475
The Battle of Bosworth Field, 1485
The Battle of Stoke Field, 1487

Henry VI
Margaret of Anjou
Richard Plantagenet, Duke of York
Edward IV
Elizabeth Woodville
Richard Woodville, 1. Earl Rivers
Anthony Woodville, 2. Earl Rivers
Jane Shore
Edward V
Richard III
George, Duke of Clarence

Ralph Neville, 2. Earl of Westmorland
Richard Neville, Earl of Salisbury
Richard Neville, Earl of Warwick
Edward Neville, Baron Bergavenny
William Neville, Lord Fauconberg
Robert Neville, Bishop of Salisbury
John Neville, Marquis of Montagu
George Neville, Archbishop of York
John Beaufort, 1. Duke Somerset
Edmund Beaufort, 2. Duke Somerset
Henry Beaufort, 3. Duke of Somerset
Edmund Beaufort, 4. Duke Somerset
Margaret Beaufort
Edmund Tudor, Earl of Richmond
Jasper Tudor, Earl of Pembroke
Humphrey Stafford, D. Buckingham
Henry Stafford, Duke of Buckingham
Humphrey Stafford, E. of Devon
Thomas, Lord Stanley, Earl of Derby
Sir William Stanley
Archbishop Thomas Bourchier
Henry Bourchier, Earl of Essex
John Mowbray, 3. Duke of Norfolk
John Mowbray, 4. Duke of Norfolk
John Howard, Duke of Norfolk
Henry Percy, 2. E. Northumberland
Henry Percy, 3. E. Northumberland
Henry Percy, 4. E. Northumberland
William, Lord Hastings
Henry Holland, Duke of Exeter
William Fitzalan, Earl of Arundel
William Herbert, 1. Earl of Pembroke
John de Vere, 12th Earl of Oxford
John de Vere, 13th Earl of Oxford
Thomas de Clifford, 8. Baron Clifford
John de Clifford, 9. Baron Clifford
John Tiptoft, Earl of Worcester
Thomas Grey, 1. Marquis Dorset
Sir Andrew Trollop
Archbishop John Morton
Edward Plantagenet, E. of Warwick
John Talbot, 2. E. Shrewsbury
John Talbot, 3. E. Shrewsbury
John de la Pole, 2. Duke of Suffolk
John de la Pole, E. of Lincoln
Edmund de la Pole, E. of Suffolk
Richard de la Pole
John Sutton, Baron Dudley
James Butler, 5. Earl of Ormonde
Sir James Tyrell
Edmund Grey, first Earl of Kent
George Grey, 2nd Earl of Kent
John, 5th Baron Scrope of Bolton
James Touchet, 7th Baron Audley
Walter Blount, Lord Mountjoy
Robert Hungerford, Lord Moleyns
Thomas, Lord Scales
John, Lord Lovel and Holand
Francis Lovell, Viscount Lovell
Sir Richard Ratcliffe
William Catesby
Ralph, 4th Lord Cromwell
Jack Cade's Rebellion, 1450


Tudor Period

King Henry VII
Queen Elizabeth of York
Arthur, Prince of Wales
Lambert Simnel
Perkin Warbeck
The Battle of Blackheath, 1497

King Ferdinand II of Aragon
Queen Isabella of Castile
Maximilian I, Holy Roman Emperor

King Henry VIII
Queen Catherine of Aragon
Queen Anne Boleyn
Queen Jane Seymour
Queen Anne of Cleves
Queen Catherine Howard
Queen Katherine Parr

King Edward VI
Queen Mary I
Queen Elizabeth I
Henry Fitzroy, Duke of Richmond

Margaret Tudor, Queen of Scotland
James IV, King of Scotland
The Battle of Flodden Field, 1513
James V, King of Scotland
Mary of Guise, Queen of Scotland

Mary Tudor, Queen of France
Louis XII, King of France
Francis I, King of France
The Battle of the Spurs, 1513
Field of the Cloth of Gold, 1520
Charles V, Holy Roman Emperor
Eustace Chapuys, Imperial Ambassador
The Siege of Boulogne, 1544

Cardinal Thomas Wolsey
Archbishop Thomas Cranmer
Thomas Cromwell, Earl of Essex
Thomas, Lord Audley
Thomas Wriothesley, E. Southampton
Sir Richard Rich

Edward Stafford, D. of Buckingham
Thomas Howard, 2nd Duke of Norfolk
Thomas Howard, 3rd Duke of Norfolk
John Dudley, Duke of Northumberland
Charles Brandon, Duke of Suffolk
Thomas Boleyn, Earl of Wiltshire
George Boleyn, Viscount Rochford
John Russell, Earl of Bedford
Thomas Grey, 2. Marquis of Dorset
Henry Grey, D. of Suffolk
Charles Somerset, Earl of Worcester
George Talbot, 4. E. Shrewsbury
Francis Talbot, 5. E. Shrewsbury
Henry Algernon Percy,
5th Earl of Northumberland
Henry Algernon Percy,
6th Earl of Northumberland
Ralph Neville, 4. E. Westmorland
Henry Neville, 5. E. Westmorland
William Paulet, Marquis of Winchester
Sir Francis Bryan
Sir Nicholas Carew
John de Vere, 15th Earl of Oxford
John de Vere, 16th Earl of Oxford
Thomas Seymour, Lord Admiral
Edward Seymour, Protector Somerset
Margaret Pole, Countess of Salisbury
Henry Pole, Lord Montague
Sir Geoffrey Pole
Thomas Manners, Earl of Rutland
Henry Manners, Earl of Rutland
Henry Bourchier, 2. Earl of Essex
Robert Radcliffe, 1. Earl of Sussex
Henry Radcliffe, 2. Earl of Sussex
George Hastings, Earl of Huntingdon
Henry Courtenay, Marquis of Exeter
George Neville, Baron Bergavenny
Sir Edward Neville
William, Lord Paget
William Sandys, Baron Sandys
William Fitzwilliam, E. Southampton
Sir Anthony Browne
Sir Thomas Wriothesley
Sir William Kingston
George Brooke, Lord Cobham
Sir Richard Southwell
Thomas Fiennes, 9th Lord Dacre
Sir Francis Weston
Henry Norris
Lady Jane Grey
Sir Thomas Arundel
Sir Richard Sackville
Sir William Petre
Sir John Cheke
Walter Haddon, L.L.D
Sir Peter Carew
Sir John Mason
Nicholas Wotton
John Taylor
Sir Thomas Wyatt, the Younger

Cardinal Lorenzo Campeggio
Cardinal Reginald Pole
Stephen Gardiner, Bishop of Winchester
Edmund Bonner, Bishop of London
Nicholas Ridley, Bishop of London
John Hooper, Bishop of Gloucester
John Aylmer, Bishop of London
Thomas Linacre
William Grocyn
Archbishop William Warham
Cuthbert Tunstall, Bishop of Durham
Richard Fox, Bishop of Winchester
Edward Fox, Bishop of Hereford

Pope Julius II
Pope Leo X
Pope Clement VII
Pope Paul III
Pope Pius V

Pico della Mirandola
Desiderius Erasmus
Martin Bucer
Richard Pace
Christopher Saint-German
Thomas Tallis
Elizabeth Barton, the Nun of Kent
Hans Holbein, the Younger
The Sweating Sickness

Dissolution of the Monasteries
Pilgrimage of Grace, 1536
Robert Aske
Anne Askew
Lord Thomas Darcy
Sir Robert Constable

Oath of Supremacy
The Act of Supremacy, 1534
The First Act of Succession, 1534
The Third Act of Succession, 1544
The Ten Articles, 1536
The Six Articles, 1539
The Second Statute of Repeal, 1555
The Act of Supremacy, 1559
Articles Touching Preachers, 1583

Queen Elizabeth I
William Cecil, Lord Burghley
Robert Cecil, 1st Earl of Salisbury
Sir Francis Walsingham
Sir Nicholas Bacon
Sir Thomas Bromley

Robert Dudley, Earl of Leicester
Ambrose Dudley, Earl of Warwick
Henry Carey, Lord Hunsdon
Sir Thomas Egerton, Viscount Brackley
Sir Francis Knollys
Katherine "Kat" Ashley
Lettice Knollys, Countess of Leicester
George Talbot, 6. E. of Shrewsbury
Elizabeth, Countess of Shrewsbury
Gilbert Talbot, 7. E. of Shrewsbury
Sir Henry Sidney
Sir Robert Sidney
Archbishop Matthew Parker
Walter Devereux, 1st Earl of Essex
Robert Devereux, 2nd Earl of Essex
Penelope Devereux, Lady Rich
Sir Christopher Hatton
Edward Courtenay, E. Devonshire
Edward Manners, 3rd Earl of Rutland
Thomas Radcliffe, 3. Earl of Sussex
Henry Radcliffe, 4. Earl of Sussex
Robert Radcliffe, 5. Earl of Sussex
William Parr, Marquis of Northampton
Henry Wriothesley, 2. Southampton
Henry Wriothesley, 3. Southampton
Charles Neville, 6. E. Westmorland
Thomas Percy, 7. E. Northumberland
Henry Percy, 8. E. Northumberland
Henry Percy, 9. E. Nothumberland
William Herbert, 1. Earl of Pembroke
Charles, Lord Howard of Effingham
Thomas Howard, 4th Duke of Norfolk
Henry Howard, 1. Earl of Northampton
Thomas Howard, 1. Earl of Suffolk
Henry Hastings, 3. E. of Huntingdon
Edward Manners, 3rd Earl of Rutland
Roger Manners, 5th Earl of Rutland
Francis Manners, 6th Earl of Rutland
Henry FitzAlan, 12. Earl of Arundel
Thomas, Earl Arundell of Wardour
Edward Somerset, E. of Worcester
William Davison
Sir Walter Mildmay
Sir Ralph Sadler
Sir Amyas Paulet
Gilbert Gifford
Anthony Browne, Viscount Montague
François, Duke of Alençon & Anjou

Mary, Queen of Scots
Henry Stuart, Lord Darnley
James Hepburn, Earl of Bothwell
Anthony Babington and the Babington Plot
John Knox

Philip II of Spain
The Spanish Armada, 1588
Sir Francis Drake
Sir John Hawkins

William Camden
Archbishop Whitgift
Martin Marprelate Controversy
John Penry (Martin Marprelate)
Richard Bancroft, Archbishop of Canterbury
John Dee, Alchemist

Philip Henslowe
Edward Alleyn
The Blackfriars Theatre
The Fortune Theatre
The Rose Theatre
The Swan Theatre
Children's Companies
The Admiral's Men
The Lord Chamberlain's Men
Citizen Comedy
The Isle of Dogs, 1597

Common Law
Court of Common Pleas
Court of King's Bench
Court of Star Chamber
Council of the North
Fleet Prison
Assize
Attainder
First Fruits & Tenths
Livery and Maintenance
Oyer and terminer
Praemunire


The Stuarts

King James I of England
Anne of Denmark
Henry, Prince of Wales
The Gunpowder Plot, 1605
George Villiers, 1st Duke of Buckingham
Robert Carr, Earl of Somerset
Arabella Stuart, Lady Lennox

William Alabaster
Bishop Hall
Bishop Thomas Morton
Archbishop William Laud
John Selden
Lucy Harington, Countess of Bedford
Henry Lawes

King Charles I
Queen Henrietta Maria

Long Parliament
Rump Parliament
Kentish Petition, 1642

Thomas Wentworth, Earl of Strafford
John Digby, Earl of Bristol
George Digby, 2nd Earl of Bristol
Thomas Fairfax, 3rd Lord Fairfax
Robert Devereux, 3rd E. of Essex
Robert Sidney, 2. E. of Leicester
Algernon Percy, E. of Northumberland
Henry Montagu, Earl of Manchester
Edward Montagu, 2. Earl of Manchester

The Restoration

King Charles II
King James II
Test Acts

Greenwich Palace
Hatfield House
Richmond Palace
Windsor Palace
Woodstock Manor

The Cinque Ports
Mermaid Tavern
Malmsey Wine
Great Fire of London, 1666
Merchant Taylors' School
Westminster School
The Sanctuary at Westminster
"Sanctuary"


Images:

Chart of the English Succession from William I through Henry VII

Medieval English Drama

London c1480, MS Royal 16
London, 1510, the earliest view in print
Map of England from Saxton's Descriptio Angliae, 1579
London in late 16th century
Location Map of Elizabethan London
Plan of the Bankside, Southwark, in Shakespeare's time
Detail of Norden's Map of the Bankside, 1593
Bull and Bear Baiting Rings from the Agas Map (1569-1590, pub. 1631)
Sketch of the Swan Theatre, c. 1596
Westminster in the Seventeenth Century, by Hollar
Visscher's View of London, 1616
Larger Visscher's View in Sections
c. 1690. View of London Churches, after the Great Fire
The Yard of the Tabard Inn from Thornbury, Old and New London