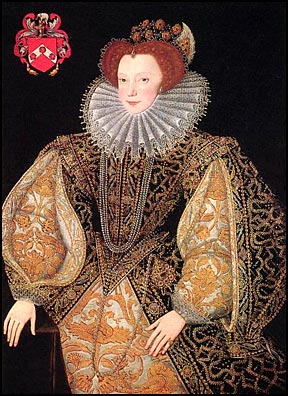 Lettice Knollys was born in 1540 at Rotherfield Greys in Oxfordshire. 1 She was the daughter of Sir Francis Knollys and Catherine Carey, Lady Knollys, first cousin to Queen Elizabeth I (she was the daughter of Mary Boleyn, Anne Boleyn's sister). Lettice's childhood was uneventful, except during the reign of Mary Tudor (r.1553-8), when the family's puritannical leanings forced them to go into exile on the continent, first to Basel and then to Frankfurt. 2 Sir Francis brought the family back to England upon the accession of Elizabeth, and was promptly made Treasurer of the Royal Bedchamber. Lettice was made a maid of honour (the title for an unmarried attendant) to Elizabeth.

Lettice exemplified the Tudor ideal of beauty with her porcelain skin and red-gold hair. The Spanish ambassador de Silva wrote of her in 1565, that she was "one of the best-looking ladies ladies of the court." 3 She was also very fashion-conscious, and soon drew a lot of interest from the courtiers. Queen Elizabeth grew increasingly jealous of the attention paid to her, and gladly consented to her match to Walter Devereux, Viscount Hereford, later Earl of Essex. They were married around 1560 4 and left court for Chartley Hall in Staffordshire. There, Lettice gave birth to five children. 5 Walter Devereux was made Earl of Essex in May, 1572. He served a first tour of Ireland as Lord Deputy, and a second as Earl Marshal of Ireland, while Lettice and the children stayed behind.

Not only had Lettice inherited the good looks of the Boleyn girls, she had apparently also inherited "their fascination of manners," that is, their promiscuity. 6 There is record of flirtation between Lettice and Robert Dudley, Earl of Leicester already in 1565. 7 Rumour had it that Lettice had begun an affair with Leicester in 1575, when she came with the court to Kenilworth on Queen Elizabeth's progress. When Essex died in Ireland of dysentery 8 on 22 Sept 1576, suspicions ran rife that he had been poisoned by an underling of Leicester. The autopsy, however, showed that "all his inwarde parts were sound." 9 Rumors, however, were hard to quell, and the following libellous accusations surfaced in 1584 in Leicester's Commonwealth:
The like good chance had he in the death of my Lord of Essex (as I have said before) and that at a time most fortunate for his purpose; for when he was coming home from Ireland with intent to revenge himself upon my Lord of Leicester for begetting his wife with child in his absence (the child was a daughter and brought up by the Lady Shandoies, W. Knooles his wife), my Lord of Leicester hearing thereof, wanted not a friend or two to accompany the deputy, as among other, a couple of the Earl's own servants, Crompton (if I miss not his name), yeoman of his bottles, and Lloyd, his secretary, entertained afterward by my Lord of Leicester. And so he died in the way, of an extreme flux, caused by an Italian recipe, as all his friends are well assured, the maker whereof was a surgeon (as is believed) that then was newly come to my Lord from Italy. A cunning man and sure in operation, with whom if the good lady had been sooner acquainted and used his help, she should not have needed to have sitten so pensive at home and fearful of her husband's former return out of the same country, but might have spared the young child in her belly, which she was enforced to make away (cruelly and unnaturally) for clearing the house against the goodman's arrival. 10
Rumours aside, Leicester married the dowager Countess of Essex, now pregnant with his child, in secret. The first wedding was at Kenilworth, the second at Wanstead, September 21, 1578, in front of witnesses, on the insistence of her father, Sir Francis Knollys. 11 Their son, Robert, was born four months later, in January, 1579. They were able to keep their marriage secret from the Queen for almost a year. The courtiers knew full well how things stood, but nobody wanted to be the one to tell the Queen. In August 1579, French ambassador de Simier told the Queen of the marriage, 12 in an attempt for leverage in the negotiations for Elizabeth's possible marriage to the Duke of Alençon. Elizabeth was shocked and furious:
The rage, vexation, and disappointment of the Queen, on hearing the Frenchman's disclosure of the marriage of her favourite, Leicester, exceeded all bounds of decency and decorum. That Leicester, the dearest of her favourites, should form such a connection, such an indissoluble tie, and that too with her own near relation, without even consulting her, imploring her sanction, or supplicating her forgiveness —and that, after having formed it, he should have concealed the horrid fact from her, when known to the whole court;—appeared, to her eyes, the very acme of ingratitude, perfidy, baseness, and insult! 13
The Queen ordered Leicester imprisoned, 14 and even threatened to put him in the Tower, but was dissuaded by the Earl of Sussex; instead, she ordered him to retire to his estate at Wanstead. Leicester was out of favour for a few months, and restored a year later. Lettice, whom Elizabeth called a "she-wolf", 15 she never forgave. Lettice was permitted to come to court only once after this, and that for a private interview. 16

Robert Dudley, the son of Leicester and Lettice Knollys, died at the age of five, in 1584. There is a monument to him in the Beauchamp Chapel in Warwick, that reads he was "a childe of greate parentage, but of farre greater hope and towardness." 17 They had no more children together. Leicester died at his manor at Cornbury, Oxfordshire, in September 1588. He appointed Lettice the sole executrix of his will, which he had made the previous year:
I do heere appoint my moste deere and welbeloved wyfe, the Counteisse of Leicester, to be my sole executrix of this my laste will and testament, and do require her, of all love betweene us, that she will not only be content to take it upon her, but also to see it faythfullye and carefully performed . . . . .
Next her Majestye I will now returne to my deere wyfe, and sett downe that for her, which cannot be so welle as I would wyshe it, but shalbe as well as I am able to make it, having alwaies founde her a faythfull and verie loving and obediente carefull wyfe, and so do I truste this will of myne shall fynde her no less myndfull of me beinge gone, than I was alwaies of her being alyve. I do gyve and bequeath to my said deere wyfe, over and besides the joyneture I have made her, the lease of Drayton Bassett, freely to gyfe and dispose at her will. Item, there be certeine parsells of grounds which I bought of the Earle of Oxenforde, being sometime belonging to the house of Crambroke, § and I reserved purposely to be joyned to the parke of Wanstead, as also the parcell of groung called Waterman's, which I bought of the lorde of Buckhurste, which I do also freely gyve and grante to my said wyfe for ever, with the mannor of Wansted already assured unto her. Item, I do give to my said wyfe, during her lyfe, all other lands and tenements which I did purchase in the lordship of Wansted, besydes that is past by deede with the howse and mannour to her before. . . . 18
Lettice did indeed execute the will, which was no easy thing to do, since Leicester died in great debt. She had a monument built for him in the Beauchamp Chapel, an effigy of the two of them lying side by side, with a latin inscription which spoke of their fidelity and love for each other. Despite the dissreputable beginnings of their relationship, this had been a loving and happy marriage.

Even after Leicester's death, the Queen continued to be vindictive towards her cousin. She seized some of the properties left to Lettice, and forced a sale on them, to pay Leicester's debt to the Crown. 19 The following year, after Lettice married Sir Christopher Blount, a friend of her son, Robert Devereux, Earl of Essex, the Queen forced a sale of Lettice's jewellery. Nor did Elizabeth's hatred of Lettice abate with time. There are reports of several occasions on which the Queen refused to see her, or come to parties, if she knew Lettice would be present.

Even when Essex was imprisoned and under house arrest, Lettice was not permitted an audience to plead for her son. After almost a year of being confined to the Essex house, Essex and his friends finally made their rush to the palace. Blount took part in the ill-conceived insurrection of Essex, and was executed alongside him in 1601.

There are few records pertaining to Lettice Knollys after this date. She retired to Drayton Bassett in Staffordshire, because Blount had sold Wansted, her dowager house. 20 Lettice Knollys died on Christmas morning, 1634. She was survived by her two daughters; Penelope Devereux, Lady Rich ('Stella' of Sir Philip Sidney's Astrophil and Stella), and Dorothy, Lady Percy. Lettice Knollys was buried with her beloved Leicester.
Palmer, Alan. Who's Who in Shakespeare's England.
New York: St. Martin's Press, 1999. 150.

Cross, Claire. Church and People: England, 1450-1660.
Oxford: Blackwell Publishing, 1999. 111.
Jenkins, Elizabeth. Elizabeth and Leicester. London: Phoenix Press, 1962. 124.

The Complete Peerage of England, Scotland, Ireland, Great Britain and the United
Kingdom, Extant, Extinct or Dormant, Vol 5. G. E. Cokayne et al., eds.
Gloucester, U.K.: Alan Sutton Publishing, 2000 volume V, page 141.

Urban, Silvanus. "Lettice, Countess of Leicester."
Gentleman's Magazine, March 1846. 251.
Online facsimile at Google Books.

Strickland, Agnes. Lives of the Queens of England. Vol VI.
Philadelphia: Blanchard and Lea, 1852. 20.

Somerset, Anne. Ladies in Waiting: From the Tudors to the Present Day.
London: Phoenix Press, 2005. 85

Wilson, Deker A. The Uncrowned Kings of England: The Black History of the Dudleys
and the Tudor Throne. New York: Carroll & Graf, 2005. 314.
Whyte, Nicholas. "Letter to Lord Burleigh, Sept 30, 1576." Ms. Lansdowne 21.
Queen Elizabeth and Her Times. Vol II. Thomas Wright, ed.
London: Henry Colburn, 1838. 35.

Anonymous. Leicester's Commonwealth. Dwight Peck, ed.
Athens and London: Ohio University Press, 1985. 58.
Online facsimile [.pdf]

Wilson, 315.

Somerset, 86.
Lancelott, Frances. The Queens of England and Their Times. Vol II.
New York: D. Appleton and Co., 1858. 583.

Thomas, Jane R. Behind the Mask: The Life of Queen Elizabeth I.
New York: Clarion Books, 1998. 146.

Hume, Martin A. S. The Courtships of Queen Elizabeth.
London: T. Fisher Unwin, 1896. 210.

Massey, Gerard. The Secret Drama of Shakespeare's Sonnets.
London: Gerald Massey, 1888. 446.

Urban, 253.

Ibid.

Sir. R. Baker's Chronicle, quoted in Urban, 254.

Urban, 256.

---
Other Local Resources:
---


Books for further study:

Somerset, Anne. Ladies in Waiting: From the Tudors to the Present Day.
London: Phoenix Press, 2005. 85

Turner, Judy. Cousin to the Queen: The story of Lettice Knollys.
Constable, 1972.


---
Lettice Knollys on the Web:
---

Article Citation:

Jokinen, Anniina. "Lettice Knollys." Luminarium.
17 January 2007. [Date when you accessed the page].
<http://www.luminarium.org/encyclopedia/letticeknollys.htm>


---
| | |
| --- | --- |
| | to Queen Elizabeth |
| | to Robert Dudley, Earl of Leicester |
| | to Renaissance English Literature |
| | to Luminarium Encyclopedia |



Portrait from the collection of the Marquess of Bath, at Longleat House.






Index of Encyclopedia Entries:

Medieval Cosmology
Prices of Items in Medieval England

Edward II
Isabella of France, Queen of England
Piers Gaveston
Thomas of Brotherton, E. of Norfolk
Edmund of Woodstock, E. of Kent
Thomas, Earl of Lancaster
Henry of Lancaster, Earl of Lancaster
Henry of Grosmont, Duke of Lancaster
Roger Mortimer, Earl of March
Hugh le Despenser the Younger
Bartholomew, Lord Burghersh, elder

Hundred Years' War (1337-1453)

Edward III
Philippa of Hainault, Queen of England
Edward, Black Prince of Wales
John of Eltham, Earl of Cornwall
The Battle of Crécy, 1346
The Siege of Calais, 1346-7
The Battle of Poitiers, 1356
Lionel of Antwerp, Duke of Clarence
John of Gaunt, Duke of Lancaster
Edmund of Langley, Duke of York
Thomas of Woodstock, Gloucester
Richard of York, E. of Cambridge
Richard Fitzalan, 3. Earl of Arundel
Roger Mortimer, 2nd Earl of March
The Good Parliament, 1376
Richard II
The Peasants' Revolt, 1381
Lords Appellant, 1388
Richard Fitzalan, 4. Earl of Arundel
Archbishop Thomas Arundel
Thomas de Beauchamp, E. Warwick
Robert de Vere, Earl of Oxford
Ralph Neville, E. of Westmorland
Thomas Mowbray, Duke of Norfolk
Edmund Mortimer, 3. Earl of March
Roger Mortimer, 4. Earl of March
John Holland, Duke of Exeter
Michael de la Pole, E. Suffolk
Hugh de Stafford, 2. E. Stafford
Henry IV
Edward, Duke of York
Edmund Mortimer, 5. Earl of March
Henry Percy, Earl of Northumberland
Sir Henry Percy, "Harry Hotspur"
Thomas Percy, Earl of Worcester
Owen Glendower
The Battle of Shrewsbury, 1403
Archbishop Richard Scrope
Thomas Mowbray, 3. E. Nottingham
John Mowbray, 2. Duke of Norfolk
Thomas Fitzalan, 5. Earl of Arundel
Henry V
Thomas, Duke of Clarence
John, Duke of Bedford
Humphrey, Duke of Gloucester
John Talbot, Earl of Shrewsbury
Richard, Earl of Cambridge
Henry, Baron Scrope of Masham
William de la Pole, Duke of Suffolk
Thomas Montacute, E. Salisbury
Richard Beauchamp, E. of Warwick
Henry Beauchamp, Duke of Warwick
Thomas Beaufort, Duke of Exeter
Cardinal Henry Beaufort
John Beaufort, Earl of Somerset
Sir John Fastolf
John Holland, 2. Duke of Exeter
Archbishop John Stafford
Archbishop John Kemp
Catherine of Valois
Owen Tudor
John Fitzalan, 7. Earl of Arundel
John, Lord Tiptoft

Charles VII, King of France
Joan of Arc
Louis XI, King of France
Charles the Bold, Duke of Burgundy
The Battle of Agincourt, 1415
The Battle of Castillon, 1453



The Wars of the Roses 1455-1485
Causes of the Wars of the Roses
The House of Lancaster
The House of York
The House of Beaufort
The House of Neville

The First Battle of St. Albans, 1455
The Battle of Blore Heath, 1459
The Rout of Ludford, 1459
The Battle of Northampton, 1460
The Battle of Wakefield, 1460
The Battle of Mortimer's Cross, 1461
The 2nd Battle of St. Albans, 1461
The Battle of Towton, 1461
The Battle of Hedgeley Moor, 1464
The Battle of Hexham, 1464
The Battle of Edgecote, 1469
The Battle of Losecoat Field, 1470
The Battle of Barnet, 1471
The Battle of Tewkesbury, 1471
The Treaty of Pecquigny, 1475
The Battle of Bosworth Field, 1485
The Battle of Stoke Field, 1487

Henry VI
Margaret of Anjou
Richard Plantagenet, Duke of York
Edward IV
Elizabeth Woodville
Richard Woodville, 1. Earl Rivers
Anthony Woodville, 2. Earl Rivers
Jane Shore
Edward V
Richard III
George, Duke of Clarence

Ralph Neville, 2. Earl of Westmorland
Richard Neville, Earl of Salisbury
Richard Neville, Earl of Warwick
Edward Neville, Baron Bergavenny
William Neville, Lord Fauconberg
Robert Neville, Bishop of Salisbury
John Neville, Marquis of Montagu
George Neville, Archbishop of York
John Beaufort, 1. Duke Somerset
Edmund Beaufort, 2. Duke Somerset
Henry Beaufort, 3. Duke of Somerset
Edmund Beaufort, 4. Duke Somerset
Margaret Beaufort
Edmund Tudor, Earl of Richmond
Jasper Tudor, Earl of Pembroke
Humphrey Stafford, D. Buckingham
Henry Stafford, Duke of Buckingham
Humphrey Stafford, E. of Devon
Thomas, Lord Stanley, Earl of Derby
Sir William Stanley
Archbishop Thomas Bourchier
Henry Bourchier, Earl of Essex
John Mowbray, 3. Duke of Norfolk
John Mowbray, 4. Duke of Norfolk
John Howard, Duke of Norfolk
Henry Percy, 2. E. Northumberland
Henry Percy, 3. E. Northumberland
Henry Percy, 4. E. Northumberland
William, Lord Hastings
Henry Holland, Duke of Exeter
William Fitzalan, Earl of Arundel
William Herbert, 1. Earl of Pembroke
John de Vere, 12th Earl of Oxford
John de Vere, 13th Earl of Oxford
Thomas de Clifford, 8. Baron Clifford
John de Clifford, 9. Baron Clifford
John Tiptoft, Earl of Worcester
Thomas Grey, 1. Marquis Dorset
Sir Andrew Trollop
Archbishop John Morton
Edward Plantagenet, E. of Warwick
John Talbot, 2. E. Shrewsbury
John Talbot, 3. E. Shrewsbury
John de la Pole, 2. Duke of Suffolk
John de la Pole, E. of Lincoln
Edmund de la Pole, E. of Suffolk
Richard de la Pole
John Sutton, Baron Dudley
James Butler, 5. Earl of Ormonde
Sir James Tyrell
Edmund Grey, first Earl of Kent
George Grey, 2nd Earl of Kent
John, 5th Baron Scrope of Bolton
James Touchet, 7th Baron Audley
Walter Blount, Lord Mountjoy
Robert Hungerford, Lord Moleyns
Thomas, Lord Scales
John, Lord Lovel and Holand
Francis Lovell, Viscount Lovell
Sir Richard Ratcliffe
William Catesby
Ralph, 4th Lord Cromwell
Jack Cade's Rebellion, 1450


Tudor Period

King Henry VII
Queen Elizabeth of York
Arthur, Prince of Wales
Lambert Simnel
Perkin Warbeck
The Battle of Blackheath, 1497

King Ferdinand II of Aragon
Queen Isabella of Castile
Maximilian I, Holy Roman Emperor

King Henry VIII
Queen Catherine of Aragon
Queen Anne Boleyn
Queen Jane Seymour
Queen Anne of Cleves
Queen Catherine Howard
Queen Katherine Parr

King Edward VI
Queen Mary I
Queen Elizabeth I
Henry Fitzroy, Duke of Richmond

Margaret Tudor, Queen of Scotland
James IV, King of Scotland
The Battle of Flodden Field, 1513
James V, King of Scotland
Mary of Guise, Queen of Scotland

Mary Tudor, Queen of France
Louis XII, King of France
Francis I, King of France
The Battle of the Spurs, 1513
Field of the Cloth of Gold, 1520
Charles V, Holy Roman Emperor
Eustace Chapuys, Imperial Ambassador
The Siege of Boulogne, 1544

Cardinal Thomas Wolsey
Archbishop Thomas Cranmer
Thomas Cromwell, Earl of Essex
Thomas, Lord Audley
Thomas Wriothesley, E. Southampton
Sir Richard Rich

Edward Stafford, D. of Buckingham
Thomas Howard, 2nd Duke of Norfolk
Thomas Howard, 3rd Duke of Norfolk
John Dudley, Duke of Northumberland
Charles Brandon, Duke of Suffolk
Thomas Boleyn, Earl of Wiltshire
George Boleyn, Viscount Rochford
John Russell, Earl of Bedford
Thomas Grey, 2. Marquis of Dorset
Henry Grey, D. of Suffolk
Charles Somerset, Earl of Worcester
George Talbot, 4. E. Shrewsbury
Francis Talbot, 5. E. Shrewsbury
Henry Algernon Percy,
5th Earl of Northumberland
Henry Algernon Percy,
6th Earl of Northumberland
Ralph Neville, 4. E. Westmorland
Henry Neville, 5. E. Westmorland
William Paulet, Marquis of Winchester
Sir Francis Bryan
Sir Nicholas Carew
John de Vere, 15th Earl of Oxford
John de Vere, 16th Earl of Oxford
Thomas Seymour, Lord Admiral
Edward Seymour, Protector Somerset
Margaret Pole, Countess of Salisbury
Henry Pole, Lord Montague
Sir Geoffrey Pole
Thomas Manners, Earl of Rutland
Henry Manners, Earl of Rutland
Henry Bourchier, 2. Earl of Essex
Robert Radcliffe, 1. Earl of Sussex
Henry Radcliffe, 2. Earl of Sussex
George Hastings, Earl of Huntingdon
Henry Courtenay, Marquis of Exeter
George Neville, Baron Bergavenny
Sir Edward Neville
William, Lord Paget
William Sandys, Baron Sandys
William Fitzwilliam, E. Southampton
Sir Anthony Browne
Sir Thomas Wriothesley
Sir William Kingston
George Brooke, Lord Cobham
Sir Richard Southwell
Thomas Fiennes, 9th Lord Dacre
Sir Francis Weston
Henry Norris
Lady Jane Grey
Sir Thomas Arundel
Sir Richard Sackville
Sir William Petre
Sir John Cheke
Walter Haddon, L.L.D
Sir Peter Carew
Sir John Mason
Nicholas Wotton
John Taylor
Sir Thomas Wyatt, the Younger

Cardinal Lorenzo Campeggio
Cardinal Reginald Pole
Stephen Gardiner, Bishop of Winchester
Edmund Bonner, Bishop of London
Nicholas Ridley, Bishop of London
John Hooper, Bishop of Gloucester
John Aylmer, Bishop of London
Thomas Linacre
William Grocyn
Archbishop William Warham
Cuthbert Tunstall, Bishop of Durham
Richard Fox, Bishop of Winchester
Edward Fox, Bishop of Hereford

Pope Julius II
Pope Leo X
Pope Clement VII
Pope Paul III
Pope Pius V

Pico della Mirandola
Desiderius Erasmus
Martin Bucer
Richard Pace
Christopher Saint-German
Thomas Tallis
Elizabeth Barton, the Nun of Kent
Hans Holbein, the Younger
The Sweating Sickness

Dissolution of the Monasteries
Pilgrimage of Grace, 1536
Robert Aske
Anne Askew
Lord Thomas Darcy
Sir Robert Constable

Oath of Supremacy
The Act of Supremacy, 1534
The First Act of Succession, 1534
The Third Act of Succession, 1544
The Ten Articles, 1536
The Six Articles, 1539
The Second Statute of Repeal, 1555
The Act of Supremacy, 1559
Articles Touching Preachers, 1583

Queen Elizabeth I
William Cecil, Lord Burghley
Robert Cecil, 1st Earl of Salisbury
Sir Francis Walsingham
Sir Nicholas Bacon
Sir Thomas Bromley

Robert Dudley, Earl of Leicester
Ambrose Dudley, Earl of Warwick
Henry Carey, Lord Hunsdon
Sir Thomas Egerton, Viscount Brackley
Sir Francis Knollys
Katherine "Kat" Ashley
Lettice Knollys, Countess of Leicester
George Talbot, 6. E. of Shrewsbury
Elizabeth, Countess of Shrewsbury
Gilbert Talbot, 7. E. of Shrewsbury
Sir Henry Sidney
Sir Robert Sidney
Archbishop Matthew Parker
Walter Devereux, 1st Earl of Essex
Robert Devereux, 2nd Earl of Essex
Penelope Devereux, Lady Rich
Sir Christopher Hatton
Edward Courtenay, E. Devonshire
Edward Manners, 3rd Earl of Rutland
Thomas Radcliffe, 3. Earl of Sussex
Henry Radcliffe, 4. Earl of Sussex
Robert Radcliffe, 5. Earl of Sussex
William Parr, Marquis of Northampton
Henry Wriothesley, 2. Southampton
Henry Wriothesley, 3. Southampton
Charles Neville, 6. E. Westmorland
Thomas Percy, 7. E. Northumberland
Henry Percy, 8. E. Northumberland
Henry Percy, 9. E. Nothumberland
William Herbert, 1. Earl of Pembroke
Charles, Lord Howard of Effingham
Thomas Howard, 4th Duke of Norfolk
Henry Howard, 1. Earl of Northampton
Thomas Howard, 1. Earl of Suffolk
Henry Hastings, 3. E. of Huntingdon
Edward Manners, 3rd Earl of Rutland
Roger Manners, 5th Earl of Rutland
Francis Manners, 6th Earl of Rutland
Henry FitzAlan, 12. Earl of Arundel
Thomas, Earl Arundell of Wardour
Edward Somerset, E. of Worcester
William Davison
Sir Walter Mildmay
Sir Ralph Sadler
Sir Amyas Paulet
Gilbert Gifford
Anthony Browne, Viscount Montague
François, Duke of Alençon & Anjou

Mary, Queen of Scots
Henry Stuart, Lord Darnley
James Hepburn, Earl of Bothwell
Anthony Babington and the Babington Plot
John Knox

Philip II of Spain
The Spanish Armada, 1588
Sir Francis Drake
Sir John Hawkins

William Camden
Archbishop Whitgift
Martin Marprelate Controversy
John Penry (Martin Marprelate)
Richard Bancroft, Archbishop of Canterbury
John Dee, Alchemist

Philip Henslowe
Edward Alleyn
The Blackfriars Theatre
The Fortune Theatre
The Rose Theatre
The Swan Theatre
Children's Companies
The Admiral's Men
The Lord Chamberlain's Men
Citizen Comedy
The Isle of Dogs, 1597

Common Law
Court of Common Pleas
Court of King's Bench
Court of Star Chamber
Council of the North
Fleet Prison
Assize
Attainder
First Fruits & Tenths
Livery and Maintenance
Oyer and terminer
Praemunire


The Stuarts

King James I of England
Anne of Denmark
Henry, Prince of Wales
The Gunpowder Plot, 1605
George Villiers, 1st Duke of Buckingham
Robert Carr, Earl of Somerset
Arabella Stuart, Lady Lennox

William Alabaster
Bishop Hall
Bishop Thomas Morton
Archbishop William Laud
John Selden
Lucy Harington, Countess of Bedford
Henry Lawes

King Charles I
Queen Henrietta Maria

Long Parliament
Rump Parliament
Kentish Petition, 1642

Thomas Wentworth, Earl of Strafford
John Digby, Earl of Bristol
George Digby, 2nd Earl of Bristol
Thomas Fairfax, 3rd Lord Fairfax
Robert Devereux, 3rd E. of Essex
Robert Sidney, 2. E. of Leicester
Algernon Percy, E. of Northumberland
Henry Montagu, Earl of Manchester
Edward Montagu, 2. Earl of Manchester

The Restoration

King Charles II
King James II
Test Acts

Greenwich Palace
Hatfield House
Richmond Palace
Windsor Palace
Woodstock Manor

The Cinque Ports
Mermaid Tavern
Malmsey Wine
Great Fire of London, 1666
Merchant Taylors' School
Westminster School
The Sanctuary at Westminster
"Sanctuary"


Images:

Chart of the English Succession from William I through Henry VII

Medieval English Drama

London c1480, MS Royal 16
London, 1510, the earliest view in print
Map of England from Saxton's Descriptio Angliae, 1579
London in late 16th century
Location Map of Elizabethan London
Plan of the Bankside, Southwark, in Shakespeare's time
Detail of Norden's Map of the Bankside, 1593
Bull and Bear Baiting Rings from the Agas Map (1569-1590, pub. 1631)
Sketch of the Swan Theatre, c. 1596
Westminster in the Seventeenth Century, by Hollar
Visscher's View of London, 1616
Larger Visscher's View in Sections
c. 1690. View of London Churches, after the Great Fire
The Yard of the Tabard Inn from Thornbury, Old and New London