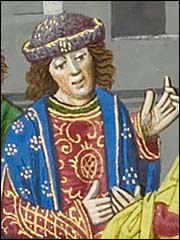 RICHARD FITZALAN (III), Earl of Arundel and Surrey (1346-1397),1 born in 1346, was the son of Richard Fitzalan (II), Earl of Arundel, and his second wife, Eleanor, daughter of Henry, third earl of Lancaster. He served on the expedition to the Pays de Caux under Lancaster.2 In January 1376 he succeeded to his father's estates and titles. Though the petitions of the Good Parliament contain complaints of the men of Surrey and Sussex against the illegal jurisdiction exercised by his novel 'shire-court' at Arundel over the rapes of Chichester and Arundel,3 he was appointed one of the standing council established in that parliament to restrain the dotage of Edward III.4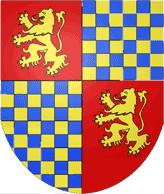 At Richard II's coronation he acted as chief butler.5 He was placed on the council of regency,6 and in 1380 put on a commission to regulate the royal household. In 1377 he was appointed admiral of the west. His earlier naval exploits were but little glorious, yet French authorities credit him with the merit of having saved Southampton from their assault.7 About Whitsuntide 1378 he attacked Harfleur, but was subsequently driven to sea.8 In the same year he and the Earl of Salisbury were defeated by a Spanish fleet, though they afterwards compelled Cherbourg to surrender.9

He next accompanied John of Gaunt on his expedition to St. Malo, where his negligence on the watch gave the French an opportunity to destroy a mine and so compel the raising of the siege.10 Arundel barely escaped with his life.11 The earl showed an equal sluggishness in defending even his own tenants when the French ravaged the coasts of Sussex.12 In 1381 he and Michael de la Pole were approved in parliament as councillors in constant attendance upon the young king and as governors of his person13 In 1383 he was proposed as lieutenant of Bishop Spencer of Norwich's crusading army, but the bishop refused to accept him.14 In 1385 he took part in the expedition to Scotland.

Arundel definitely joined the baronial opposition that had now reformed under Gloucester, the king's uncle. He took a prominent part in the attack on the royal favourites in 1386, acted as one of the judges of M. de la Pole,15 and was put on the commission appointed in parliament to reform and govern the realm and the royal household.16 His appointment as admiral was now renewed with a wider commission, rendered necessary by the projected great invasion of England, which brought Charles VI to Sluys.17 In the spring of 1387 he and Nottingham prepared an expedition against the French, which, on 24 March, defeated a great fleet of Flemish, French, and Spanish ships off Margate, and captured nearly a hundred vessels laden with wine.18 This brilliant victory won Arundel an extraordinary popularity, which was largely increased by the liberality with which he refused to turn the rich booty to his own advantage. For the whole year wine was cheap in England and dear in Netherlands.19 Immediately after he sailed to Brest and relieved and revictualled the town, which was still held for the English, and destroyed two forts erected by the French besiegers over against it.20 He then returned in triumph to England, plundering the country round Sluys and capturing snips there on his way. All danger of French invasion was at an end.

In 1387 Richard II obtained from the judges a declaration of the illegality of the commission of which Arundel was a member. His rash attempt to arrest the earl produced the final conflict. Northumberland was sent to seize Arundel at Reigate, but, fearing the number of his retainers, retired without accomplishing his mission.21 Warned of this treachery, Arundel escaped by night and joined Gloucester and Warwick at Harringhay, where they took arms (November 1387). At Waltham Cross on 16 Nov. they first appealed of treason the evil councillors of the king, and on 17 Nov. forced Richard to accept their charges at Westminster Hall.

When the favourites attempted resistance, another meeting of the confederates was held on 12 Dec. at Huntingdon, where Arundel strongly urged the capture and deposition of the king. But the reluctance of the new associates, Derby and Nottingham, caused this violent plan to be rejected.22 But Arundel continued the fiercest of the king's enemies. In the parliament of February 1388 he was one of the five lords who solemnly renewed the appeal [see Lords Appellant].23 He specially pressed for the execution of Burley [Sir Simon Burley, Warden of the Cinque Ports], though Derby wished to save him, and for three hours the queen interceded on her knees for his life.24

In May 1388 Arundel again went to sea, still acting as admiral, and now also as captain of Brest and lieutenant of the king in Brittany. Failing to do anything great in that country, he sailed southward, conquered Oleron and other small islands off the coast , and finally landed off La Rochelle, and took thence great pillage.25 Next year, however, he was superseded as admiral by Huntingdon,26 and in May was, with the other Lords Appellant, removed from the council. He was, however, restored in December, when Richard and his old masters finally came to terms.27

For the next few years peace prevailed at home and abroad. The party of the appellants began to show signs of breaking up, though Arundel still remained faithful to his old policy. In 1392 he was fined four hundred marks for marrying Philippa, daughter of the Earl of March and widow of John Hastings, Earl of Pembroke.28 A personal quarrel of Arundel with John of Gaunt marks the beginning of the catastrophe of Richard II's reign. The new Countess of Arundel was rude to Catharine Swynford [Duchess of Lancaster].29 Henry Beaufort, if report were true, seduced Alice, Arundel's daughter.30

In 1393, when Arundel was residing at his castle of Holt, a revolt against John of Gaunt broke out in Cheshire, and Arundel showed such inactivity in assisting in the restoration of peace that the duke publicly accused him in parliament of conniving at the rising.31 Arundel answered by a long series of complaints against Lancaster.32 Some of these so nearly touched the king as to make him very angry, and Arundel was compelled to apologise for what he had said. The actual English words that he uttered in his recantation are preserved in the Rolls of Parliament.

A short retirement from court now seems to have ensued,33 but Arundel soon returned, only to give Richard fresh offence by coming late to the queen's funeral and yet asking leave to retire at once from the ceremony.34 The king struck Arundel with a cane with such force as to shed blood and therefore to pollute the precincts of Westminster Abbey. On 3 Aug. Arundel was sent to the Tower,35 but was released on 10 Aug.,36 when he re-entered the council. The appointment of his brother Thomas as Archbishop of Canterbury may mark the final reconciliation.

After the stormy parliament of February 1397, Arundel and Gloucester withdrew from court, after reproaching the king with the loss of Brest and Cherbourg. It was probably after this, if ever, that Arundel entertained Gloucester, Warwick, and his brother the Archbishop at Arundel Castle, when they entered into a solemn conspiracy against Richard.37 Nottingham, who, though Arundel's son-in-law and one of the appellants, had now deserted his old party, informed Richard of the plot. The king invited the three chief conspirators to a banquet on 10 July.38 From this Arundel absented himself without so much as an excuse, but the arrest of Warwick, who ventured to attend, was his justification.

He was, however, in a hopeless position. His brother pressed him to surrender, and persuaded him that the king had given satisfactory promises of his safety.39 He left accordingly his stronghold at Reigate, and accompanied the archbishop to the palace. Richard at once handed him over into custody, while Thomas returned sorrowfully to Lambeth.40 This was on 16 July. Arundel was hurried off to Carisbrooke and thence after an interval removed to the Tower.

On 17 Sept. a royalist parliament assembled. The pardons of the appellants were revoked.41 On 20 Sept. Archbishop Arundel was impeached. Next day the new appellants laid their charges against the Earl of Arundel before the lords. He was brought before them, arrayed in scarlet. With much passion he protested that he was no traitor, and that the charges against him were barred by the pardons he had received. A long and angry altercation broke out between him and John of Gaunt and Henry of Derby, his old associate. He refused to answer the charges, denounced his accusers as liars, and when the speaker declared that the pardon on which he relied had been revoked by the faithful Commons, exclaimed, 'The faithful commons are not here'.42

He was, of course, condemned, though Richard commuted the barbarous penalty of treason into simple decapitation. The execution immediately followed. He was hurried through the streets of London to Tower Hill, amidst the lamentations of a sympathising multitude. Brutally ill-treated by the bands of Cheshiremen who had been collected to overawe the Londoners, he displayed extraordinary firmness and resolution, 'no more shrinking or changing colour than if he were going to a banquet.'43 He rebuked with much dignity his treacherous kinsfolk,44 and exhorted the hangman to sharpen well his axe. Slain by a single stroke, he was buried in the church of the Augustinian friars. The people reverenced him as a martyr, and went on pilgrimage to his tomb. At last Richard, conscience-stricken though he was at his death, avoided a great political anger by ordering all traces of the place of his burial to be removed. But after the fall of Richard the pilgrimages were renewed, and the next generation did not doubt that his merits had won for him a place in the company of the saints.45

Arundel was very religious and a bountiful patron of the church. So early as 1380 he was admitted into the brotherhood of the abbey of Tichfield. In the same year he founded the hospital of the Holy Trinity at Arundel for a warden and twenty poor men.46 Between 1380 and 1387 he enlarged the chantry projected by his father into the college of the Holy Trinity, also at Arundel. This establishment now included a master and twelve secular canons, and superseded the confiscated alien priory of St. Nicholas.47 In his will he left liberal legacies to several churches.

By his first wife, Elizabeth (d. 1385), daughter of William de Bohun, Earl of Northampton, Arundel had three sons and four daughters. The second son, Thomas, ultimately became Earl of Arundel. Of his daughter Elizabeth's four husbands, the second was Thomas Mowbray, Earl of Nottingham. Another daughter, Joan, married William, Lord Bergavenny. A third, Alice, married John, Lord Charlton of Powys. By Philippa Mortimer Arundel had no children.





1. Depending on the source and on how the barons are counted, he is called either the 4th, 11th, or 14th Earl of Arundel.
2. Nicolas, Scrope and Grosvenor Roll, i. 220.
3. Rotuli Parliamentorum, ii. 348.
4. Chronicon Angliae, 1328-1388, p. lxviii, Rolls Ser.
5. Rot. Parl. iii. 181.
6. ib. iii. 386.
7. Luce, Chronique des Quatre Premiers Valois, p. 263, ed. Soc. de l'Histoire de France.
8. ib. p. 273.
9. Walsingham, Chronicle of Richard II, ed. Riley, i. 371.
10. Froissart, livre ii. ch. xxxvi. ed. Buchon.
11. Chronique des Quatre Premiers Valois, p. 276.
12. Walsingham. i. 439; cf. Chron. Angliae, p. 168.
13. Walsingham. ii. 166; Rot. Parl. iii. 1046.
14. ib. iii. 155 a.
15. Walsingham. ii. 152.
16. Rot. Parl. iii. 221.
17. Froissart, iii. 47; cf. Wallon, Richard II, livre v. ch.iii.
18. Walsingham. ii. 164-6; Monk of Evesham's History of the Life and Reign of Richard II, ed. Hearne, 1729, p. 78; Froissart, iii. 58. The different accounts vary hopelessly; see Nicolas, A History of the Royal Navy, ii. 317-24.
19. Froissart, iii. 64.
20. Knighton in Twysden's Decem Scriptores, c. 2692.
21. Monk of Evesham, p. 90.
22. Rot. Parl. iii. 376.
23. ib. iii. 229; Knihhton, cc. 2713-2726.
24. Chronique de la Traison et Mort de Richard, Engl. Hist. Soc., p. 133.
25. Froissart, iii. 112, 113, 129.
26. Knighton, c. 2735.
27. Nicolas, Proceedings of the Privy Council, i. 17.
28. Rot. Pat. 15 Rich. II, in Dallaway's Western Sussex, II. i. 134, new edit.
29. Froissart, iv. 60.
30. Powel, History of Cambria, p. 138, from a pedigree of the Stradlings, whose then representative married the daughter born of the connection; cf. Clark, Limbus Patrum Morganiae et Glanmorganiae, p. 435.
31. Walsingham. ii. 214; Annales Ric. II, ed Riley, p. 161.
32. Rot. Parl. iii. 313.
33. Ann. Ric. II, p. 166.
34. ib. p. 169; Walsingham, ii. 215.
35. Rymer, Foedera, vii. 784.
36. ib. vii. 785.
37. Chronique de la Traison, pp. 5-6, though the date there given, 23 July 1396, must be wrong, and 28 July 1397, the editor's conjecture, is too late, one manuscript says 8 Feb.; Chronique du Religieux de Saint-Denys, ii. 476-8, in Collection de Documents Inedits, cf. Froissart, iv. 56. The statement is in no English authority, and has been much questioned, cf. Wallon, ii. 161, 452.
38. Ann. Ric. II, p. 201.
39. ib. 202-8; Walsingham, ii. 223.
40. Eulogium Historiarum iii. 371.
41. Rot. Parl. iii. 350, 351.
42. Monk of Evesham, pp. 136-8; Rot. Parl. iii. 377; Ann. Ric. pp. 214-19.
43. Walsingham. ii. 225-6; cf. Religieux de Saint-Denys, ii. 552.
44. Nottingham was not present, though Walsingham and Froissart, iv. 61, say that he was.
45. Adam of Usk, Chronicon Adae de Usk, ed. Thompson, 1876, p. 14.
46. Dugdale, Monasticon, ed. Caley, &c., 1849, vi. 736-7.
47. ib. vi. 1377-1379; Tierney, History of Arundel, pp. 594-613.



---

Excerpted from:

Tout, T. F. "Richard Fitzalan (III), Earl of Arundel And Surrey."
Dictionary of National Biography. Vol. VII. Leslie Stephen and Sidney Lee, Eds.
New York: The Macmillan Company, 1908. 98-100.


---
Other Local Resources:
---
Web Links:
---
| | |
| --- | --- |
| | to Luminarium Encyclopedia |


Site ©1996-2023 Anniina Jokinen. All rights reserved.
This page was created on June 3, 2012. Last updated March 5, 2023.








Index of Encyclopedia Entries:

Medieval Cosmology
Prices of Items in Medieval England

Edward II
Isabella of France, Queen of England
Piers Gaveston
Thomas of Brotherton, E. of Norfolk
Edmund of Woodstock, E. of Kent
Thomas, Earl of Lancaster
Henry of Lancaster, Earl of Lancaster
Henry of Grosmont, Duke of Lancaster
Roger Mortimer, Earl of March
Hugh le Despenser the Younger
Bartholomew, Lord Burghersh, elder

Hundred Years' War (1337-1453)

Edward III
Philippa of Hainault, Queen of England
Edward, Black Prince of Wales
John of Eltham, Earl of Cornwall
The Battle of Crécy, 1346
The Siege of Calais, 1346-7
The Battle of Poitiers, 1356
Lionel of Antwerp, Duke of Clarence
John of Gaunt, Duke of Lancaster
Edmund of Langley, Duke of York
Thomas of Woodstock, Gloucester
Richard of York, E. of Cambridge
Richard Fitzalan, 3. Earl of Arundel
Roger Mortimer, 2nd Earl of March
The Good Parliament, 1376
Richard II
The Peasants' Revolt, 1381
Lords Appellant, 1388
Richard Fitzalan, 4. Earl of Arundel
Archbishop Thomas Arundel
Thomas de Beauchamp, E. Warwick
Robert de Vere, Earl of Oxford
Ralph Neville, E. of Westmorland
Thomas Mowbray, Duke of Norfolk
Edmund Mortimer, 3. Earl of March
Roger Mortimer, 4. Earl of March
John Holland, Duke of Exeter
Michael de la Pole, E. Suffolk
Hugh de Stafford, 2. E. Stafford
Henry IV
Edward, Duke of York
Edmund Mortimer, 5. Earl of March
Henry Percy, Earl of Northumberland
Sir Henry Percy, "Harry Hotspur"
Thomas Percy, Earl of Worcester
Owen Glendower
The Battle of Shrewsbury, 1403
Archbishop Richard Scrope
Thomas Mowbray, 3. E. Nottingham
John Mowbray, 2. Duke of Norfolk
Thomas Fitzalan, 5. Earl of Arundel
Henry V
Thomas, Duke of Clarence
John, Duke of Bedford
Humphrey, Duke of Gloucester
John Talbot, Earl of Shrewsbury
Richard, Earl of Cambridge
Henry, Baron Scrope of Masham
William de la Pole, Duke of Suffolk
Thomas Montacute, E. Salisbury
Richard Beauchamp, E. of Warwick
Henry Beauchamp, Duke of Warwick
Thomas Beaufort, Duke of Exeter
Cardinal Henry Beaufort
John Beaufort, Earl of Somerset
Sir John Fastolf
John Holland, 2. Duke of Exeter
Archbishop John Stafford
Archbishop John Kemp
Catherine of Valois
Owen Tudor
John Fitzalan, 7. Earl of Arundel
John, Lord Tiptoft

Charles VII, King of France
Joan of Arc
Louis XI, King of France
Charles the Bold, Duke of Burgundy
The Battle of Agincourt, 1415
The Battle of Castillon, 1453



The Wars of the Roses 1455-1485
Causes of the Wars of the Roses
The House of Lancaster
The House of York
The House of Beaufort
The House of Neville

The First Battle of St. Albans, 1455
The Battle of Blore Heath, 1459
The Rout of Ludford, 1459
The Battle of Northampton, 1460
The Battle of Wakefield, 1460
The Battle of Mortimer's Cross, 1461
The 2nd Battle of St. Albans, 1461
The Battle of Towton, 1461
The Battle of Hedgeley Moor, 1464
The Battle of Hexham, 1464
The Battle of Edgecote, 1469
The Battle of Losecoat Field, 1470
The Battle of Barnet, 1471
The Battle of Tewkesbury, 1471
The Treaty of Pecquigny, 1475
The Battle of Bosworth Field, 1485
The Battle of Stoke Field, 1487

Henry VI
Margaret of Anjou
Richard Plantagenet, Duke of York
Edward IV
Elizabeth Woodville
Richard Woodville, 1. Earl Rivers
Anthony Woodville, 2. Earl Rivers
Jane Shore
Edward V
Richard III
George, Duke of Clarence

Ralph Neville, 2. Earl of Westmorland
Richard Neville, Earl of Salisbury
Richard Neville, Earl of Warwick
Edward Neville, Baron Bergavenny
William Neville, Lord Fauconberg
Robert Neville, Bishop of Salisbury
John Neville, Marquis of Montagu
George Neville, Archbishop of York
John Beaufort, 1. Duke Somerset
Edmund Beaufort, 2. Duke Somerset
Henry Beaufort, 3. Duke of Somerset
Edmund Beaufort, 4. Duke Somerset
Margaret Beaufort
Edmund Tudor, Earl of Richmond
Jasper Tudor, Earl of Pembroke
Humphrey Stafford, D. Buckingham
Henry Stafford, Duke of Buckingham
Humphrey Stafford, E. of Devon
Thomas, Lord Stanley, Earl of Derby
Sir William Stanley
Archbishop Thomas Bourchier
Henry Bourchier, Earl of Essex
John Mowbray, 3. Duke of Norfolk
John Mowbray, 4. Duke of Norfolk
John Howard, Duke of Norfolk
Henry Percy, 2. E. Northumberland
Henry Percy, 3. E. Northumberland
Henry Percy, 4. E. Northumberland
William, Lord Hastings
Henry Holland, Duke of Exeter
William Fitzalan, Earl of Arundel
William Herbert, 1. Earl of Pembroke
John de Vere, 12th Earl of Oxford
John de Vere, 13th Earl of Oxford
Thomas de Clifford, 8. Baron Clifford
John de Clifford, 9. Baron Clifford
John Tiptoft, Earl of Worcester
Thomas Grey, 1. Marquis Dorset
Sir Andrew Trollop
Archbishop John Morton
Edward Plantagenet, E. of Warwick
John Talbot, 2. E. Shrewsbury
John Talbot, 3. E. Shrewsbury
John de la Pole, 2. Duke of Suffolk
John de la Pole, E. of Lincoln
Edmund de la Pole, E. of Suffolk
Richard de la Pole
John Sutton, Baron Dudley
James Butler, 5. Earl of Ormonde
Sir James Tyrell
Edmund Grey, first Earl of Kent
George Grey, 2nd Earl of Kent
John, 5th Baron Scrope of Bolton
James Touchet, 7th Baron Audley
Walter Blount, Lord Mountjoy
Robert Hungerford, Lord Moleyns
Thomas, Lord Scales
John, Lord Lovel and Holand
Francis Lovell, Viscount Lovell
Sir Richard Ratcliffe
William Catesby
Ralph, 4th Lord Cromwell
Jack Cade's Rebellion, 1450


Tudor Period

King Henry VII
Queen Elizabeth of York
Arthur, Prince of Wales
Lambert Simnel
Perkin Warbeck
The Battle of Blackheath, 1497

King Ferdinand II of Aragon
Queen Isabella of Castile
Maximilian I, Holy Roman Emperor

King Henry VIII
Queen Catherine of Aragon
Queen Anne Boleyn
Queen Jane Seymour
Queen Anne of Cleves
Queen Catherine Howard
Queen Katherine Parr

King Edward VI
Queen Mary I
Queen Elizabeth I
Henry Fitzroy, Duke of Richmond

Margaret Tudor, Queen of Scotland
James IV, King of Scotland
The Battle of Flodden Field, 1513
James V, King of Scotland
Mary of Guise, Queen of Scotland

Mary Tudor, Queen of France
Louis XII, King of France
Francis I, King of France
The Battle of the Spurs, 1513
Field of the Cloth of Gold, 1520
Charles V, Holy Roman Emperor
Eustace Chapuys, Imperial Ambassador
The Siege of Boulogne, 1544

Cardinal Thomas Wolsey
Archbishop Thomas Cranmer
Thomas Cromwell, Earl of Essex
Thomas, Lord Audley
Thomas Wriothesley, E. Southampton
Sir Richard Rich

Edward Stafford, D. of Buckingham
Thomas Howard, 2nd Duke of Norfolk
Thomas Howard, 3rd Duke of Norfolk
John Dudley, Duke of Northumberland
Charles Brandon, Duke of Suffolk
Thomas Boleyn, Earl of Wiltshire
George Boleyn, Viscount Rochford
John Russell, Earl of Bedford
Thomas Grey, 2. Marquis of Dorset
Henry Grey, D. of Suffolk
Charles Somerset, Earl of Worcester
George Talbot, 4. E. Shrewsbury
Francis Talbot, 5. E. Shrewsbury
Henry Algernon Percy,
5th Earl of Northumberland
Henry Algernon Percy,
6th Earl of Northumberland
Ralph Neville, 4. E. Westmorland
Henry Neville, 5. E. Westmorland
William Paulet, Marquis of Winchester
Sir Francis Bryan
Sir Nicholas Carew
John de Vere, 15th Earl of Oxford
John de Vere, 16th Earl of Oxford
Thomas Seymour, Lord Admiral
Edward Seymour, Protector Somerset
Margaret Pole, Countess of Salisbury
Henry Pole, Lord Montague
Sir Geoffrey Pole
Thomas Manners, Earl of Rutland
Henry Manners, Earl of Rutland
Henry Bourchier, 2. Earl of Essex
Robert Radcliffe, 1. Earl of Sussex
Henry Radcliffe, 2. Earl of Sussex
George Hastings, Earl of Huntingdon
Henry Courtenay, Marquis of Exeter
George Neville, Baron Bergavenny
Sir Edward Neville
William, Lord Paget
William Sandys, Baron Sandys
William Fitzwilliam, E. Southampton
Sir Anthony Browne
Sir Thomas Wriothesley
Sir William Kingston
George Brooke, Lord Cobham
Sir Richard Southwell
Thomas Fiennes, 9th Lord Dacre
Sir Francis Weston
Henry Norris
Lady Jane Grey
Sir Thomas Arundel
Sir Richard Sackville
Sir William Petre
Sir John Cheke
Walter Haddon, L.L.D
Sir Peter Carew
Sir John Mason
Nicholas Wotton
John Taylor
Sir Thomas Wyatt, the Younger

Cardinal Lorenzo Campeggio
Cardinal Reginald Pole
Stephen Gardiner, Bishop of Winchester
Edmund Bonner, Bishop of London
Nicholas Ridley, Bishop of London
John Hooper, Bishop of Gloucester
John Aylmer, Bishop of London
Thomas Linacre
William Grocyn
Archbishop William Warham
Cuthbert Tunstall, Bishop of Durham
Richard Fox, Bishop of Winchester
Edward Fox, Bishop of Hereford

Pope Julius II
Pope Leo X
Pope Clement VII
Pope Paul III
Pope Pius V

Pico della Mirandola
Desiderius Erasmus
Martin Bucer
Richard Pace
Christopher Saint-German
Thomas Tallis
Elizabeth Barton, the Nun of Kent
Hans Holbein, the Younger
The Sweating Sickness

Dissolution of the Monasteries
Pilgrimage of Grace, 1536
Robert Aske
Anne Askew
Lord Thomas Darcy
Sir Robert Constable

Oath of Supremacy
The Act of Supremacy, 1534
The First Act of Succession, 1534
The Third Act of Succession, 1544
The Ten Articles, 1536
The Six Articles, 1539
The Second Statute of Repeal, 1555
The Act of Supremacy, 1559
Articles Touching Preachers, 1583

Queen Elizabeth I
William Cecil, Lord Burghley
Robert Cecil, 1st Earl of Salisbury
Sir Francis Walsingham
Sir Nicholas Bacon
Sir Thomas Bromley

Robert Dudley, Earl of Leicester
Ambrose Dudley, Earl of Warwick
Henry Carey, Lord Hunsdon
Sir Thomas Egerton, Viscount Brackley
Sir Francis Knollys
Katherine "Kat" Ashley
Lettice Knollys, Countess of Leicester
George Talbot, 6. E. of Shrewsbury
Elizabeth, Countess of Shrewsbury
Gilbert Talbot, 7. E. of Shrewsbury
Sir Henry Sidney
Sir Robert Sidney
Archbishop Matthew Parker
Walter Devereux, 1st Earl of Essex
Robert Devereux, 2nd Earl of Essex
Penelope Devereux, Lady Rich
Sir Christopher Hatton
Edward Courtenay, E. Devonshire
Edward Manners, 3rd Earl of Rutland
Thomas Radcliffe, 3. Earl of Sussex
Henry Radcliffe, 4. Earl of Sussex
Robert Radcliffe, 5. Earl of Sussex
William Parr, Marquis of Northampton
Henry Wriothesley, 2. Southampton
Henry Wriothesley, 3. Southampton
Charles Neville, 6. E. Westmorland
Thomas Percy, 7. E. Northumberland
Henry Percy, 8. E. Northumberland
Henry Percy, 9. E. Nothumberland
William Herbert, 1. Earl of Pembroke
Charles, Lord Howard of Effingham
Thomas Howard, 4th Duke of Norfolk
Henry Howard, 1. Earl of Northampton
Thomas Howard, 1. Earl of Suffolk
Henry Hastings, 3. E. of Huntingdon
Edward Manners, 3rd Earl of Rutland
Roger Manners, 5th Earl of Rutland
Francis Manners, 6th Earl of Rutland
Henry FitzAlan, 12. Earl of Arundel
Thomas, Earl Arundell of Wardour
Edward Somerset, E. of Worcester
William Davison
Sir Walter Mildmay
Sir Ralph Sadler
Sir Amyas Paulet
Gilbert Gifford
Anthony Browne, Viscount Montague
François, Duke of Alençon & Anjou

Mary, Queen of Scots
Henry Stuart, Lord Darnley
James Hepburn, Earl of Bothwell
Anthony Babington and the Babington Plot
John Knox

Philip II of Spain
The Spanish Armada, 1588
Sir Francis Drake
Sir John Hawkins

William Camden
Archbishop Whitgift
Martin Marprelate Controversy
John Penry (Martin Marprelate)
Richard Bancroft, Archbishop of Canterbury
John Dee, Alchemist

Philip Henslowe
Edward Alleyn
The Blackfriars Theatre
The Fortune Theatre
The Rose Theatre
The Swan Theatre
Children's Companies
The Admiral's Men
The Lord Chamberlain's Men
Citizen Comedy
The Isle of Dogs, 1597

Common Law
Court of Common Pleas
Court of King's Bench
Court of Star Chamber
Council of the North
Fleet Prison
Assize
Attainder
First Fruits & Tenths
Livery and Maintenance
Oyer and terminer
Praemunire


The Stuarts

King James I of England
Anne of Denmark
Henry, Prince of Wales
The Gunpowder Plot, 1605
George Villiers, 1st Duke of Buckingham
Robert Carr, Earl of Somerset
Arabella Stuart, Lady Lennox

William Alabaster
Bishop Hall
Bishop Thomas Morton
Archbishop William Laud
John Selden
Lucy Harington, Countess of Bedford
Henry Lawes

King Charles I
Queen Henrietta Maria

Long Parliament
Rump Parliament
Kentish Petition, 1642

Thomas Wentworth, Earl of Strafford
John Digby, Earl of Bristol
George Digby, 2nd Earl of Bristol
Thomas Fairfax, 3rd Lord Fairfax
Robert Devereux, 3rd E. of Essex
Robert Sidney, 2. E. of Leicester
Algernon Percy, E. of Northumberland
Henry Montagu, Earl of Manchester
Edward Montagu, 2. Earl of Manchester

The Restoration

King Charles II
King James II
Test Acts

Greenwich Palace
Hatfield House
Richmond Palace
Windsor Palace
Woodstock Manor

The Cinque Ports
Mermaid Tavern
Malmsey Wine
Great Fire of London, 1666
Merchant Taylors' School
Westminster School
The Sanctuary at Westminster
"Sanctuary"


Images:

Chart of the English Succession from William I through Henry VII

Medieval English Drama

London c1480, MS Royal 16
London, 1510, the earliest view in print
Map of England from Saxton's Descriptio Angliae, 1579
London in late 16th century
Location Map of Elizabethan London
Plan of the Bankside, Southwark, in Shakespeare's time
Detail of Norden's Map of the Bankside, 1593
Bull and Bear Baiting Rings from the Agas Map (1569-1590, pub. 1631)
Sketch of the Swan Theatre, c. 1596
Westminster in the Seventeenth Century, by Hollar
Visscher's View of London, 1616
Larger Visscher's View in Sections
c. 1690. View of London Churches, after the Great Fire
The Yard of the Tabard Inn from Thornbury, Old and New London