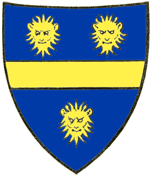 MICHAEL DE LA POLE, called in English Michael Atte Pool, Earl of Suffolk (1330?-1389), Lord Chancellor, son of Sir William de la Pole (d. 1366), by Katherine Norwich, was probably born about 1330.1 In 1339 he received for himself and his heirs the grant of a reversion of an annuity of £702 from the customs of Hull, already bestowed on his father and uncle.3 In 1354 he had a charter of free warren within his demesne lands of Bliburgh, Gresthorpe, and Grafton.

He was already a knight, when in 1355 he was attached to the retinue of Henry, Duke of Lancaster, in his abortive expedition to Normandy. Henceforward his chief occupation for many years was war against the French. In 1359 he accompanied Edward the Black Prince in a new expedition.4 He was again fighting in France in 1369. He was serving in 1370 under the Black Prince in Aquitaine, took part in September of that year in the famous siege of Limoges,5 and in December 1370 and January 1371 fought under John of Gaunt at the successful siege of Montpont.6 He also accompanied John of Gaunt in the abortive expedition of 1372. During his French campaigns he was twice taken prisoner.7 He was also at one time captain of Calais.8

While thus active abroad and at sea, Pole was also occupied at home. In 1362 he had livery of the lands of his niece Catherine, who died in that year, and was the daughter and heiress of his brother Thomas. In January 1360 he was first summoned to parliament as a baron.9 Thus he was already a peer when the death of his father, on 21 April 1366, and the succession to his extensive estates, gave him a still more commanding position. On 10 Feb. 1367 he was appointed one of the commissioners of array for the East Riding of Yorkshire, in which district his influence chiefly lay.

In domestic politics he attached himself to John of Gaunt. In the Good Parliament of 1376 he stood strongly on the side of the crown and the unpopular duke.10 Though his relations to John of Gaunt cooled, Pole never swerved for the rest of his career from the policy of supporting the crown. It was doubtless as a reward for his loyalty that he was on 24 Nov. 1376 appointed Admiral of the King's Fleet North of the Thames.11

The accession of Richard II did not affect Pole's position. On 14 Aug. 1377 his commission as Admiral of the West was renewed.12 However, on 5 Dec. of the same year he and his colleague Robert Hales were superseded in favour of the Earls of Warwick and Arundel.13 He joined in Lancaster's useless maritime operations against the French; was put on the council of the little king [Richard II], and, on 18 March 1379, headed an embassy to Milan to negotiate a marriage between Richard II and Catherine, daughter of Bernabo Visconti, Lord of Milan.14

Nothing came of the Milanese negotiation; and Pole, after visiting the papal curia at Rome, went to Wenceslas, king of the Romans and of Bohemia, to suggest Richard's marriage with Wenceslas's sister Anne. He was, however, taken prisoner, though under an imperial safe-conduct, and on 20 Jan. 1380 John Otter and others were despatched from England to effect his ransom.15 A mysterious entry on the issue roll of 1384 allows Pole his expenses for these expeditions, and also for money paid to ransom the lady, Anne, who also seems to have been taken captive.16 He returned to England in 1381, and in November was appointed, jointly with Richard Fitzalan, Earl of Arundel, counsellor in constant attendance on the king and governor of his person.17 Richard II married Anne of Bohemia in 1382.

Michael impressed the young king with his ideas of policy. The retirement of John of Gaunt to Castile removed the only rival counsellor of any influence, and he soon became the most trusted personal adviser of Richard. His attachment to the court involved him in a growing unpopularity, both with the great barons and the people.

On 13 March 1383 Pole was appointed Chancellor of England in succession to Robert de Braybroke, Bishop of London,18 and opened the parliament of that year with a speech in which he declared his own unworthiness.19 It was a stormy session. Pole said that, besides enemies abroad, the king had to deal with enemies at home among his own servants and officials. He especially denounced the fighting Bishop of Norwich, Henry Despenser, whom he deprived of his temporalities.20 In the parliament of 1384 Pole wisely urged the need of a solid peace with France; but the commons, who were anxious enough to end the war, were not prepared to purchase a peace at a high price, and Pole's proposal was ill received.

An accident gave his enemies an opportunity. A fishmonger named John Cavendish appeared before the parliament and complained that the chancellor had taken a bribe from him. Cavendish had an action before the chancellor, and had been assured by Pole's clerk, John Otter, that if he paid £40 to the chancellor and £4 to Otter himself he would speedily get judgment in his favour.21 Cavendish had no money, but he sent to the chancellor presents of fish which profited him nothing. In great disgust he brought his grievances before the lords. The chancellor had no difficulty in making a satisfactory answer. As soon as he heard of the presents of fish, he ordered them to be paid for, and compelled his clerk to destroy the unworthy bond he had entered into with the fishmonger. Cavendish, instead of gaining his point, was condemned for defamation, and ordered to remain in prison until he had paid one thousand marks22 as damage to the chancellor, and such other fine as the king might impose.

Pole failed to carry out his policy of peace, and was forced to face a vigorous prosecution of the war against both Scotland and France. It was complained that Ghent fell into French hands owing to his want of quickness in sending relief.23 In the summer of 1385 he accompanied Richard on that king's only serious military undertaking, the expedition against Scotland, in which he commanded a band of sixty men-at-arms and eighty archers.24 After the failure of this undertaking, Pole was more than ever bent on peace. France had threatened invasion. He renewed negotiations. On 22 Jan. 1386 he was appointed, with Bishop Skirlaw of Lichfield and others, to treat with the king of France and his allies, jointly or separately, for truce or for peace.25

Pole's wealth was steadily growing, and was exciting widespread envy. Besides the Yorkshire property that came from his father, and the Lincolnshire estates of his mother, he was now in possession of the great Suffolk inheritance of his wife, Catherine, daughter and heiress of Sir John de Wingfield. He now busied himself with consolidating his power in Suffolk by fortifying his manor-houses. He hoped to build up a solid domain in north-eastern Suffolk, of which the central feature was the new castle, or rather crenellated manor-house, of Wingfield. His gatehouse on the south front, its flanking towers, and curtain wall still survive, while in the beautiful late decorated village church—the work, it is believed, of his father-in-law—the ashes of his son and many later Poles now repose.26

Moreover, on 6 Aug. 1385 he obtained the title of Earl of Suffolk, extinct since the death of William Ufford three years before. On 20 Aug., at Newcastle-on-Tyne, the king granted him lands worth £500 a year,27 which had belonged to William Ufford, and which included the castle, town, manor, and honour of Eye, with other manors and jurisdictions, mainly in Suffolk, which nicely rounded off the former Wingfield inheritance. But, as the widowed Countess of Suffolk still held part of these estates for her life, and other portions had been regranted to the queen, Richard further granted to the new earl £200 a year28 from the royal revenue and £300 a year29 from other lands, until the Ufford estates fell in. The grant of a small sum from the county revenue completed the formal connection between the new earl and his shire.30 At the parliament which met Richard on his return from Scotland, Pole was solemnly girt, on 12 Nov. 1385, with the sword of the shire, and performed homage for his new office, before which Walter Skirlaw, Keeper of the Privy Seal and Bishop of Lichfield, delivered an oration to the assembled estates on the new earl's merits.31 But the murmurs were many and deep. He was, says the St. Albans chronicler, a merchant and the son of a merchant; he was a man more fitted for trade than for chivalry, and peacefully had grown old in a banker's counting-house, and not among warriors in the field.32 The saying became a commonplace, and is repeated by several chroniclers.33

Yet nothing could be more unjust than such a taunt levelled against the old companion in arms of the Black Prince and of John of Gaunt. But it faithfully reflected the opinion of the greater families, and Pole's former ally, John of Gaunt, had turned against him. Thomas Arundel, then Bishop of Ely, was especially hostile. He sought to get the temporalities of Norwich restored to Bishop Despenser. The Chancellor argued in the parliament of 1385 that to restore the bishop's lands would cost the king £1,000 a year. 'If thou hast so much concern for the king's profit,' retorted the bishop, 'why hast thou covetously taken from him a thousand marks per annum since thou wast made an earl?' The Chancellor had no answer, and Despenser recovered his temporalities.

Early in 1386 Suffolk was engaged in fruitless negotiations with France. He was on the continent between 9 Feb. and 28 March.34 The English unwillingness to include Spain in the truce frustrated the negotiations. England was threatened with invasion. The Chancellor did his best to organise the defence. He acted as commissioner to inspect Calais and the castles of the marches, and as chief commissioner of array in Suffolk.35 In April and May he visited Hull, where his influence was still paramount.36 But whatever he did was adversely judged. In June some English ships captured and plundered several Genoese merchant ships off Dover; and when the Chancellor gave the aggrieved Genoese traders compensation, he was charged with robbing the king of his rights and with showing more sympathy with traders than with warriors.37

The opposition to Pole was now formally organised under the king's uncle, Thomas, Duke of Gloucester. When parliament met, on 1 Oct. 1386, Suffolk, as Chancellor, urged that the time was come for Richard to cross the sea and fight the French in person. This was a mere pretext for an inordinate demand for money. Four-fifteenths, says Knighton, was likely to be the Chancellor's request. Afraid of the future, Richard retired to Eltham, where his imprudence culminated in making his favourite, Robert de Vere, Duke of Ireland. Lords and Commons now united to demand the dismissal of the Chancellor. Richard told the parliament that he would not, at their request, dismiss a scullion from his kitchen. Gloucester and Bishop Arundel visited the king at Eltham, and hinted at deposition.

On 24 Oct. Pole was dismissed from the chancellorship, and his old enemy, Bishop Arundel, put in his place. The Commons now drew up formal articles of impeachment against the minister: (1) He had received grants of great estates from the king, or had purchased or exchanged royal lands at prices below their value; (2) he had not carried out the ordinances of the nine lords appointed in 1385 for the reform of the royal household; (3) he had misappropriated the supplies granted in the last parliament for the guard of the seas; (4) he had fraudulently appropriated to himself a charge on the customs of Hull previously granted to one Tydeman, a Limburg merchant; (5) he had taken for his own uses the revenue of the schismatic master of St. Anthony, which ought to have gone to the king; (6) he had sealed charters, especially a grant of franchises to Dover Castle, contrary to the king's interest; and (7) his remissness in conducting the war had led to the loss of Ghent and a large sum of treasure stored up within its walls.38

Suffolk spoke shortly but with dignity in his own defence, but left the burden of a detailed answer to his brother-in-law, Sir Richard le Scrope, who appealed indignantly to his thirty years of service in the field and in the council chamber, denied the ordinary allegations of his mean origin and estate, and gave what seem to be satisfactory answers to the seven heads of accusation.39 The Commons then made a replication, in which, while silently dropping the third charge—of misappropriation of the supplies—they pressed for a conviction on the other six, and brought forward some fresh evidence against Suffolk. The earl was committed to the custody of the constable, but released on bail. The Lords soon gave judgment. Suffolk was convicted on three of the charges brought against him—namely, the first, fifth, and sixth. On the other four charges the lords declared that he ought not to be impeached alone, since his guilt was shared by other members of the council.

Sentence was pronounced at the same time in the name of the king. Suffolk was to forfeit all the lands and grants which he had received contrary to his oath, and was committed to prison, to remain there until he had paid an adequate fine. But it was expressly declared that the judgment was not to involve the loss of the name and title of earl, nor the £20 a year which the king had granted him from the issues of Suffolk for the aforesaid name and title.40 The fine is estimated in the chronicles at various large sums.41 The paltry character of the charges, the insignificant offences regarded as proved by the hostile lords, show that the only real complaint against the fallen minister was his attachment to an unpopular policy.

Parliament ordered Suffolk to be imprisoned at Corfe Castle,42 but Richard sent him to Windsor. As soon as the 'Wonderful' parliament came to an end, Richard remitted his fine and ransom, released him from custody, and listened to his advice. If not the boldest spirit, Suffolk was certainly the wisest head of the royalist party now formed against the new ministers and council set up by parliament. He dwelt in the king's household, and seems to have accompanied Richard on his hasty progress through the land to win support for the civil war which was seen to be imminent. At one time Pole was in Wales with Richard and the Duke of Ireland.43 On 25 Aug. 1387 five of the judges declared at Nottingham that the existence of the new perpetual council contravened the king's prerogative, and that the sentence on Suffolk ought to be reversed. The name of Suffolk appears among the witnesses to this declaration of war against the parliamentary government. But his enemies were resolute in their attack. He was accused of labouring to prevent a reconciliation between Richard and Gloucester when Bishop William Courtenay of London went to promote peace between them. 'Hold thy peace, Michael,' said the bishop to Suffolk, who was denouncing Gloucester to the king; 'it becometh thee right evil to say such words, thou that art damned for thy falsehood both by the lords and by the parliament.' Richard dismissed the bishop in anger,44 but was unprepared to push things to extremities.

On 17 Nov. he was forced to promise the hated council that Suffolk and his other bad advisers should be compelled to answer for their conduct before the next parliament. Thereupon Suffolk hastily fled the realm. On 27 Dec. the five baronial leaders solemnly appealed him and his associates of treason. On 3 Feb. 1388 the five Lords Appellant laid before the newly assembled estates a long list of accusations against Suffolk and his four chief associates.45 No special charges were brought against Suffolk; but he was associated with the others in such general accusations as having withdrawn the king from the society of the barons, as having conspired to rule him for their own purposes, incited civil war, corresponded with the French, and attempted to pack parliament. The declaration of the judges that the form of the appeal was illegal was brushed aside, on the ground that parliament itself was the supreme judge in matters of this sort. On 13 Feb. sentence was passed on the four absent offenders. Suffolk was condemned to be hanged. His estates and title were necessarily forfeited.

A knight named William atte Hoo helped Suffolk to escape over the Channel. He disguised himself by shaving his beard and head and putting on shabby clothes. In this plight he presented himself before Calais Castle, dressed like a Flemish poulterer. His brother was captain of Calais Castle, and acquainted the governor of Calais, William Beauchamp, with his arrival. The governor sent him back to the king, who was very angry at his officiousness.46 For a second time Pole made his escape. This time he went to Hull, whither, on 20 Dec, the king's sergeant-at-arms was despatched to arrest him.47 But Michael escaped a second time, sailing, if Froissart can be trusted, over the North Sea and along the coasts of Friesland, and ultimately landing at Dordrecht.48 Anyhow, he ultimately found his way to Paris. In May 1389 Richard suddenly took over the government; but he made no attempt to help Pole, who died at Paris on 5 Sept. 1389.49 The chroniclers exhaust their powers of abuse in rejoicing over his death. The popular poets were not less vehement in their reproaches.50

By his wife, Catherine Wingfield, Suffolk left three sons: Michael de la Pole, second Earl of Suffolk, Thomas, and Richard.51 He also left a daughter Anne, who married Gerard de L'lsle.52


1. Doyle, Official Baronage, iii. 443.
2. £70 in 1339 was roughly equivalent in purchasing power to £76,500 in 2020.
Source: Measuring Worth.
3. Rot. Orig. Abbreviatio, ii. 229.
4. Rymer, Foedera, Record edition, iii. 443.
5. Froissart, Chronicles, ed. Luce, vii. 244.
6. ib. vol. viii. pp. xixiii, 12.
7. Rotuli Parliamentorum, iii. 217 a.
8. ib.
9. G. E. Cokayne, Complete Peerage, iii. 43.
10. Cf. Rot. Parl. ii. 327-329 a.
11. Foedera, iii. 1065.
12. ib. iv. 15.
13. Nicolas, History of the Royal Navy, ii. 530; Foedera, iv. 36.
14. ib. iv. 60.
15. ib. iv. 75.
16. Devon, IIssues of the Exchequer, p. 224; Rot. Parl. iii. 217 a.
17. Rot. Parl. iii. 104 b.
18. Foedera, iv. 162.
19. Rot. Parl. iii. 149 a.
20. ib. iii. 153-8; Wallon, Richard II, i. 198-214.
21. £40 in 1384 was roughly equivalent in purchasing power to £32,000 in 2020; £4, £3,200.
Source: Measuring Worth.
22. 1000 marks in 1384 was roughly equivalent in purchasing power to £536,000 in 2020.
Source: Measuring Worth.
23. Knighton apud Twysden, Decem Scriptores, c. 2672; cf. Rot. Parl. iii. 216.
24. Doyle, iii. 433.
25. Foedera, vii. 491-3, original edition.
26. Murray, Eastern Counties, pp. 190-1.
27. £500 in 1385 was roughly equivalent in purchasing power to £417,500 in 2020.
Source: Measuring Worth.
28. £200 in 1385 was roughly equivalent in purchasing power to £167,000 in 2020.
Source: Measuring Worth.
29. £300 in 1385 was roughly equivalent in purchasing power to £250,500 in 2020.
Source: Measuring Worth.
30. Cf. Rolls of Parliament, iii. 206-9; Dugdale, Baronage, ii. 185; Cal. Inq. post mortem, iii. 70, 111, 117, 257.
31. Rot. Parl. iii. 209.
32. Chronicon Angliae, 1328-88, ed. Thompson, Rolls Series, p. 367.
33. Walsingham, Historia Anglicana, Rolls Series, ii. 141; Otterbourne, Chronica regum Angliae in Duo rerum Anglicarum scriptores veteres, ed. Hearne, 1732, p. 162; Vita Regis Ricardi Secundi, by the Monk of Evesham, ed. Hearne, p. 67.
34. Foedera, vii. 495.
35. Doyle, iii. 434.
36. Foedera, vii. 510.
37. Chron. Angliae, 1328-88, p. 371; cf. Knighton, c. 2678.
38. Rot. Parl. iii. 216; Stubbs's Constitutional History, ii. 474-5, cf. Wallon, Richard II, livre vi., Knighton, cc. 2680-5.
39. Rot. Parl. iii. 216-18.
40. ib. iii. 219-20.
41. Chron. Angliae, 1328-88, and Otterbourne, p. 106, say twenty thousand marks [roughly £10.5m in 2020 money], adding, quite incorrectly, that Suffolk was adjudged worthy of death.
42. Continuation of the Eulogium Historiarum, iii. 360; cf. Knighton, c. 2683.
43. Capgrave, Chronicle of England, pp. 246-8.
44. Chron. Angl. 1378-88, p. 383; Capgrave, p. 248.
45. Rot. Parl. iii. 229-38.
46. Knighton, c. 2702; Capgrave, p. 249; Otterbourne, p. 170; Chron. Angl., 1328-88, p. 386; Monk of Evesham, pp. 95-7.
47. Devon, p. 234.
48. Froissart, xii. 286, ed. Kervyn de Lettenhove.
49. Monk of Evesham, p. 113.
50. Gower, 'Tripartite Chronicle' in Political Poems, i. 421, Rolls Series.
51. Foss, Judges of Englandii. 76.
52. Dugdale, Baronage, ii. 185.



---

Excerpted from:

Tout, T. F. "Michael de la Pole, Earl of Suffolk."
Dictionary of National Biography. Vol. XLVI. Sidney Lee, ed.
New York: Macmillan and Co., 1896. 29-33.


---
Other Local Resources:
---
Books for further study:
Roskell, J. S. The Impeachment of Michael de la Pole, Earl of Suffolk in 1386:
In the Context of the Reign of Richard II.
Manchester University Press, 1984.

Sherborne, James. War, Politics and Culture in 14th Century England
Bloomsbury Academic, 2003.

Tuck, Anthony. Crown and Nobility: England 1272-1461.
Wiley-Blackwell, 1999. (2nd ed.)


---
Michael de la Pole, Earl of Suffolk, on the Web:
---
| | |
| --- | --- |
| | to Hundred Years' War |
| | to Luminarium Encyclopedia |


Site ©1996-2023 Anniina Jokinen. All rights reserved.
This page was created on July 9, 2012. Last updated March 5, 2023.








Index of Encyclopedia Entries:

Medieval Cosmology
Prices of Items in Medieval England

Edward II
Isabella of France, Queen of England
Piers Gaveston
Thomas of Brotherton, E. of Norfolk
Edmund of Woodstock, E. of Kent
Thomas, Earl of Lancaster
Henry of Lancaster, Earl of Lancaster
Henry of Grosmont, Duke of Lancaster
Roger Mortimer, Earl of March
Hugh le Despenser the Younger
Bartholomew, Lord Burghersh, elder

Hundred Years' War (1337-1453)

Edward III
Philippa of Hainault, Queen of England
Edward, Black Prince of Wales
John of Eltham, Earl of Cornwall
The Battle of Crécy, 1346
The Siege of Calais, 1346-7
The Battle of Poitiers, 1356
Lionel of Antwerp, Duke of Clarence
John of Gaunt, Duke of Lancaster
Edmund of Langley, Duke of York
Thomas of Woodstock, Gloucester
Richard of York, E. of Cambridge
Richard Fitzalan, 3. Earl of Arundel
Roger Mortimer, 2nd Earl of March
The Good Parliament, 1376
Richard II
The Peasants' Revolt, 1381
Lords Appellant, 1388
Richard Fitzalan, 4. Earl of Arundel
Archbishop Thomas Arundel
Thomas de Beauchamp, E. Warwick
Robert de Vere, Earl of Oxford
Ralph Neville, E. of Westmorland
Thomas Mowbray, Duke of Norfolk
Edmund Mortimer, 3. Earl of March
Roger Mortimer, 4. Earl of March
John Holland, Duke of Exeter
Michael de la Pole, E. Suffolk
Hugh de Stafford, 2. E. Stafford
Henry IV
Edward, Duke of York
Edmund Mortimer, 5. Earl of March
Henry Percy, Earl of Northumberland
Sir Henry Percy, "Harry Hotspur"
Thomas Percy, Earl of Worcester
Owen Glendower
The Battle of Shrewsbury, 1403
Archbishop Richard Scrope
Thomas Mowbray, 3. E. Nottingham
John Mowbray, 2. Duke of Norfolk
Thomas Fitzalan, 5. Earl of Arundel
Henry V
Thomas, Duke of Clarence
John, Duke of Bedford
Humphrey, Duke of Gloucester
John Talbot, Earl of Shrewsbury
Richard, Earl of Cambridge
Henry, Baron Scrope of Masham
William de la Pole, Duke of Suffolk
Thomas Montacute, E. Salisbury
Richard Beauchamp, E. of Warwick
Henry Beauchamp, Duke of Warwick
Thomas Beaufort, Duke of Exeter
Cardinal Henry Beaufort
John Beaufort, Earl of Somerset
Sir John Fastolf
John Holland, 2. Duke of Exeter
Archbishop John Stafford
Archbishop John Kemp
Catherine of Valois
Owen Tudor
John Fitzalan, 7. Earl of Arundel
John, Lord Tiptoft

Charles VII, King of France
Joan of Arc
Louis XI, King of France
Charles the Bold, Duke of Burgundy
The Battle of Agincourt, 1415
The Battle of Castillon, 1453



The Wars of the Roses 1455-1485
Causes of the Wars of the Roses
The House of Lancaster
The House of York
The House of Beaufort
The House of Neville

The First Battle of St. Albans, 1455
The Battle of Blore Heath, 1459
The Rout of Ludford, 1459
The Battle of Northampton, 1460
The Battle of Wakefield, 1460
The Battle of Mortimer's Cross, 1461
The 2nd Battle of St. Albans, 1461
The Battle of Towton, 1461
The Battle of Hedgeley Moor, 1464
The Battle of Hexham, 1464
The Battle of Edgecote, 1469
The Battle of Losecoat Field, 1470
The Battle of Barnet, 1471
The Battle of Tewkesbury, 1471
The Treaty of Pecquigny, 1475
The Battle of Bosworth Field, 1485
The Battle of Stoke Field, 1487

Henry VI
Margaret of Anjou
Richard Plantagenet, Duke of York
Edward IV
Elizabeth Woodville
Richard Woodville, 1. Earl Rivers
Anthony Woodville, 2. Earl Rivers
Jane Shore
Edward V
Richard III
George, Duke of Clarence

Ralph Neville, 2. Earl of Westmorland
Richard Neville, Earl of Salisbury
Richard Neville, Earl of Warwick
Edward Neville, Baron Bergavenny
William Neville, Lord Fauconberg
Robert Neville, Bishop of Salisbury
John Neville, Marquis of Montagu
George Neville, Archbishop of York
John Beaufort, 1. Duke Somerset
Edmund Beaufort, 2. Duke Somerset
Henry Beaufort, 3. Duke of Somerset
Edmund Beaufort, 4. Duke Somerset
Margaret Beaufort
Edmund Tudor, Earl of Richmond
Jasper Tudor, Earl of Pembroke
Humphrey Stafford, D. Buckingham
Henry Stafford, Duke of Buckingham
Humphrey Stafford, E. of Devon
Thomas, Lord Stanley, Earl of Derby
Sir William Stanley
Archbishop Thomas Bourchier
Henry Bourchier, Earl of Essex
John Mowbray, 3. Duke of Norfolk
John Mowbray, 4. Duke of Norfolk
John Howard, Duke of Norfolk
Henry Percy, 2. E. Northumberland
Henry Percy, 3. E. Northumberland
Henry Percy, 4. E. Northumberland
William, Lord Hastings
Henry Holland, Duke of Exeter
William Fitzalan, Earl of Arundel
William Herbert, 1. Earl of Pembroke
John de Vere, 12th Earl of Oxford
John de Vere, 13th Earl of Oxford
Thomas de Clifford, 8. Baron Clifford
John de Clifford, 9. Baron Clifford
John Tiptoft, Earl of Worcester
Thomas Grey, 1. Marquis Dorset
Sir Andrew Trollop
Archbishop John Morton
Edward Plantagenet, E. of Warwick
John Talbot, 2. E. Shrewsbury
John Talbot, 3. E. Shrewsbury
John de la Pole, 2. Duke of Suffolk
John de la Pole, E. of Lincoln
Edmund de la Pole, E. of Suffolk
Richard de la Pole
John Sutton, Baron Dudley
James Butler, 5. Earl of Ormonde
Sir James Tyrell
Edmund Grey, first Earl of Kent
George Grey, 2nd Earl of Kent
John, 5th Baron Scrope of Bolton
James Touchet, 7th Baron Audley
Walter Blount, Lord Mountjoy
Robert Hungerford, Lord Moleyns
Thomas, Lord Scales
John, Lord Lovel and Holand
Francis Lovell, Viscount Lovell
Sir Richard Ratcliffe
William Catesby
Ralph, 4th Lord Cromwell
Jack Cade's Rebellion, 1450


Tudor Period

King Henry VII
Queen Elizabeth of York
Arthur, Prince of Wales
Lambert Simnel
Perkin Warbeck
The Battle of Blackheath, 1497

King Ferdinand II of Aragon
Queen Isabella of Castile
Maximilian I, Holy Roman Emperor

King Henry VIII
Queen Catherine of Aragon
Queen Anne Boleyn
Queen Jane Seymour
Queen Anne of Cleves
Queen Catherine Howard
Queen Katherine Parr

King Edward VI
Queen Mary I
Queen Elizabeth I
Henry Fitzroy, Duke of Richmond

Margaret Tudor, Queen of Scotland
James IV, King of Scotland
The Battle of Flodden Field, 1513
James V, King of Scotland
Mary of Guise, Queen of Scotland

Mary Tudor, Queen of France
Louis XII, King of France
Francis I, King of France
The Battle of the Spurs, 1513
Field of the Cloth of Gold, 1520
Charles V, Holy Roman Emperor
Eustace Chapuys, Imperial Ambassador
The Siege of Boulogne, 1544

Cardinal Thomas Wolsey
Archbishop Thomas Cranmer
Thomas Cromwell, Earl of Essex
Thomas, Lord Audley
Thomas Wriothesley, E. Southampton
Sir Richard Rich

Edward Stafford, D. of Buckingham
Thomas Howard, 2nd Duke of Norfolk
Thomas Howard, 3rd Duke of Norfolk
John Dudley, Duke of Northumberland
Charles Brandon, Duke of Suffolk
Thomas Boleyn, Earl of Wiltshire
George Boleyn, Viscount Rochford
John Russell, Earl of Bedford
Thomas Grey, 2. Marquis of Dorset
Henry Grey, D. of Suffolk
Charles Somerset, Earl of Worcester
George Talbot, 4. E. Shrewsbury
Francis Talbot, 5. E. Shrewsbury
Henry Algernon Percy,
5th Earl of Northumberland
Henry Algernon Percy,
6th Earl of Northumberland
Ralph Neville, 4. E. Westmorland
Henry Neville, 5. E. Westmorland
William Paulet, Marquis of Winchester
Sir Francis Bryan
Sir Nicholas Carew
John de Vere, 15th Earl of Oxford
John de Vere, 16th Earl of Oxford
Thomas Seymour, Lord Admiral
Edward Seymour, Protector Somerset
Margaret Pole, Countess of Salisbury
Henry Pole, Lord Montague
Sir Geoffrey Pole
Thomas Manners, Earl of Rutland
Henry Manners, Earl of Rutland
Henry Bourchier, 2. Earl of Essex
Robert Radcliffe, 1. Earl of Sussex
Henry Radcliffe, 2. Earl of Sussex
George Hastings, Earl of Huntingdon
Henry Courtenay, Marquis of Exeter
George Neville, Baron Bergavenny
Sir Edward Neville
William, Lord Paget
William Sandys, Baron Sandys
William Fitzwilliam, E. Southampton
Sir Anthony Browne
Sir Thomas Wriothesley
Sir William Kingston
George Brooke, Lord Cobham
Sir Richard Southwell
Thomas Fiennes, 9th Lord Dacre
Sir Francis Weston
Henry Norris
Lady Jane Grey
Sir Thomas Arundel
Sir Richard Sackville
Sir William Petre
Sir John Cheke
Walter Haddon, L.L.D
Sir Peter Carew
Sir John Mason
Nicholas Wotton
John Taylor
Sir Thomas Wyatt, the Younger

Cardinal Lorenzo Campeggio
Cardinal Reginald Pole
Stephen Gardiner, Bishop of Winchester
Edmund Bonner, Bishop of London
Nicholas Ridley, Bishop of London
John Hooper, Bishop of Gloucester
John Aylmer, Bishop of London
Thomas Linacre
William Grocyn
Archbishop William Warham
Cuthbert Tunstall, Bishop of Durham
Richard Fox, Bishop of Winchester
Edward Fox, Bishop of Hereford

Pope Julius II
Pope Leo X
Pope Clement VII
Pope Paul III
Pope Pius V

Pico della Mirandola
Desiderius Erasmus
Martin Bucer
Richard Pace
Christopher Saint-German
Thomas Tallis
Elizabeth Barton, the Nun of Kent
Hans Holbein, the Younger
The Sweating Sickness

Dissolution of the Monasteries
Pilgrimage of Grace, 1536
Robert Aske
Anne Askew
Lord Thomas Darcy
Sir Robert Constable

Oath of Supremacy
The Act of Supremacy, 1534
The First Act of Succession, 1534
The Third Act of Succession, 1544
The Ten Articles, 1536
The Six Articles, 1539
The Second Statute of Repeal, 1555
The Act of Supremacy, 1559
Articles Touching Preachers, 1583

Queen Elizabeth I
William Cecil, Lord Burghley
Robert Cecil, 1st Earl of Salisbury
Sir Francis Walsingham
Sir Nicholas Bacon
Sir Thomas Bromley

Robert Dudley, Earl of Leicester
Ambrose Dudley, Earl of Warwick
Henry Carey, Lord Hunsdon
Sir Thomas Egerton, Viscount Brackley
Sir Francis Knollys
Katherine "Kat" Ashley
Lettice Knollys, Countess of Leicester
George Talbot, 6. E. of Shrewsbury
Elizabeth, Countess of Shrewsbury
Gilbert Talbot, 7. E. of Shrewsbury
Sir Henry Sidney
Sir Robert Sidney
Archbishop Matthew Parker
Walter Devereux, 1st Earl of Essex
Robert Devereux, 2nd Earl of Essex
Penelope Devereux, Lady Rich
Sir Christopher Hatton
Edward Courtenay, E. Devonshire
Edward Manners, 3rd Earl of Rutland
Thomas Radcliffe, 3. Earl of Sussex
Henry Radcliffe, 4. Earl of Sussex
Robert Radcliffe, 5. Earl of Sussex
William Parr, Marquis of Northampton
Henry Wriothesley, 2. Southampton
Henry Wriothesley, 3. Southampton
Charles Neville, 6. E. Westmorland
Thomas Percy, 7. E. Northumberland
Henry Percy, 8. E. Northumberland
Henry Percy, 9. E. Nothumberland
William Herbert, 1. Earl of Pembroke
Charles, Lord Howard of Effingham
Thomas Howard, 4th Duke of Norfolk
Henry Howard, 1. Earl of Northampton
Thomas Howard, 1. Earl of Suffolk
Henry Hastings, 3. E. of Huntingdon
Edward Manners, 3rd Earl of Rutland
Roger Manners, 5th Earl of Rutland
Francis Manners, 6th Earl of Rutland
Henry FitzAlan, 12. Earl of Arundel
Thomas, Earl Arundell of Wardour
Edward Somerset, E. of Worcester
William Davison
Sir Walter Mildmay
Sir Ralph Sadler
Sir Amyas Paulet
Gilbert Gifford
Anthony Browne, Viscount Montague
François, Duke of Alençon & Anjou

Mary, Queen of Scots
Henry Stuart, Lord Darnley
James Hepburn, Earl of Bothwell
Anthony Babington and the Babington Plot
John Knox

Philip II of Spain
The Spanish Armada, 1588
Sir Francis Drake
Sir John Hawkins

William Camden
Archbishop Whitgift
Martin Marprelate Controversy
John Penry (Martin Marprelate)
Richard Bancroft, Archbishop of Canterbury
John Dee, Alchemist

Philip Henslowe
Edward Alleyn
The Blackfriars Theatre
The Fortune Theatre
The Rose Theatre
The Swan Theatre
Children's Companies
The Admiral's Men
The Lord Chamberlain's Men
Citizen Comedy
The Isle of Dogs, 1597

Common Law
Court of Common Pleas
Court of King's Bench
Court of Star Chamber
Council of the North
Fleet Prison
Assize
Attainder
First Fruits & Tenths
Livery and Maintenance
Oyer and terminer
Praemunire


The Stuarts

King James I of England
Anne of Denmark
Henry, Prince of Wales
The Gunpowder Plot, 1605
George Villiers, 1st Duke of Buckingham
Robert Carr, Earl of Somerset
Arabella Stuart, Lady Lennox

William Alabaster
Bishop Hall
Bishop Thomas Morton
Archbishop William Laud
John Selden
Lucy Harington, Countess of Bedford
Henry Lawes

King Charles I
Queen Henrietta Maria

Long Parliament
Rump Parliament
Kentish Petition, 1642

Thomas Wentworth, Earl of Strafford
John Digby, Earl of Bristol
George Digby, 2nd Earl of Bristol
Thomas Fairfax, 3rd Lord Fairfax
Robert Devereux, 3rd E. of Essex
Robert Sidney, 2. E. of Leicester
Algernon Percy, E. of Northumberland
Henry Montagu, Earl of Manchester
Edward Montagu, 2. Earl of Manchester

The Restoration

King Charles II
King James II
Test Acts

Greenwich Palace
Hatfield House
Richmond Palace
Windsor Palace
Woodstock Manor

The Cinque Ports
Mermaid Tavern
Malmsey Wine
Great Fire of London, 1666
Merchant Taylors' School
Westminster School
The Sanctuary at Westminster
"Sanctuary"


Images:

Chart of the English Succession from William I through Henry VII

Medieval English Drama

London c1480, MS Royal 16
London, 1510, the earliest view in print
Map of England from Saxton's Descriptio Angliae, 1579
London in late 16th century
Location Map of Elizabethan London
Plan of the Bankside, Southwark, in Shakespeare's time
Detail of Norden's Map of the Bankside, 1593
Bull and Bear Baiting Rings from the Agas Map (1569-1590, pub. 1631)
Sketch of the Swan Theatre, c. 1596
Westminster in the Seventeenth Century, by Hollar
Visscher's View of London, 1616
Larger Visscher's View in Sections
c. 1690. View of London Churches, after the Great Fire
The Yard of the Tabard Inn from Thornbury, Old and New London