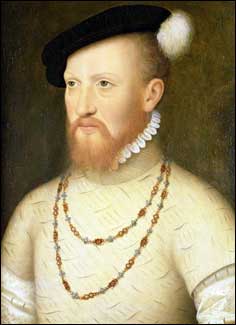 EDWARD SEYMOUR, DUKE OF SOMERSET, Lord Protector of England, born about 1506, was the eldest surviving son of Sir John Seymour of Wolf Hall, Wiltshire, by his wife Margaret, eldest daughter of Sir Henry Wentworth of Nettlested, Suffolk. The Seymours claimed descent from a companion of William the Conqueror, who took his name from St Maur-sur-Loire in Touraine; and the protector's mother was really descended from Edward III. His father was knighted by Henry VII for his services against the Cornish rebels at Blackheath in 1497, was present at the two interviews between Henry VIII and Francis I in 1520 and 1532, and died on the 21st of December, 1536.

Edward was "enfant d'honneur" to Mary Tudor at her marriage with Louis XII in 1514, served in the Duke of Suffolk's campaign in France in 1523, being knighted by the duke at Roze on the 1st of November, and accompanied Cardinal Wolsey on his embassy to France in 1527. Appointed esquire of the body to Henry VIII in 1529, he grew in favour with the king, who visited his manor at Elvetham in Hampshire in October 1535. On the 5th of June 1536, a week after his sister Jane's marriage to Henry, he was created Viscount Beauchamp of Hache in Somerset, and a fortnight after Edward VI's birth in October 1537, he was raised to the earldom of Hertford.

Queen Jane Seymour's death was a blow to his prospects, and in 1538 he was described as being "young and wise" but of "small power." He continued, however, to rise in political importance. In 1541, during Henry's absence in the north, Hertford, Cranmer and Audley had the chief management of affairs in London; in September 1542 he was appointed warden of the Scottish marches, and a few months later Lord High Admiral, a post which he almost immediately relinquished in favour of the future Duke of Northumberland. In March 1544 he was made Lieutenant-general of the North and instructed to punish the Scots for their repudiation of the treaty of marriage between Prince Edward and the infant Mary Queen of Scots. He landed at Leith in May, captured and pillaged Edinburgh, and returned a month later.

In July he was appointed Lieutenant of the Realm under the queen regent, Katherine Parr, during Henry's absence at Boulogne, but in August he joined the king and was present at the surrender of the town. In the autumn he was one of the commissioners sent to Flanders to keep Charles V to the terms of his treaty with England, and in January 1545 he was placed in command at Boulogne, where on the 26th he brilliantly repelled an attempt of Marshal de Biez to recapture the town. In May he was once more appointed Lieutenant-general in the North to avenge the Scottish victory at Ancrum Moor; this he did by a savage foray into Scotland in September. In March 1546 he was sent back to Boulogne to supersede Henry Howard, Earl of Surrey, whose command had not been a success; and in June he was engaged in negotiations for peace with France and for the delimitation of the English conquests.

From October to the end of Henry's reign he was in attendance on the king, engaged in that unrecorded struggle for predominance which was to determine the complexion of the government during the coming minority. Personal, political and religious rivalry separated him and Lisle from the Howards, and Surrey's hasty temper precipitated his own and his father's ruin. They could not acquiesce in the Imperial ambassador's verdict that Hertford and Lisle were the only noblemen of fit age and capacity to carry on the government; and Surrey's attempt to secure the predominance of his family led to his own execution and to his father's (Thomas Howard, Duke of Norfolk) imprisonment in the Tower.

Their overthrow had barely been accomplished when Henry VIII died on the 28th of January 1547. Preparations had already been made for a further advance in the ecclesiastical reformation and for a renewal of the design upon Scotland; and the new government to some extent proceeded on the lines which Chapuys anticipated that Henry VIII would have followed had he lived. He had no statutory power to appoint a protector, but in the council of regency which he nominated, Hertford and Lisle enjoyed a decisive preponderance; and the council at its first meeting after Henry's death determined to follow precedent and appoint a protector. Hertford was their only possible choice; he represented the predominant party, he was Edward VI's nearest relative, he was senior to Lisle in the peerage and superior to him in experience. Seven weeks later, however, after Lord-Chancellor Wriothesley, the leading Catholic, had been deprived of office Hertford, who had been made Duke of Somerset, succeeded in emancipating himself from the trammels originally imposed on him as Protector; and he became king in everything but name and prestige.

His ideas were in striking contrast with those of most Tudor statesmen, and he used his authority to divest the government of that apparatus of absolutism which Thomas Cromwell had perfected. He had generous popular sympathies and was by nature averse from coercion. "What is the matter, then?" wrote Paget in the midst of the commotions of 1549, "By my faith, sir,... liberty, liberty. And your grace would have too much gentleness." In his first parliament, which met in November 1547, he procured the repeal of all the heresy laws and nearly all the treason laws passed since Edward III. Even with regard to Scotland he had protested against his instructions of 1544, and now ignored the claim to suzerainty which Henry VIII had revived, seeking to win over the Scots by those promises of autonomy, free trade, and equal privileges with England, which many years later eventually reconciled them to union. But the Scots were not thus to be won in 1547: "What would you say," asked one, "if your lad were a lass, and our lass were a lad?" and Scottish sentiment backed by Roman Catholic influence and by French intrigues, money and men, proved too strong for Somerset's amiable invitations. The Scots turned a deaf ear to his persuasions; the protector led another army into Scotland in September 1547, and won the battle of Pinkie (Sept. 10). He trusted to the garrisons he established throughout the Lowlands to wear down Scottish opposition; but their pressure was soon weakened by troubles in England and abroad, and Mary was transported to France to wed Francis II in 1557.

Somerset apparently thought that the religious question could be settled by public discussion, and throughout 1547 and 1548 England went as it pleased so far as church services were concerned; all sorts of experiments were tried, and the country was involved in a grand theological debate, in which Protestant refugees from abroad hastened to join. The result convinced the protector that the government must prescribe one uniform order which all should be persuaded or constrained to obey; but the first Book of Common Prayer, which was imposed by the first Act of Uniformity in 1549, was a studious compromise between the new and the old learning, very different from the aggressive Protestantism of the second book imposed after Somerset had been removed, in 1552. The Catholic risings in the west in 1549 added to Somerset's difficulties, but were not the cause of his fall.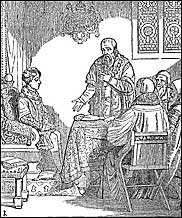 The factious and treasonable conduct of his brother, Thomas Seymour, the Lord High Admiral, in whose execution (March 20, 1549) the protector weakly acquiesced, also impaired his authority; but the main cause of his ruin was the divergence between him and the majority of the council over the questions of constitutional liberty and enclosures of the commons. The majority scouted Somerset's notions of liberty and deeply resented his championship of the poor against greedy landlords and capitalists. His efforts to check enclosures by means of parliamentary legislation, royal proclamations, and commissions of inquiry were openly resisted or secretly foiled, and the popular revolts which their failure provoked cut the ground from Somerset's feet. He was divided in mind between his sympathy with the rebels and his duty to maintain law and order. France, which was bent on ruining the protector's schemes in Scotland and on recovering Boulogne, seized the opportunity to declare war on August the 8th; and the outlying forts in the Boulonnais fell into their hands, while the Scots captured Haddington.

These misfortunes gave a handle to Somerset's enemies. Warwick combined on the same temporary platform Catholics who resented the Book of Common Prayer, Protestants who thought Somerset's mildness paltering with God's truth, and the wealthy classes as a whole. In September he concerted measures with the ex-lord-chancellor Wriothesley; and in October, after a vain effort to rouse the masses in his favour, Somerset was deprived of the protectorate and sent to the Tower. But the hostile coalition broke up as soon as it had to frame a constructive policy; Warwick (John Dudley) jockeyed the Catholics out of the council and prepared to advance along Protestant lines. He could hardly combine proscription of the Catholics with that of Somerset, and the Duke was released in February 1550.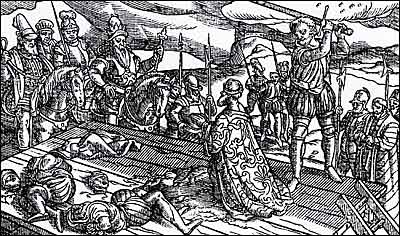 For a time the rivals seemed to agree, and Warwick's son married Somerset's daughter. But growing discontent with Warwick made Somerset too dangerous. In October 1551, after Warwick had been created Duke of Northumberland, Somerset was sent to the Tower on an exaggerated charge of treason, which broke down at his trial. He was, however, as a sort of compromise, condemned on a charge of felony for having sought to effect a change of government. Few expected that the sentence would be carried out, and apparently Northumberland found it necessary to forge an instruction from Edward VI to that effect. Somerset was executed on the 22nd of January 1552, dying with exemplary patience and fortitude. His eldest son by his second wife was re-created Earl of Hertford by Elizabeth I, and his great-grandson William was restored as 2nd Duke of Somerset in 1660. His children by his first wife had been disinherited owing to the jealousy of his second; but their descendants came into the titles and property when the younger line died out in 1750.





---
Other Local Resources:
---
Books for further study:
Elton, G. R. England Under the Tudors.
London: Routledge, 1991.

MacCulloch, Diarmaid. The Boy King: Edward VI and the Protestant Reformation.
Berkeley: University of California Press, 2002.

Williams, Penry. The Later Tudors: England 1547-1603.
Oxford: Oxford University Press, 1998.



---
Edward Seymour on the Web:
---
| | |
| --- | --- |
| | to Henry VIII |
| | to Jane Seymour |
| | to Thomas Seymour |
| | to Edward VI |
| | to Renaissance English Literature |
| | to Luminarium Encyclopedia |




Index of Encyclopedia Entries:

Medieval Cosmology
Prices of Items in Medieval England

Edward II
Isabella of France, Queen of England
Piers Gaveston
Thomas of Brotherton, E. of Norfolk
Edmund of Woodstock, E. of Kent
Thomas, Earl of Lancaster
Henry of Lancaster, Earl of Lancaster
Henry of Grosmont, Duke of Lancaster
Roger Mortimer, Earl of March
Hugh le Despenser the Younger
Bartholomew, Lord Burghersh, elder

Hundred Years' War (1337-1453)

Edward III
Philippa of Hainault, Queen of England
Edward, Black Prince of Wales
John of Eltham, Earl of Cornwall
The Battle of Crécy, 1346
The Siege of Calais, 1346-7
The Battle of Poitiers, 1356
Lionel of Antwerp, Duke of Clarence
John of Gaunt, Duke of Lancaster
Edmund of Langley, Duke of York
Thomas of Woodstock, Gloucester
Richard of York, E. of Cambridge
Richard Fitzalan, 3. Earl of Arundel
Roger Mortimer, 2nd Earl of March
The Good Parliament, 1376
Richard II
The Peasants' Revolt, 1381
Lords Appellant, 1388
Richard Fitzalan, 4. Earl of Arundel
Archbishop Thomas Arundel
Thomas de Beauchamp, E. Warwick
Robert de Vere, Earl of Oxford
Ralph Neville, E. of Westmorland
Thomas Mowbray, Duke of Norfolk
Edmund Mortimer, 3. Earl of March
Roger Mortimer, 4. Earl of March
John Holland, Duke of Exeter
Michael de la Pole, E. Suffolk
Hugh de Stafford, 2. E. Stafford
Henry IV
Edward, Duke of York
Edmund Mortimer, 5. Earl of March
Henry Percy, Earl of Northumberland
Sir Henry Percy, "Harry Hotspur"
Thomas Percy, Earl of Worcester
Owen Glendower
The Battle of Shrewsbury, 1403
Archbishop Richard Scrope
Thomas Mowbray, 3. E. Nottingham
John Mowbray, 2. Duke of Norfolk
Thomas Fitzalan, 5. Earl of Arundel
Henry V
Thomas, Duke of Clarence
John, Duke of Bedford
Humphrey, Duke of Gloucester
John Talbot, Earl of Shrewsbury
Richard, Earl of Cambridge
Henry, Baron Scrope of Masham
William de la Pole, Duke of Suffolk
Thomas Montacute, E. Salisbury
Richard Beauchamp, E. of Warwick
Henry Beauchamp, Duke of Warwick
Thomas Beaufort, Duke of Exeter
Cardinal Henry Beaufort
John Beaufort, Earl of Somerset
Sir John Fastolf
John Holland, 2. Duke of Exeter
Archbishop John Stafford
Archbishop John Kemp
Catherine of Valois
Owen Tudor
John Fitzalan, 7. Earl of Arundel
John, Lord Tiptoft

Charles VII, King of France
Joan of Arc
Louis XI, King of France
Charles the Bold, Duke of Burgundy
The Battle of Agincourt, 1415
The Battle of Castillon, 1453



The Wars of the Roses 1455-1485
Causes of the Wars of the Roses
The House of Lancaster
The House of York
The House of Beaufort
The House of Neville

The First Battle of St. Albans, 1455
The Battle of Blore Heath, 1459
The Rout of Ludford, 1459
The Battle of Northampton, 1460
The Battle of Wakefield, 1460
The Battle of Mortimer's Cross, 1461
The 2nd Battle of St. Albans, 1461
The Battle of Towton, 1461
The Battle of Hedgeley Moor, 1464
The Battle of Hexham, 1464
The Battle of Edgecote, 1469
The Battle of Losecoat Field, 1470
The Battle of Barnet, 1471
The Battle of Tewkesbury, 1471
The Treaty of Pecquigny, 1475
The Battle of Bosworth Field, 1485
The Battle of Stoke Field, 1487

Henry VI
Margaret of Anjou
Richard Plantagenet, Duke of York
Edward IV
Elizabeth Woodville
Richard Woodville, 1. Earl Rivers
Anthony Woodville, 2. Earl Rivers
Jane Shore
Edward V
Richard III
George, Duke of Clarence

Ralph Neville, 2. Earl of Westmorland
Richard Neville, Earl of Salisbury
Richard Neville, Earl of Warwick
Edward Neville, Baron Bergavenny
William Neville, Lord Fauconberg
Robert Neville, Bishop of Salisbury
John Neville, Marquis of Montagu
George Neville, Archbishop of York
John Beaufort, 1. Duke Somerset
Edmund Beaufort, 2. Duke Somerset
Henry Beaufort, 3. Duke of Somerset
Edmund Beaufort, 4. Duke Somerset
Margaret Beaufort
Edmund Tudor, Earl of Richmond
Jasper Tudor, Earl of Pembroke
Humphrey Stafford, D. Buckingham
Henry Stafford, Duke of Buckingham
Humphrey Stafford, E. of Devon
Thomas, Lord Stanley, Earl of Derby
Sir William Stanley
Archbishop Thomas Bourchier
Henry Bourchier, Earl of Essex
John Mowbray, 3. Duke of Norfolk
John Mowbray, 4. Duke of Norfolk
John Howard, Duke of Norfolk
Henry Percy, 2. E. Northumberland
Henry Percy, 3. E. Northumberland
Henry Percy, 4. E. Northumberland
William, Lord Hastings
Henry Holland, Duke of Exeter
William Fitzalan, Earl of Arundel
William Herbert, 1. Earl of Pembroke
John de Vere, 12th Earl of Oxford
John de Vere, 13th Earl of Oxford
Thomas de Clifford, 8. Baron Clifford
John de Clifford, 9. Baron Clifford
John Tiptoft, Earl of Worcester
Thomas Grey, 1. Marquis Dorset
Sir Andrew Trollop
Archbishop John Morton
Edward Plantagenet, E. of Warwick
John Talbot, 2. E. Shrewsbury
John Talbot, 3. E. Shrewsbury
John de la Pole, 2. Duke of Suffolk
John de la Pole, E. of Lincoln
Edmund de la Pole, E. of Suffolk
Richard de la Pole
John Sutton, Baron Dudley
James Butler, 5. Earl of Ormonde
Sir James Tyrell
Edmund Grey, first Earl of Kent
George Grey, 2nd Earl of Kent
John, 5th Baron Scrope of Bolton
James Touchet, 7th Baron Audley
Walter Blount, Lord Mountjoy
Robert Hungerford, Lord Moleyns
Thomas, Lord Scales
John, Lord Lovel and Holand
Francis Lovell, Viscount Lovell
Sir Richard Ratcliffe
William Catesby
Ralph, 4th Lord Cromwell
Jack Cade's Rebellion, 1450


Tudor Period

King Henry VII
Queen Elizabeth of York
Arthur, Prince of Wales
Lambert Simnel
Perkin Warbeck
The Battle of Blackheath, 1497

King Ferdinand II of Aragon
Queen Isabella of Castile
Maximilian I, Holy Roman Emperor

King Henry VIII
Queen Catherine of Aragon
Queen Anne Boleyn
Queen Jane Seymour
Queen Anne of Cleves
Queen Catherine Howard
Queen Katherine Parr

King Edward VI
Queen Mary I
Queen Elizabeth I
Henry Fitzroy, Duke of Richmond

Margaret Tudor, Queen of Scotland
James IV, King of Scotland
The Battle of Flodden Field, 1513
James V, King of Scotland
Mary of Guise, Queen of Scotland

Mary Tudor, Queen of France
Louis XII, King of France
Francis I, King of France
The Battle of the Spurs, 1513
Field of the Cloth of Gold, 1520
Charles V, Holy Roman Emperor
Eustace Chapuys, Imperial Ambassador
The Siege of Boulogne, 1544

Cardinal Thomas Wolsey
Archbishop Thomas Cranmer
Thomas Cromwell, Earl of Essex
Thomas, Lord Audley
Thomas Wriothesley, E. Southampton
Sir Richard Rich

Edward Stafford, D. of Buckingham
Thomas Howard, 2nd Duke of Norfolk
Thomas Howard, 3rd Duke of Norfolk
John Dudley, Duke of Northumberland
Charles Brandon, Duke of Suffolk
Thomas Boleyn, Earl of Wiltshire
George Boleyn, Viscount Rochford
John Russell, Earl of Bedford
Thomas Grey, 2. Marquis of Dorset
Henry Grey, D. of Suffolk
Charles Somerset, Earl of Worcester
George Talbot, 4. E. Shrewsbury
Francis Talbot, 5. E. Shrewsbury
Henry Algernon Percy,
5th Earl of Northumberland
Henry Algernon Percy,
6th Earl of Northumberland
Ralph Neville, 4. E. Westmorland
Henry Neville, 5. E. Westmorland
William Paulet, Marquis of Winchester
Sir Francis Bryan
Sir Nicholas Carew
John de Vere, 15th Earl of Oxford
John de Vere, 16th Earl of Oxford
Thomas Seymour, Lord Admiral
Edward Seymour, Protector Somerset
Margaret Pole, Countess of Salisbury
Henry Pole, Lord Montague
Sir Geoffrey Pole
Thomas Manners, Earl of Rutland
Henry Manners, Earl of Rutland
Henry Bourchier, 2. Earl of Essex
Robert Radcliffe, 1. Earl of Sussex
Henry Radcliffe, 2. Earl of Sussex
George Hastings, Earl of Huntingdon
Henry Courtenay, Marquis of Exeter
George Neville, Baron Bergavenny
Sir Edward Neville
William, Lord Paget
William Sandys, Baron Sandys
William Fitzwilliam, E. Southampton
Sir Anthony Browne
Sir Thomas Wriothesley
Sir William Kingston
George Brooke, Lord Cobham
Sir Richard Southwell
Thomas Fiennes, 9th Lord Dacre
Sir Francis Weston
Henry Norris
Lady Jane Grey
Sir Thomas Arundel
Sir Richard Sackville
Sir William Petre
Sir John Cheke
Walter Haddon, L.L.D
Sir Peter Carew
Sir John Mason
Nicholas Wotton
John Taylor
Sir Thomas Wyatt, the Younger

Cardinal Lorenzo Campeggio
Cardinal Reginald Pole
Stephen Gardiner, Bishop of Winchester
Edmund Bonner, Bishop of London
Nicholas Ridley, Bishop of London
John Hooper, Bishop of Gloucester
John Aylmer, Bishop of London
Thomas Linacre
William Grocyn
Archbishop William Warham
Cuthbert Tunstall, Bishop of Durham
Richard Fox, Bishop of Winchester
Edward Fox, Bishop of Hereford

Pope Julius II
Pope Leo X
Pope Clement VII
Pope Paul III
Pope Pius V

Pico della Mirandola
Desiderius Erasmus
Martin Bucer
Richard Pace
Christopher Saint-German
Thomas Tallis
Elizabeth Barton, the Nun of Kent
Hans Holbein, the Younger
The Sweating Sickness

Dissolution of the Monasteries
Pilgrimage of Grace, 1536
Robert Aske
Anne Askew
Lord Thomas Darcy
Sir Robert Constable

Oath of Supremacy
The Act of Supremacy, 1534
The First Act of Succession, 1534
The Third Act of Succession, 1544
The Ten Articles, 1536
The Six Articles, 1539
The Second Statute of Repeal, 1555
The Act of Supremacy, 1559
Articles Touching Preachers, 1583

Queen Elizabeth I
William Cecil, Lord Burghley
Robert Cecil, 1st Earl of Salisbury
Sir Francis Walsingham
Sir Nicholas Bacon
Sir Thomas Bromley

Robert Dudley, Earl of Leicester
Ambrose Dudley, Earl of Warwick
Henry Carey, Lord Hunsdon
Sir Thomas Egerton, Viscount Brackley
Sir Francis Knollys
Katherine "Kat" Ashley
Lettice Knollys, Countess of Leicester
George Talbot, 6. E. of Shrewsbury
Elizabeth, Countess of Shrewsbury
Gilbert Talbot, 7. E. of Shrewsbury
Sir Henry Sidney
Sir Robert Sidney
Archbishop Matthew Parker
Walter Devereux, 1st Earl of Essex
Robert Devereux, 2nd Earl of Essex
Penelope Devereux, Lady Rich
Sir Christopher Hatton
Edward Courtenay, E. Devonshire
Edward Manners, 3rd Earl of Rutland
Thomas Radcliffe, 3. Earl of Sussex
Henry Radcliffe, 4. Earl of Sussex
Robert Radcliffe, 5. Earl of Sussex
William Parr, Marquis of Northampton
Henry Wriothesley, 2. Southampton
Henry Wriothesley, 3. Southampton
Charles Neville, 6. E. Westmorland
Thomas Percy, 7. E. Northumberland
Henry Percy, 8. E. Northumberland
Henry Percy, 9. E. Nothumberland
William Herbert, 1. Earl of Pembroke
Charles, Lord Howard of Effingham
Thomas Howard, 4th Duke of Norfolk
Henry Howard, 1. Earl of Northampton
Thomas Howard, 1. Earl of Suffolk
Henry Hastings, 3. E. of Huntingdon
Edward Manners, 3rd Earl of Rutland
Roger Manners, 5th Earl of Rutland
Francis Manners, 6th Earl of Rutland
Henry FitzAlan, 12. Earl of Arundel
Thomas, Earl Arundell of Wardour
Edward Somerset, E. of Worcester
William Davison
Sir Walter Mildmay
Sir Ralph Sadler
Sir Amyas Paulet
Gilbert Gifford
Anthony Browne, Viscount Montague
François, Duke of Alençon & Anjou

Mary, Queen of Scots
Henry Stuart, Lord Darnley
James Hepburn, Earl of Bothwell
Anthony Babington and the Babington Plot
John Knox

Philip II of Spain
The Spanish Armada, 1588
Sir Francis Drake
Sir John Hawkins

William Camden
Archbishop Whitgift
Martin Marprelate Controversy
John Penry (Martin Marprelate)
Richard Bancroft, Archbishop of Canterbury
John Dee, Alchemist

Philip Henslowe
Edward Alleyn
The Blackfriars Theatre
The Fortune Theatre
The Rose Theatre
The Swan Theatre
Children's Companies
The Admiral's Men
The Lord Chamberlain's Men
Citizen Comedy
The Isle of Dogs, 1597

Common Law
Court of Common Pleas
Court of King's Bench
Court of Star Chamber
Council of the North
Fleet Prison
Assize
Attainder
First Fruits & Tenths
Livery and Maintenance
Oyer and terminer
Praemunire


The Stuarts

King James I of England
Anne of Denmark
Henry, Prince of Wales
The Gunpowder Plot, 1605
George Villiers, 1st Duke of Buckingham
Robert Carr, Earl of Somerset
Arabella Stuart, Lady Lennox

William Alabaster
Bishop Hall
Bishop Thomas Morton
Archbishop William Laud
John Selden
Lucy Harington, Countess of Bedford
Henry Lawes

King Charles I
Queen Henrietta Maria

Long Parliament
Rump Parliament
Kentish Petition, 1642

Thomas Wentworth, Earl of Strafford
John Digby, Earl of Bristol
George Digby, 2nd Earl of Bristol
Thomas Fairfax, 3rd Lord Fairfax
Robert Devereux, 3rd E. of Essex
Robert Sidney, 2. E. of Leicester
Algernon Percy, E. of Northumberland
Henry Montagu, Earl of Manchester
Edward Montagu, 2. Earl of Manchester

The Restoration

King Charles II
King James II
Test Acts

Greenwich Palace
Hatfield House
Richmond Palace
Windsor Palace
Woodstock Manor

The Cinque Ports
Mermaid Tavern
Malmsey Wine
Great Fire of London, 1666
Merchant Taylors' School
Westminster School
The Sanctuary at Westminster
"Sanctuary"


Images:

Chart of the English Succession from William I through Henry VII

Medieval English Drama

London c1480, MS Royal 16
London, 1510, the earliest view in print
Map of England from Saxton's Descriptio Angliae, 1579
London in late 16th century
Location Map of Elizabethan London
Plan of the Bankside, Southwark, in Shakespeare's time
Detail of Norden's Map of the Bankside, 1593
Bull and Bear Baiting Rings from the Agas Map (1569-1590, pub. 1631)
Sketch of the Swan Theatre, c. 1596
Westminster in the Seventeenth Century, by Hollar
Visscher's View of London, 1616
Larger Visscher's View in Sections
c. 1690. View of London Churches, after the Great Fire
The Yard of the Tabard Inn from Thornbury, Old and New London