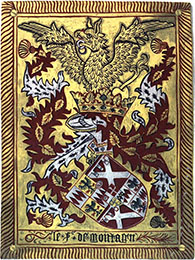 JOHN NEVILLE, Marquis of Montagu and Earl of Northumberland, third son of Richard Neville, Earl of Salisbury, and Alice, daughter and heiress of Thomas de Montacute or Montagu, fourth Earl of Salisbury, was born between 1428 and 1435. His brothers, Richard Neville, 'the king-maker,' and George Neville, Archbishop of York, are separately noticed. At Christmas 1449 Neville was knighted by Henry VI at Greenwich, along with his elder brother Thomas and the king's two half-brothers, Edmund and Jasper Tudor.1

He played a prominent part in 1453 in those armed conflicts between the Nevilles and the Percies in Yorkshire, which William Worcester afterwards described as 'initium maximorum dolorum in Anglia,' the true beginning of the civil war. He and Lord Egremont, third son of the Earl of Northumberland, were the leaders of the rival clans, and seem to have paid little attention to the orders sent down by the royal council commanding them to 'disperse the gatherings of our subjects ready to go to the field, as by credible report we understand ye dispose fully to do as it were in "land of werre."'2 When the Duke of York a few months later became protector and made the Earl of Salisbury chancellor of England, he came down to the north in May 1454 and put an end to the disturbances for a time.3

But they broke out again in July l457, after York had been ousted from the control of the government which he had gained by his victory at St. Albans. The two factions fought a battle at Castleton, near Guisbrough, in Cleveland, and the Nevilles won a complete victory, John Neville carrying off Lord Egremont and his brother Richard Percy to his father's castle of Middleham in Wensleydale.4 The Yorkists were strong enough to get the Percies mulcted in enormous damages to the Nevilles at the York assizes, and in default of payment Egremont was transferred to Newgate.5 But he soon effected his escape, and at the temporary reconciliation of parties in March 1458 the Nevilles agreed to forego the fines.

In the summer of 1459 John Neville and his elder brother Thomas accompanied their father when he marched southwards from Middleham with his Yorkshire retainers to join his eldest son Warwick and the Duke of York in the midlands. At the battle of Blore Heath, near Market Drayton (23 Sept.), where Salisbury routed the royal troops who sought to intercept him, Thomas and John Neville, with Sir Thomas Harington, pursued the flying Cheshiremen with such thoughtlessness that they were taken prisoners next morning by a son of Sir John Dawne who had not gone with his father to the battle, and they were conveyed to Chester Castle.6

After the dispersion of the Yorkists at Ludlow they were attainted, with the rest of their family, in the October parliament at Coventry, and did not obtain their release until the summer of 1459, when Warwick returned from Calais and turned the tables upon the Lancastrians at Northampton.7 King Henry being now in the hands of the Yorkists, and Neville's younger brother, George Neville, bishop of Exeter, made chancellor, his estates were restored to him in August by special grace, though his attainder was not removed until parliament met in October.8 He was raised to the peerage as Baron Montagu—a title also possessed by his father, and transmitted on his father's death at Wakefield in December to Warwick—and made lord chamberlain of the household, an office which gave him a seat in the privy council.9

Remaining in London with Warwick, Neville escaped the fate of his brother Thomas, who was slain with their father at Wakefield; and though at the second battle of St. Albans, on 7 Feb. 1461, he fell into the hands of the victorious Margaret, his life and that of Lord Berners [John Bourchier], brother of the Archbishop of Canterbury [Thomas Bourchier], were spared, while Lord Bonvile and Sir Thomas Kyriel were executed.10 Montagu had been closely attached to King Henry's person, and was something of a trimmer in politics. He and Berners were carried by the Lancastrians to York, where they remained until the day after the battle of Towton (30 March), when the new king, Edward, entered the city and at their intercession pardoned the citizens.11

While Edward went south for his coronation, Montagu won his first military laurels (June) by raising the siege of Carlisle, which was besieged by a large force of Scots and Lancastrian refugees.12 In March 1462 he was rewarded with the Garter left vacant by the death of his father and with the forfeited estates of Viscount Beaumont in Norfolk and Nottinghamshire.13 His title was confirmed by the new king. He was still kept employed in the north, where the Lancastrians were assisted by the Scots, and held several of the Northumbrian castles. While his brother Warwick sought by diplomacy to detach the Scots from Queen Margaret's cause, Montagu captured (July) Naworth Castle, which was defended by Lord Dacres.14 Later in the year, when Margaret had brought reinforcements from France and Warwick was superintending from Warkworth the siege of the great coast fortresses of Northumberland, Montagu lay before Bamborough, which surrendered to him on Christmas eve.15

Warwick having returned to London and thus allowed some of the castles to be recovered, Montagu was appointed warden of the east march against Scotland on 1 June 1463, and he and Warwick relieved Norham Castle, which was besieged by Queen Margaret and a Scottish force.16 In the following spring the Scots agreed to treat for a definitive peace; Montagu, with his brothers Warwick and George Neville, was appointed a commissioner for the purpose, and, as warden of the east march, went to the border to conduct the Scottish envoys to York, where the conference was to be held.17 The determination of the Lancastrians to prevent an understanding which would render their position in the north untenable gave Montagu an opportunity of adding to a military reputation which had begun to put Warwick's somewhat in the shade. Narrowly escaping an ambush laid for him near Newcastle by Humphrey Neville, a member of the older and Lancastrian branch of his house, Montagu found his road barred at Hedgeley Moor, between Alnwick and Wooler, on 25 April, by the Duke of Somerset and Sir Ralph Percy with a force estimated at five thousand men.18 Putting them to flight with the loss of Percy, he picked up the Scottish envoys at Norham and brought them safely to Newcastle.

Hearing that Somerset had rallied his forces and brought King Henry down to the neighbourhood of Hexham, Montagu left Newcastle on 14 May and found the enemy encamped in a position described by Hall, writing under Henry VIII, as being on the south side of the Tyne, two or three miles from Hexham, in a meadow called the Linnels [see Battle of Hexham]. With the river on one side and in their rear, and high ground on the other flank, the Lancastrians were caught in a trap, and, after a sharp fight, driven over the stream into a wood, where most of them were taken prisoners. King Henry, who had been left at Bywell Castle lower down the river, effected his escape into Westmoreland; but Somerset and the other principal captives were executed, either on the spot or at Newcastle, Middleham, and York, in the course of the next ten days.19 For this merciless proscription Montagu must be held responsible, though he may have been acting under orders, and the later executions took place in Edward's presence.

He had given the coup de grace to Lancastrianism in its last English stronghold, and received his reward at York on Trinity Sunday (27 May) in a grant of the earldom of Northumberland and its estates, forfeited by Henry Percy, who had been slain at Towton.20 He and Warwick reduced the Northumbrian castles in the course of the summer.21 But the ascendency of the Neville brothers was already seriously threatened by the king's secret marriage with Elizabeth Wydeville. Northumberland, being kept pretty constantly employed in the north, did not come into such continual collision with the Wydevilles as his brothers, but one of the many marriages which Edward secured for his wife's relations touched him personally. The heiress of the Duke of Exeter, who had been designed for his son George, was married, in October 1466, to Thomas Grey, the king's stepson.22

To what extent Neville was engaged in the intrigues of Warwick and Clarence is not clear. He certainly did not lend any open countenance to the Neville rising in Yorkshire in the summer of 1469, which went under the name of Robin of Redesdale [see, The Battle of Edgecote], and his destruction of the force which Robert Hillyard or Robin of Holderness led to the gates of York and execution of its leader would no doubt confirm the confidence which Edward, who 'loved him entirely,' placed in him. On the other hand, the latter movement would appear to have been quite distinct from the other, the rebels having a grievance against the hospital of St. Leonard at York, and calling for the restoration of the earldom of Northumberland to the Percies.23 So far as is known, he made no special effort to prevent the southward march of Robin of Redesdale, which ended in the battle of Edgecote and the temporary detention of the king by Warwick. But he escaped or avoided being compromised in these latter events, and the king evidently thought that he was not fully committed to his brother's policy. The betrothal of Elizabeth, the eldest daughter of Edward, as yet without a son, to Northumberland's son George, who was forthwith (5 Jan. 1470) created Duke of Bedford, gave him an interest opposed to that of Clarence, the heir-presumptive, whom Warwick had married to his elder daughter.24

But the release and pardon of Henry Percy, whose earldom he held, perhaps made him uneasy; and, though he did not join Warwick and Clarence when the king drove them out of the country in March after the suppression of the Lincolnshire rebellion, he seems to have been compromised. He had brought no assistance to the king against the rebels, and Chastellain states25 that Edward only pardoned him on receiving the strongest assurances of repentance and future fidelity. He could not any longer be trusted with the safeguard of the royal interests in the north, and the earldom of Northumberland, with its great estates, was restored to Henry Percy, who also superseded him as warden of the east march.26 The empty title of Marquis of Montagu, 'with a pye's nest to maintain it,' only increased his resentment, and when the news of Warwick's landing reached the north in September, Montagu, who had assembled six thousand men at Pontefract, declared for king Henry and moved on Doncaster, where the king was lying.27

Montagu's desertion drove Edward out of England, and, Henry VI being restored, he was reappointed warden of the east march. But under a Lancastrian government he could not recover the earldom of Northumberland. Warwick, however, entrusted him with the defence of the north against the exiled Edward, and one of his last acts before leaving London after Edward's landing was to have a grant made to his brother of the old Percy castle of Wressel on the Yorkshire Derwent, which Jacquetta, duchess of Luxemburg, the Duke of Bedford's widow, had hitherto held as part of her dower.28 But Montagu, who was lying at Pontefract, allowed Edward in March 1471 to land in Yorkshire, enter York, and march into the midlands without molestation.29 This looked very like a double treason, and was afterwards so regarded by some writers.30 But the neutral position taken up by the Percies, who were very powerful in southern Yorkshire, may have so weakened Montagu that he hesitated to attack Edward's small but compact force, and he was always inclined to seize an opportunity of letting events decide themselves without committing him.31 Stow adds that he was deceived by letters from Clarence, who had secretly gone over to his brother's party, announcing that he was about to arrange a general settlement, and asking him in the meantime not to fight. But what authority he had for this statement does not appear.

Montagu certainly joined Warwick at Coventry, and fought on his side at Barnet (14 April), where both were slain.32 There are curiously discrepant accounts of his conduct in the battle. In one version he insists on Warwick's fighting on foot so that he must win or fall, and himself dies fighting gallantly in 'plain battle'.33 In another he is discovered putting on Edward's livery and slain by one of Warwick's men.34 The former, though in part the official version put forth by Edward, perhaps deserves most credence. The bodies of the two brothers were carried to London, and, after being exposed 'open and naked' for two days at St. Paul's to convince the people that they were really dead, were taken down to Berkshire and interred in the burial-place of their maternal ancestors at Bisham Abbey.35 Montagu seems to have been a man of mediocre talents and hesitant temper, who was drawn rather reluctantly into treason by the stronger will of his brother and the family solidarity.

He married, on 20 April, 1457 Isabel, daughter and coheiress of Sir Edmund Ingoldesthorpe of Borough Green, near Newmarket, by Joan, sister and eventually heiress of John Tiptoft, earl of Worcester.36 By her he had two sons and five daughters:37 (1) George, created Duke of Bedford on 5 April 1470; he was degraded from this and all his other dignities by act of parliament in 1478, when he may have been just coming of age, on the ground that he had no 'livelihood' to support them, his father's treason having frustrated the king's intention of attaching estates to the titles.38 Sir James Ramsay39 suggests that the Bedford title was now needed for Edward's third son, George. George Neville died in 1483 without issue, and was buried in the church of Sheriff-Hutton, near York, a Neville castle and manor. The alabaster effigy, with a coronet, still remaining in the church, and often said to be young Bedford's,40 is that of a mere child, perhaps the son of Richard of Gloucester, to whom Sheriff-Hutton passed after Warwick's death; and the shield bears a cross, not the Neville saltire. Montagu's second son, John Neville, died in infancy (146O), and was buried at Sawston, Cambridgeshire.

The daughters were: (1) Anne, who married Sir William Stonor of Oxfordshire; (2) Elizabeth, married first to Thomas, lord Scrope of Masham (d. 1493), and secondly, before 1496, to Sir Henry Wentworth, who died in 1500 (she died in 1515); (3) Margaret, married first Thomas Horne, secondly Sir J. Mortimer, and thirdly Charles Brandon, duke of Suffolk, who divorced her; (4) Lucy, married first Sir Thomas Fitzwilliam, and secondly Sir Anthony Brown, her grandson by whom was created Viscount Montagu in 1554. The dignity is supposed to have become extinct on the death in 1797 of Mark Anthony Brown, the ninth viscount, who had entered a French monastery, but various claims have since been set up to it41; (5) Isabel, married first Sir William Huddlestone of Sawston, secondly William Smith of Elford, Staffordshire.



1. William Worcester, in Stevenson's Wars in France, vol. ii. p. 770.
2. Ordinances of the Privy Council, vi. 141, 161; see also under Richard Neville, Earl of Salisbury.
3. Ramsay, Lancaster and York: A Century of English History, ii. 177.
4. Fabyan, Chronicle, 1811, p. 632; Gairdner, ed., Three Fifteenth-Century Chronicles, p. 70.
5. Whethamstede, Registra, i. 303.
6. Gregory's Chronicle, ed. Gairdner, Camden Society, 1876, p. 204;
An English Chronicle, ed. Davies, p. 80.
7. Gregory; cf. Hall's Chronicle, p. 240; Rotuli Parliamentorum v. 349.
8. ib. v. 374; Ord. Privy Council, vi. 306.
9. ib. pp. ccxxiv, 310; Worcester, p. 776.
10. Calendar of State Papers, Venetian, i. 370.
11. ib.; Paston Letters, ii. 5.
12. ib. p. 13.
13. Beltz, Memorials of the Order of the Garter; Dugdale, Baronage, i. 307.
14. Worcester, p. 779.
15.ib. p. 780; Paston Letters, ii. 121.
16. Gregory, p. 220.
17. ib. p. 224.
18. ib.
19. Fabyan, p. 179; Gregory, p. 225.
20. Doyle, Official Baronage. ii. 650.
21. Gregory, p. 227.
22. Worcester, p. 786.
23. Three Fifteenth-Century Chronicles, p. 183.
24. Report on the Dignity of a Peer, v. 377.
25. ib. v. 500.
26. Dignity of a Peer, v. 378; Doyle, ii. 651.
27. Warkworth, Chronicle, p. 10; Continuation of Croyland Chronicle, p. 554; Chronicles of the White Rose of York, p. 29; Chastellain, Oeuvres, Kervyn de Lettenhove, ed., v. 501; Wavrin, Chroniques, iii. 47, ed. Dupont.
28. Foedera, xi. 676.
29. Historie of the Arrivall of Edward IV, ed. Bruce, p. 6.
30. Polydore Vergil's English History, ed. Ellis, p. 136; Warkworth, p. 16.
31. ib.
32. Arrivall of Edward IV, pp. 14, 20.
33. Commines, ed. Dupont, i. 260; cf. Arrivall of Edward IV, p. 20.
34. Warkworth, p. 16.
35. Hall, Chronicle, p. 297.
36. Paston Letters, i. 416; Rot. Parl. v. 387; cf. Doyle.
37. Swallow, De Nova Villa, p. 224.
38. Rot. Parl. vi. 173.
39. Ramsay, ii. 426.
40. Murray, Yorkshire, p. 157.
41. Doyle; Nicholas, Historic Peerage, ed. Courthope.


---

Dictionary of National Biography. Vol XL. Sidney Lee, Ed.
New York: Macmillan and Co., 1894. 265-268.


---
Other Local Resources:
---


Books for further study:

Hicks, Michael. The Wars of the Roses 1455-1485.
New York: Routledge, 2003.

Richardson, Geoffrey. The Lordly Ones: A History of the Neville Family
and Their Part in the Wars of the Roses.
Baildon Books, 1998.

Swallow, H. J. De Nova Villa: or, The House of Nevill in Sunshine and Shade.
Newcastle-on-Tyne: Andrew Reid, 1885.

Weir, Alison. The Wars of the Roses.
New York: Ballantine Books, 1996.



---
Web Links:
---
to the Wars of the Roses
to Luminarium Encyclopedia


Site ©1996-2023 Anniina Jokinen. All rights reserved.
This page was created on April 19, 2007. Last updated April 29, 2023.








Index of Encyclopedia Entries:

Medieval Cosmology
Prices of Items in Medieval England

Edward II
Isabella of France, Queen of England
Piers Gaveston
Thomas of Brotherton, E. of Norfolk
Edmund of Woodstock, E. of Kent
Thomas, Earl of Lancaster
Henry of Lancaster, Earl of Lancaster
Henry of Grosmont, Duke of Lancaster
Roger Mortimer, Earl of March
Hugh le Despenser the Younger
Bartholomew, Lord Burghersh, elder

Hundred Years' War (1337-1453)

Edward III
Philippa of Hainault, Queen of England
Edward, Black Prince of Wales
John of Eltham, Earl of Cornwall
The Battle of Crécy, 1346
The Siege of Calais, 1346-7
The Battle of Poitiers, 1356
Lionel of Antwerp, Duke of Clarence
John of Gaunt, Duke of Lancaster
Edmund of Langley, Duke of York
Thomas of Woodstock, Gloucester
Richard of York, E. of Cambridge
Richard Fitzalan, 3. Earl of Arundel
Roger Mortimer, 2nd Earl of March
The Good Parliament, 1376
Richard II
The Peasants' Revolt, 1381
Lords Appellant, 1388
Richard Fitzalan, 4. Earl of Arundel
Archbishop Thomas Arundel
Thomas de Beauchamp, E. Warwick
Robert de Vere, Earl of Oxford
Ralph Neville, E. of Westmorland
Thomas Mowbray, Duke of Norfolk
Edmund Mortimer, 3. Earl of March
Roger Mortimer, 4. Earl of March
John Holland, Duke of Exeter
Michael de la Pole, E. Suffolk
Hugh de Stafford, 2. E. Stafford
Henry IV
Edward, Duke of York
Edmund Mortimer, 5. Earl of March
Henry Percy, Earl of Northumberland
Sir Henry Percy, "Harry Hotspur"
Thomas Percy, Earl of Worcester
Owen Glendower
The Battle of Shrewsbury, 1403
Archbishop Richard Scrope
Thomas Mowbray, 3. E. Nottingham
John Mowbray, 2. Duke of Norfolk
Thomas Fitzalan, 5. Earl of Arundel
Henry V
Thomas, Duke of Clarence
John, Duke of Bedford
Humphrey, Duke of Gloucester
John Talbot, Earl of Shrewsbury
Richard, Earl of Cambridge
Henry, Baron Scrope of Masham
William de la Pole, Duke of Suffolk
Thomas Montacute, E. Salisbury
Richard Beauchamp, E. of Warwick
Henry Beauchamp, Duke of Warwick
Thomas Beaufort, Duke of Exeter
Cardinal Henry Beaufort
John Beaufort, Earl of Somerset
Sir John Fastolf
John Holland, 2. Duke of Exeter
Archbishop John Stafford
Archbishop John Kemp
Catherine of Valois
Owen Tudor
John Fitzalan, 7. Earl of Arundel
John, Lord Tiptoft

Charles VII, King of France
Joan of Arc
Louis XI, King of France
Charles the Bold, Duke of Burgundy
The Battle of Agincourt, 1415
The Battle of Castillon, 1453



The Wars of the Roses 1455-1485
Causes of the Wars of the Roses
The House of Lancaster
The House of York
The House of Beaufort
The House of Neville

The First Battle of St. Albans, 1455
The Battle of Blore Heath, 1459
The Rout of Ludford, 1459
The Battle of Northampton, 1460
The Battle of Wakefield, 1460
The Battle of Mortimer's Cross, 1461
The 2nd Battle of St. Albans, 1461
The Battle of Towton, 1461
The Battle of Hedgeley Moor, 1464
The Battle of Hexham, 1464
The Battle of Edgecote, 1469
The Battle of Losecoat Field, 1470
The Battle of Barnet, 1471
The Battle of Tewkesbury, 1471
The Treaty of Pecquigny, 1475
The Battle of Bosworth Field, 1485
The Battle of Stoke Field, 1487

Henry VI
Margaret of Anjou
Richard Plantagenet, Duke of York
Edward IV
Elizabeth Woodville
Richard Woodville, 1. Earl Rivers
Anthony Woodville, 2. Earl Rivers
Jane Shore
Edward V
Richard III
George, Duke of Clarence

Ralph Neville, 2. Earl of Westmorland
Richard Neville, Earl of Salisbury
Richard Neville, Earl of Warwick
Edward Neville, Baron Bergavenny
William Neville, Lord Fauconberg
Robert Neville, Bishop of Salisbury
John Neville, Marquis of Montagu
George Neville, Archbishop of York
John Beaufort, 1. Duke Somerset
Edmund Beaufort, 2. Duke Somerset
Henry Beaufort, 3. Duke of Somerset
Edmund Beaufort, 4. Duke Somerset
Margaret Beaufort
Edmund Tudor, Earl of Richmond
Jasper Tudor, Earl of Pembroke
Humphrey Stafford, D. Buckingham
Henry Stafford, Duke of Buckingham
Humphrey Stafford, E. of Devon
Thomas, Lord Stanley, Earl of Derby
Sir William Stanley
Archbishop Thomas Bourchier
Henry Bourchier, Earl of Essex
John Mowbray, 3. Duke of Norfolk
John Mowbray, 4. Duke of Norfolk
John Howard, Duke of Norfolk
Henry Percy, 2. E. Northumberland
Henry Percy, 3. E. Northumberland
Henry Percy, 4. E. Northumberland
William, Lord Hastings
Henry Holland, Duke of Exeter
William Fitzalan, Earl of Arundel
William Herbert, 1. Earl of Pembroke
John de Vere, 12th Earl of Oxford
John de Vere, 13th Earl of Oxford
Thomas de Clifford, 8. Baron Clifford
John de Clifford, 9. Baron Clifford
John Tiptoft, Earl of Worcester
Thomas Grey, 1. Marquis Dorset
Sir Andrew Trollop
Archbishop John Morton
Edward Plantagenet, E. of Warwick
John Talbot, 2. E. Shrewsbury
John Talbot, 3. E. Shrewsbury
John de la Pole, 2. Duke of Suffolk
John de la Pole, E. of Lincoln
Edmund de la Pole, E. of Suffolk
Richard de la Pole
John Sutton, Baron Dudley
James Butler, 5. Earl of Ormonde
Sir James Tyrell
Edmund Grey, first Earl of Kent
George Grey, 2nd Earl of Kent
John, 5th Baron Scrope of Bolton
James Touchet, 7th Baron Audley
Walter Blount, Lord Mountjoy
Robert Hungerford, Lord Moleyns
Thomas, Lord Scales
John, Lord Lovel and Holand
Francis Lovell, Viscount Lovell
Sir Richard Ratcliffe
William Catesby
Ralph, 4th Lord Cromwell
Jack Cade's Rebellion, 1450


Tudor Period

King Henry VII
Queen Elizabeth of York
Arthur, Prince of Wales
Lambert Simnel
Perkin Warbeck
The Battle of Blackheath, 1497

King Ferdinand II of Aragon
Queen Isabella of Castile
Maximilian I, Holy Roman Emperor

King Henry VIII
Queen Catherine of Aragon
Queen Anne Boleyn
Queen Jane Seymour
Queen Anne of Cleves
Queen Catherine Howard
Queen Katherine Parr

King Edward VI
Queen Mary I
Queen Elizabeth I
Henry Fitzroy, Duke of Richmond

Margaret Tudor, Queen of Scotland
James IV, King of Scotland
The Battle of Flodden Field, 1513
James V, King of Scotland
Mary of Guise, Queen of Scotland

Mary Tudor, Queen of France
Louis XII, King of France
Francis I, King of France
The Battle of the Spurs, 1513
Field of the Cloth of Gold, 1520
Charles V, Holy Roman Emperor
Eustace Chapuys, Imperial Ambassador
The Siege of Boulogne, 1544

Cardinal Thomas Wolsey
Archbishop Thomas Cranmer
Thomas Cromwell, Earl of Essex
Thomas, Lord Audley
Thomas Wriothesley, E. Southampton
Sir Richard Rich

Edward Stafford, D. of Buckingham
Thomas Howard, 2nd Duke of Norfolk
Thomas Howard, 3rd Duke of Norfolk
John Dudley, Duke of Northumberland
Charles Brandon, Duke of Suffolk
Thomas Boleyn, Earl of Wiltshire
George Boleyn, Viscount Rochford
John Russell, Earl of Bedford
Thomas Grey, 2. Marquis of Dorset
Henry Grey, D. of Suffolk
Charles Somerset, Earl of Worcester
George Talbot, 4. E. Shrewsbury
Francis Talbot, 5. E. Shrewsbury
Henry Algernon Percy,
5th Earl of Northumberland
Henry Algernon Percy,
6th Earl of Northumberland
Ralph Neville, 4. E. Westmorland
Henry Neville, 5. E. Westmorland
William Paulet, Marquis of Winchester
Sir Francis Bryan
Sir Nicholas Carew
John de Vere, 15th Earl of Oxford
John de Vere, 16th Earl of Oxford
Thomas Seymour, Lord Admiral
Edward Seymour, Protector Somerset
Margaret Pole, Countess of Salisbury
Henry Pole, Lord Montague
Sir Geoffrey Pole
Thomas Manners, Earl of Rutland
Henry Manners, Earl of Rutland
Henry Bourchier, 2. Earl of Essex
Robert Radcliffe, 1. Earl of Sussex
Henry Radcliffe, 2. Earl of Sussex
George Hastings, Earl of Huntingdon
Henry Courtenay, Marquis of Exeter
George Neville, Baron Bergavenny
Sir Edward Neville
William, Lord Paget
William Sandys, Baron Sandys
William Fitzwilliam, E. Southampton
Sir Anthony Browne
Sir Thomas Wriothesley
Sir William Kingston
George Brooke, Lord Cobham
Sir Richard Southwell
Thomas Fiennes, 9th Lord Dacre
Sir Francis Weston
Henry Norris
Lady Jane Grey
Sir Thomas Arundel
Sir Richard Sackville
Sir William Petre
Sir John Cheke
Walter Haddon, L.L.D
Sir Peter Carew
Sir John Mason
Nicholas Wotton
John Taylor
Sir Thomas Wyatt, the Younger

Cardinal Lorenzo Campeggio
Cardinal Reginald Pole
Stephen Gardiner, Bishop of Winchester
Edmund Bonner, Bishop of London
Nicholas Ridley, Bishop of London
John Hooper, Bishop of Gloucester
John Aylmer, Bishop of London
Thomas Linacre
William Grocyn
Archbishop William Warham
Cuthbert Tunstall, Bishop of Durham
Richard Fox, Bishop of Winchester
Edward Fox, Bishop of Hereford

Pope Julius II
Pope Leo X
Pope Clement VII
Pope Paul III
Pope Pius V

Pico della Mirandola
Desiderius Erasmus
Martin Bucer
Richard Pace
Christopher Saint-German
Thomas Tallis
Elizabeth Barton, the Nun of Kent
Hans Holbein, the Younger
The Sweating Sickness

Dissolution of the Monasteries
Pilgrimage of Grace, 1536
Robert Aske
Anne Askew
Lord Thomas Darcy
Sir Robert Constable

Oath of Supremacy
The Act of Supremacy, 1534
The First Act of Succession, 1534
The Third Act of Succession, 1544
The Ten Articles, 1536
The Six Articles, 1539
The Second Statute of Repeal, 1555
The Act of Supremacy, 1559
Articles Touching Preachers, 1583

Queen Elizabeth I
William Cecil, Lord Burghley
Robert Cecil, 1st Earl of Salisbury
Sir Francis Walsingham
Sir Nicholas Bacon
Sir Thomas Bromley

Robert Dudley, Earl of Leicester
Ambrose Dudley, Earl of Warwick
Henry Carey, Lord Hunsdon
Sir Thomas Egerton, Viscount Brackley
Sir Francis Knollys
Katherine "Kat" Ashley
Lettice Knollys, Countess of Leicester
George Talbot, 6. E. of Shrewsbury
Elizabeth, Countess of Shrewsbury
Gilbert Talbot, 7. E. of Shrewsbury
Sir Henry Sidney
Sir Robert Sidney
Archbishop Matthew Parker
Walter Devereux, 1st Earl of Essex
Robert Devereux, 2nd Earl of Essex
Penelope Devereux, Lady Rich
Sir Christopher Hatton
Edward Courtenay, E. Devonshire
Edward Manners, 3rd Earl of Rutland
Thomas Radcliffe, 3. Earl of Sussex
Henry Radcliffe, 4. Earl of Sussex
Robert Radcliffe, 5. Earl of Sussex
William Parr, Marquis of Northampton
Henry Wriothesley, 2. Southampton
Henry Wriothesley, 3. Southampton
Charles Neville, 6. E. Westmorland
Thomas Percy, 7. E. Northumberland
Henry Percy, 8. E. Northumberland
Henry Percy, 9. E. Nothumberland
William Herbert, 1. Earl of Pembroke
Charles, Lord Howard of Effingham
Thomas Howard, 4th Duke of Norfolk
Henry Howard, 1. Earl of Northampton
Thomas Howard, 1. Earl of Suffolk
Henry Hastings, 3. E. of Huntingdon
Edward Manners, 3rd Earl of Rutland
Roger Manners, 5th Earl of Rutland
Francis Manners, 6th Earl of Rutland
Henry FitzAlan, 12. Earl of Arundel
Thomas, Earl Arundell of Wardour
Edward Somerset, E. of Worcester
William Davison
Sir Walter Mildmay
Sir Ralph Sadler
Sir Amyas Paulet
Gilbert Gifford
Anthony Browne, Viscount Montague
François, Duke of Alençon & Anjou

Mary, Queen of Scots
Henry Stuart, Lord Darnley
James Hepburn, Earl of Bothwell
Anthony Babington and the Babington Plot
John Knox

Philip II of Spain
The Spanish Armada, 1588
Sir Francis Drake
Sir John Hawkins

William Camden
Archbishop Whitgift
Martin Marprelate Controversy
John Penry (Martin Marprelate)
Richard Bancroft, Archbishop of Canterbury
John Dee, Alchemist

Philip Henslowe
Edward Alleyn
The Blackfriars Theatre
The Fortune Theatre
The Rose Theatre
The Swan Theatre
Children's Companies
The Admiral's Men
The Lord Chamberlain's Men
Citizen Comedy
The Isle of Dogs, 1597

Common Law
Court of Common Pleas
Court of King's Bench
Court of Star Chamber
Council of the North
Fleet Prison
Assize
Attainder
First Fruits & Tenths
Livery and Maintenance
Oyer and terminer
Praemunire


The Stuarts

King James I of England
Anne of Denmark
Henry, Prince of Wales
The Gunpowder Plot, 1605
George Villiers, 1st Duke of Buckingham
Robert Carr, Earl of Somerset
Arabella Stuart, Lady Lennox

William Alabaster
Bishop Hall
Bishop Thomas Morton
Archbishop William Laud
John Selden
Lucy Harington, Countess of Bedford
Henry Lawes

King Charles I
Queen Henrietta Maria

Long Parliament
Rump Parliament
Kentish Petition, 1642

Thomas Wentworth, Earl of Strafford
John Digby, Earl of Bristol
George Digby, 2nd Earl of Bristol
Thomas Fairfax, 3rd Lord Fairfax
Robert Devereux, 3rd E. of Essex
Robert Sidney, 2. E. of Leicester
Algernon Percy, E. of Northumberland
Henry Montagu, Earl of Manchester
Edward Montagu, 2. Earl of Manchester

The Restoration

King Charles II
King James II
Test Acts

Greenwich Palace
Hatfield House
Richmond Palace
Windsor Palace
Woodstock Manor

The Cinque Ports
Mermaid Tavern
Malmsey Wine
Great Fire of London, 1666
Merchant Taylors' School
Westminster School
The Sanctuary at Westminster
"Sanctuary"


Images:

Chart of the English Succession from William I through Henry VII

Medieval English Drama

London c1480, MS Royal 16
London, 1510, the earliest view in print
Map of England from Saxton's Descriptio Angliae, 1579
London in late 16th century
Location Map of Elizabethan London
Plan of the Bankside, Southwark, in Shakespeare's time
Detail of Norden's Map of the Bankside, 1593
Bull and Bear Baiting Rings from the Agas Map (1569-1590, pub. 1631)
Sketch of the Swan Theatre, c. 1596
Westminster in the Seventeenth Century, by Hollar
Visscher's View of London, 1616
Larger Visscher's View in Sections
c. 1690. View of London Churches, after the Great Fire
The Yard of the Tabard Inn from Thornbury, Old and New London