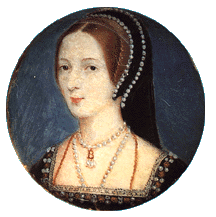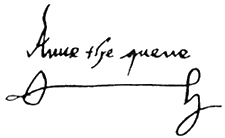 ANNE BOLEYN, Queen of King Henry VIII of England, daughter of Sir Thomas Boleyn, afterwards Earl of Wiltshire and Ormonde, and of Elizabeth, daughter of Thomas Howard, Earl of Surrey, afterwards [2nd] Duke of Norfolk, was born, according to Camden, in 1507, but her birth has been ascribed, though not conclusively, to an earlier date (to 1502 or 1501) by some later writers.1

In 1514 she accompanied Mary Tudor to France on the marriage of the princess to Louis XII, remained there after the king's death, and became one of the women in waiting to Queen Claude, wife of Francis I. She returned in 1521 or 1522 to England, where she had many admirers and suitors. Among the former was the poet Sir Thomas Wyatt,2 and among the latter, Henry Percy, heir of the earl of Northumberland, a marriage with whom, however, was stopped by the king and another match provided for her in the person of Sir James Butler. Anne Boleyn, however, remained unmarried, and a series of grants and favours bestowed by King Henry VIII on her father between 1522 and 1525 have been taken, though very doubtfully, as a symptom of the king's affections. Unlike her sister Mary, who had fallen a victim to Henry's solicitations,3 Anne had no intention of being the king's mistress; she meant to be his queen, and her conduct seems to have been governed entirely by motives of ambition.

The exact period of the beginning of Anne's relations with Henry is not known. They have been surmised as originating as early as 1523; but there is nothing to prove that Henry's passion was anterior to the proceedings taken for the divorce in May 1527, the celebrated love letters being undated. Her name is first openly connected with the king's as a possible wife in the event of Catherine's divorce, in a letter of Mendoza, the imperial ambassador, to Charles V of the 16th of August 1527,4 during the absence in France of Cardinal Wolsey, who, not blinded by passion like Henry, naturally opposed the undesirable alliance, and was negotiating a marriage with Renee, daughter of Louis XII. Henry meanwhile, however, had sent William Knight, his secretary, on a separate mission to Rome to obtain facilities for his marriage with Anne; and on the cardinal's return in August he found her installed as the king's companion and proposed successor to Catherine of Aragon.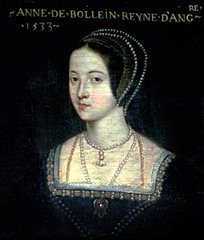 After the king's final separation from his wife in July 1531, Anne's position was still more marked, and in 1532 she accompanied Henry on the visit to Francis I, while Catherine was left at home neglected and practically a prisoner. Soon after their return Anne was found to be pregnant, and in consequence Henry married her about the 25th of January 15335 (the exact date is unknown), their union not being made public till the following Easter. Subsequently, on the 23rd of May, their marriage was declared valid and that with Catherine null, and in June Anne was crowned with great state in Westminster Abbey. Anne Boleyn had now reached the zenith of her hopes.

A weak, giddy woman of no stability of character, her success turned her head and caused her to behave with insolence and impropriety, in strong contrast with Catherine's quiet dignity under her misfortunes. She, and not the king, probably was the author of the petty persecutions inflicted upon Catherine and upon the Princess Mary, and her jealousy of the latter showed itself in spiteful malice. Mary was to be forced into the position of a humble attendant upon Anne's infant, and her ears were to be boxed if she proved recalcitrant. She urged that both should be brought to trial under the new statute of succession passed in 1534, which declared her own children the lawful heirs to the throne. She was reported as saying that when the king gave opportunity by leaving England, she would put Mary to death even if she were burnt or flayed alive for it.6 She incurred the remonstrances of the privy council and alienated her own friends and relations. Her uncle, the Duke of Norfolk, whom she was reported to have treated "worse than a dog," reviled her, calling her a "grande putaine."

But her day of triumph was destined to be even shorter than that of her predecessor. There were soon signs that Henry's affection, which had before been a genuine passion, had cooled or ceased. He resented her arrogance, and a few months after the marriage he gave her cause for jealousy, and disputes arose. A strange and mysterious fate had prepared for Anne the same domestic griefs that had vexed and ruined Catherine and caused her abandonment. In September 1533 the birth of a daughter, afterwards Queen Elizabeth, instead of the long-hoped-for son, was a heavy disappointment; next year there was a miscarriage, and on the 29th of January 1536, the day of Catherine's funeral, she gave birth to a dead male child.



On the 1st of May following the king suddenly broke up a tournament at Greenwich, leaving the company in bewilderment and consternation. The cause was soon known. Inquiries had been made on reports of the queen's ill-conduct, and several of her reputed lovers had been arrested. On the 2nd Anne herself was committed to the Tower on a charge of adultery with various persons, including her own brother, Lord Rochford. On the 12th, Sir Francis Weston, Henry Norris, William Brereton and Mark Smeaton were declared guilty of high treason, while Anne herself and Lord Rochford were condemned unanimously by an assembly of twenty-six peers on the 15th. Her uncle, the Duke of Norfolk, presided as lord steward, and gave sentence, weeping, that his niece was to be burned or beheaded as pleased the king. Her former lover, the earl of Northumberland, left the court seized with sudden illness. Her father, who was excused attendance, had, however, been present at the trial of the other offenders, and had there declared his conviction of his daughter's guilt.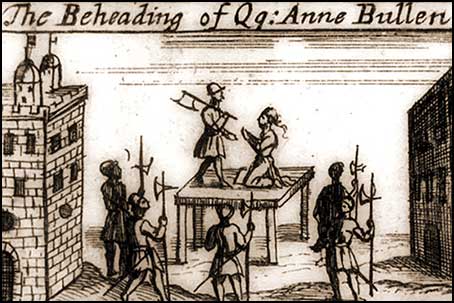 On the 16th, hoping probably to save herself by these means, she informed Cranmer of a certain supposed impediment to her marriage with the king - according to some accounts a previous marriage with Northumberland, though the latter solemnly and positively denied it - which was never disclosed, but which, having been considered by the archbishop and a committee of ecclesiastical lawyers, was pronounced, on the 17th, sufficient to invalidate her marriage. The same day all her reputed lovers were executed; and on the 19th she herself suffered death on Tower Green, her head being struck off with a sword by the executioner of Calais brought to England for the purpose.7 She had regarded the prospect of death with courage and almost with levity, laughing heartily as she put her hands about her "little neck" and recalled the skill of the executioner. "I have seen many men" (wrote Sir William Kingston, governor of the Tower) "and also women executed, and all they have been in great sorrow, and to my knowledge this lady has much joy and pleasure in death." On the following day Henry was betrothed to Jane Seymour.

Amidst the vituperations of the adherents of the papacy and the later Elizabethan eulogies, and in the absence of the records on which her sentence was pronounced, Anne Boleyn's guilt remains unproved. To Sir William Kingston she protested her entire innocence, and on the scaffold while expressing her submission she made no confession.8 Smeaton alone of her supposed lovers made a full confession, and it is possible that his statement was drawn from him by threats of torture or hopes of pardon. Norris, according to one account,9 also confessed, but subsequently declared that he had been betrayed into making his statement. The others were all said to have "confessed in a manner" on the scaffold, but much weight cannot be placed on these general confessions, which were, according to the custom of the time, a declaration of submission to the king's will and of general repentance rather than acknowledgment of the special crime. "I pray God save the king," Anne herself is reported to have said on the scaffold, "and send him long to reign over you, for a gentler nor a more merciful prince was there never; and to me he was ever a good, a gentle and sovereign lord."

A principal witness for the charge of incest was Rochford's own wife, a woman of infamous character, afterwards executed for complicity in the intrigues of Catherine Howard. The discovery of Anne's misdeeds coincided in an extraordinary manner with Henry's disappointment in not obtaining by her a male heir, while the king's despotic power and the universal unpopularity of Anne both tended to hinder the administration of pure justice. Nevertheless, though unproved, Anne's guilt is more than probable. It is almost incredible that two grand juries, a petty jury, and a tribunal consisting of nearly all the lay peers of England, with the evidence before them which we do not now possess, should have all unanimously passed a sentence of guilt contrary to the facts and their convictions, and that such a sentence should have been supported by Anne's own father and uncle.




1 See Anne Boleyn, by P. Friedman; The Early Life of Anne Boleyn, by J. H. Round; and J. Gairdner in Eng. Hist. Review, viii. 53, 2 99, and x. 104.

2 According to the Chronicle of King Henry VIII, tr. by M. A. S. Hume, p. 68, she was his mistress.

3 Of this there is no direct proof, but the statement rests upon contemporary belief and chiefly upon the extraordinary terms of the dispensation granted to Henry to marry Anne Boleyn, which included the suspension of all canons relating to impediments created by "affinity rising ex illicito coitu in any degree even in the first." Froude rejects the whole story, Divorce of Catherine of Aragon, p. 54; and see Friedman's Anne Boleyn, ii. 323.

4 Calendar of State Papers. England and Spain, iii. pt. ii. p. 327.

5 According to Cranmer, Letters and Papers of Henry VIII. vi. p. 300, the only authority; and Cranmer himself only knew of it a fortnight after. The marriage was commonly antedated to the 14th of November 1532.

6 Calendar of State Papers. England and Spain, v. 198.

7 Letters and Papers of Henry VIII. x. pp. 374, 381, 385.

8 According to the most trustworthy accounts, but see Letters and Papers, x. p. 382. The well-known letter to Henry VIII attributed to her is now recognized as an Elizabethan forgery.

9 Archaeologia, xxiii. 64.




---

Excerpted from:
Encyclopedia Britannica, 11th Ed., vol. IV.
Cambridge: Cambridge University Press, 1910. 161-3.


---
Other Local Resources:
---
Books for further study:
Erickson, Carolly. Mistress Anne.
New York: St. Martin's Griffin, 1998.

Grueninger, Natalie. The Final Year of Anne Boleyn.
Pen & Sword, 1998.

Ives, Eric. The Life and Death of Anne Boleyn.
Wiley-Blackwell Publishing, 2005.

Lindsey, Karen. Divorced, Beheaded, Survived:
A Feminist Reinterpretation of the Wives of Henry VIII .
London: Addison Wesley, 1996.

Norton, Elizabeth. Anne Boleyn: Henry VIII's Obsession.
Amberley Publishing, 2009.

Starkey, David. Six Wives: The Queens of Henry VIII.
New York: Harper Perennial, 2004.

Warnicke, Retha M. The Rise and Fall of Anne Boleyn.
Cambridge: Cambridge University Press, 1991.

Weir, Alison. The Lady in the Tower: The Fall of Anne Boleyn.
New York: Ballantine Books, 2010.

Weir, Alison. The Six Wives of Henry VIII.
New York: Grove Press, 1991.



---
Anne Boleyn on the Web:
---
| | |
| --- | --- |
| | to Henry VIII |
| | to Elizabeth I |
| | to Renaissance English Literature |
| | to Luminarium Encyclopedia |


Site ©1996-2023 Anniina Jokinen. All rights reserved.
This page was created on 4 September 2006. Last updated February 28, 2022.











Index of Encyclopedia Entries:

Medieval Cosmology
Prices of Items in Medieval England

Edward II
Isabella of France, Queen of England
Piers Gaveston
Thomas of Brotherton, E. of Norfolk
Edmund of Woodstock, E. of Kent
Thomas, Earl of Lancaster
Henry of Lancaster, Earl of Lancaster
Henry of Grosmont, Duke of Lancaster
Roger Mortimer, Earl of March
Hugh le Despenser the Younger
Bartholomew, Lord Burghersh, elder

Hundred Years' War (1337-1453)

Edward III
Philippa of Hainault, Queen of England
Edward, Black Prince of Wales
John of Eltham, Earl of Cornwall
The Battle of Crécy, 1346
The Siege of Calais, 1346-7
The Battle of Poitiers, 1356
Lionel of Antwerp, Duke of Clarence
John of Gaunt, Duke of Lancaster
Edmund of Langley, Duke of York
Thomas of Woodstock, Gloucester
Richard of York, E. of Cambridge
Richard Fitzalan, 3. Earl of Arundel
Roger Mortimer, 2nd Earl of March
The Good Parliament, 1376
Richard II
The Peasants' Revolt, 1381
Lords Appellant, 1388
Richard Fitzalan, 4. Earl of Arundel
Archbishop Thomas Arundel
Thomas de Beauchamp, E. Warwick
Robert de Vere, Earl of Oxford
Ralph Neville, E. of Westmorland
Thomas Mowbray, Duke of Norfolk
Edmund Mortimer, 3. Earl of March
Roger Mortimer, 4. Earl of March
John Holland, Duke of Exeter
Michael de la Pole, E. Suffolk
Hugh de Stafford, 2. E. Stafford
Henry IV
Edward, Duke of York
Edmund Mortimer, 5. Earl of March
Henry Percy, Earl of Northumberland
Sir Henry Percy, "Harry Hotspur"
Thomas Percy, Earl of Worcester
Owen Glendower
The Battle of Shrewsbury, 1403
Archbishop Richard Scrope
Thomas Mowbray, 3. E. Nottingham
John Mowbray, 2. Duke of Norfolk
Thomas Fitzalan, 5. Earl of Arundel
Henry V
Thomas, Duke of Clarence
John, Duke of Bedford
Humphrey, Duke of Gloucester
John Talbot, Earl of Shrewsbury
Richard, Earl of Cambridge
Henry, Baron Scrope of Masham
William de la Pole, Duke of Suffolk
Thomas Montacute, E. Salisbury
Richard Beauchamp, E. of Warwick
Henry Beauchamp, Duke of Warwick
Thomas Beaufort, Duke of Exeter
Cardinal Henry Beaufort
John Beaufort, Earl of Somerset
Sir John Fastolf
John Holland, 2. Duke of Exeter
Archbishop John Stafford
Archbishop John Kemp
Catherine of Valois
Owen Tudor
John Fitzalan, 7. Earl of Arundel
John, Lord Tiptoft

Charles VII, King of France
Joan of Arc
Louis XI, King of France
Charles the Bold, Duke of Burgundy
The Battle of Agincourt, 1415
The Battle of Castillon, 1453



The Wars of the Roses 1455-1485
Causes of the Wars of the Roses
The House of Lancaster
The House of York
The House of Beaufort
The House of Neville

The First Battle of St. Albans, 1455
The Battle of Blore Heath, 1459
The Rout of Ludford, 1459
The Battle of Northampton, 1460
The Battle of Wakefield, 1460
The Battle of Mortimer's Cross, 1461
The 2nd Battle of St. Albans, 1461
The Battle of Towton, 1461
The Battle of Hedgeley Moor, 1464
The Battle of Hexham, 1464
The Battle of Edgecote, 1469
The Battle of Losecoat Field, 1470
The Battle of Barnet, 1471
The Battle of Tewkesbury, 1471
The Treaty of Pecquigny, 1475
The Battle of Bosworth Field, 1485
The Battle of Stoke Field, 1487

Henry VI
Margaret of Anjou
Richard Plantagenet, Duke of York
Edward IV
Elizabeth Woodville
Richard Woodville, 1. Earl Rivers
Anthony Woodville, 2. Earl Rivers
Jane Shore
Edward V
Richard III
George, Duke of Clarence

Ralph Neville, 2. Earl of Westmorland
Richard Neville, Earl of Salisbury
Richard Neville, Earl of Warwick
Edward Neville, Baron Bergavenny
William Neville, Lord Fauconberg
Robert Neville, Bishop of Salisbury
John Neville, Marquis of Montagu
George Neville, Archbishop of York
John Beaufort, 1. Duke Somerset
Edmund Beaufort, 2. Duke Somerset
Henry Beaufort, 3. Duke of Somerset
Edmund Beaufort, 4. Duke Somerset
Margaret Beaufort
Edmund Tudor, Earl of Richmond
Jasper Tudor, Earl of Pembroke
Humphrey Stafford, D. Buckingham
Henry Stafford, Duke of Buckingham
Humphrey Stafford, E. of Devon
Thomas, Lord Stanley, Earl of Derby
Sir William Stanley
Archbishop Thomas Bourchier
Henry Bourchier, Earl of Essex
John Mowbray, 3. Duke of Norfolk
John Mowbray, 4. Duke of Norfolk
John Howard, Duke of Norfolk
Henry Percy, 2. E. Northumberland
Henry Percy, 3. E. Northumberland
Henry Percy, 4. E. Northumberland
William, Lord Hastings
Henry Holland, Duke of Exeter
William Fitzalan, Earl of Arundel
William Herbert, 1. Earl of Pembroke
John de Vere, 12th Earl of Oxford
John de Vere, 13th Earl of Oxford
Thomas de Clifford, 8. Baron Clifford
John de Clifford, 9. Baron Clifford
John Tiptoft, Earl of Worcester
Thomas Grey, 1. Marquis Dorset
Sir Andrew Trollop
Archbishop John Morton
Edward Plantagenet, E. of Warwick
John Talbot, 2. E. Shrewsbury
John Talbot, 3. E. Shrewsbury
John de la Pole, 2. Duke of Suffolk
John de la Pole, E. of Lincoln
Edmund de la Pole, E. of Suffolk
Richard de la Pole
John Sutton, Baron Dudley
James Butler, 5. Earl of Ormonde
Sir James Tyrell
Edmund Grey, first Earl of Kent
George Grey, 2nd Earl of Kent
John, 5th Baron Scrope of Bolton
James Touchet, 7th Baron Audley
Walter Blount, Lord Mountjoy
Robert Hungerford, Lord Moleyns
Thomas, Lord Scales
John, Lord Lovel and Holand
Francis Lovell, Viscount Lovell
Sir Richard Ratcliffe
William Catesby
Ralph, 4th Lord Cromwell
Jack Cade's Rebellion, 1450


Tudor Period

King Henry VII
Queen Elizabeth of York
Arthur, Prince of Wales
Lambert Simnel
Perkin Warbeck
The Battle of Blackheath, 1497

King Ferdinand II of Aragon
Queen Isabella of Castile
Maximilian I, Holy Roman Emperor

King Henry VIII
Queen Catherine of Aragon
Queen Anne Boleyn
Queen Jane Seymour
Queen Anne of Cleves
Queen Catherine Howard
Queen Katherine Parr

King Edward VI
Queen Mary I
Queen Elizabeth I
Henry Fitzroy, Duke of Richmond

Margaret Tudor, Queen of Scotland
James IV, King of Scotland
The Battle of Flodden Field, 1513
James V, King of Scotland
Mary of Guise, Queen of Scotland

Mary Tudor, Queen of France
Louis XII, King of France
Francis I, King of France
The Battle of the Spurs, 1513
Field of the Cloth of Gold, 1520
Charles V, Holy Roman Emperor
Eustace Chapuys, Imperial Ambassador
The Siege of Boulogne, 1544

Cardinal Thomas Wolsey
Archbishop Thomas Cranmer
Thomas Cromwell, Earl of Essex
Thomas, Lord Audley
Thomas Wriothesley, E. Southampton
Sir Richard Rich

Edward Stafford, D. of Buckingham
Thomas Howard, 2nd Duke of Norfolk
Thomas Howard, 3rd Duke of Norfolk
John Dudley, Duke of Northumberland
Charles Brandon, Duke of Suffolk
Thomas Boleyn, Earl of Wiltshire
George Boleyn, Viscount Rochford
John Russell, Earl of Bedford
Thomas Grey, 2. Marquis of Dorset
Henry Grey, D. of Suffolk
Charles Somerset, Earl of Worcester
George Talbot, 4. E. Shrewsbury
Francis Talbot, 5. E. Shrewsbury
Henry Algernon Percy,
5th Earl of Northumberland
Henry Algernon Percy,
6th Earl of Northumberland
Ralph Neville, 4. E. Westmorland
Henry Neville, 5. E. Westmorland
William Paulet, Marquis of Winchester
Sir Francis Bryan
Sir Nicholas Carew
John de Vere, 15th Earl of Oxford
John de Vere, 16th Earl of Oxford
Thomas Seymour, Lord Admiral
Edward Seymour, Protector Somerset
Margaret Pole, Countess of Salisbury
Henry Pole, Lord Montague
Sir Geoffrey Pole
Thomas Manners, Earl of Rutland
Henry Manners, Earl of Rutland
Henry Bourchier, 2. Earl of Essex
Robert Radcliffe, 1. Earl of Sussex
Henry Radcliffe, 2. Earl of Sussex
George Hastings, Earl of Huntingdon
Henry Courtenay, Marquis of Exeter
George Neville, Baron Bergavenny
Sir Edward Neville
William, Lord Paget
William Sandys, Baron Sandys
William Fitzwilliam, E. Southampton
Sir Anthony Browne
Sir Thomas Wriothesley
Sir William Kingston
George Brooke, Lord Cobham
Sir Richard Southwell
Thomas Fiennes, 9th Lord Dacre
Sir Francis Weston
Henry Norris
Lady Jane Grey
Sir Thomas Arundel
Sir Richard Sackville
Sir William Petre
Sir John Cheke
Walter Haddon, L.L.D
Sir Peter Carew
Sir John Mason
Nicholas Wotton
John Taylor
Sir Thomas Wyatt, the Younger

Cardinal Lorenzo Campeggio
Cardinal Reginald Pole
Stephen Gardiner, Bishop of Winchester
Edmund Bonner, Bishop of London
Nicholas Ridley, Bishop of London
John Hooper, Bishop of Gloucester
John Aylmer, Bishop of London
Thomas Linacre
William Grocyn
Archbishop William Warham
Cuthbert Tunstall, Bishop of Durham
Richard Fox, Bishop of Winchester
Edward Fox, Bishop of Hereford

Pope Julius II
Pope Leo X
Pope Clement VII
Pope Paul III
Pope Pius V

Pico della Mirandola
Desiderius Erasmus
Martin Bucer
Richard Pace
Christopher Saint-German
Thomas Tallis
Elizabeth Barton, the Nun of Kent
Hans Holbein, the Younger
The Sweating Sickness

Dissolution of the Monasteries
Pilgrimage of Grace, 1536
Robert Aske
Anne Askew
Lord Thomas Darcy
Sir Robert Constable

Oath of Supremacy
The Act of Supremacy, 1534
The First Act of Succession, 1534
The Third Act of Succession, 1544
The Ten Articles, 1536
The Six Articles, 1539
The Second Statute of Repeal, 1555
The Act of Supremacy, 1559
Articles Touching Preachers, 1583

Queen Elizabeth I
William Cecil, Lord Burghley
Robert Cecil, 1st Earl of Salisbury
Sir Francis Walsingham
Sir Nicholas Bacon
Sir Thomas Bromley

Robert Dudley, Earl of Leicester
Ambrose Dudley, Earl of Warwick
Henry Carey, Lord Hunsdon
Sir Thomas Egerton, Viscount Brackley
Sir Francis Knollys
Katherine "Kat" Ashley
Lettice Knollys, Countess of Leicester
George Talbot, 6. E. of Shrewsbury
Elizabeth, Countess of Shrewsbury
Gilbert Talbot, 7. E. of Shrewsbury
Sir Henry Sidney
Sir Robert Sidney
Archbishop Matthew Parker
Walter Devereux, 1st Earl of Essex
Robert Devereux, 2nd Earl of Essex
Penelope Devereux, Lady Rich
Sir Christopher Hatton
Edward Courtenay, E. Devonshire
Edward Manners, 3rd Earl of Rutland
Thomas Radcliffe, 3. Earl of Sussex
Henry Radcliffe, 4. Earl of Sussex
Robert Radcliffe, 5. Earl of Sussex
William Parr, Marquis of Northampton
Henry Wriothesley, 2. Southampton
Henry Wriothesley, 3. Southampton
Charles Neville, 6. E. Westmorland
Thomas Percy, 7. E. Northumberland
Henry Percy, 8. E. Northumberland
Henry Percy, 9. E. Nothumberland
William Herbert, 1. Earl of Pembroke
Charles, Lord Howard of Effingham
Thomas Howard, 4th Duke of Norfolk
Henry Howard, 1. Earl of Northampton
Thomas Howard, 1. Earl of Suffolk
Henry Hastings, 3. E. of Huntingdon
Edward Manners, 3rd Earl of Rutland
Roger Manners, 5th Earl of Rutland
Francis Manners, 6th Earl of Rutland
Henry FitzAlan, 12. Earl of Arundel
Thomas, Earl Arundell of Wardour
Edward Somerset, E. of Worcester
William Davison
Sir Walter Mildmay
Sir Ralph Sadler
Sir Amyas Paulet
Gilbert Gifford
Anthony Browne, Viscount Montague
François, Duke of Alençon & Anjou

Mary, Queen of Scots
Henry Stuart, Lord Darnley
James Hepburn, Earl of Bothwell
Anthony Babington and the Babington Plot
John Knox

Philip II of Spain
The Spanish Armada, 1588
Sir Francis Drake
Sir John Hawkins

William Camden
Archbishop Whitgift
Martin Marprelate Controversy
John Penry (Martin Marprelate)
Richard Bancroft, Archbishop of Canterbury
John Dee, Alchemist

Philip Henslowe
Edward Alleyn
The Blackfriars Theatre
The Fortune Theatre
The Rose Theatre
The Swan Theatre
Children's Companies
The Admiral's Men
The Lord Chamberlain's Men
Citizen Comedy
The Isle of Dogs, 1597

Common Law
Court of Common Pleas
Court of King's Bench
Court of Star Chamber
Council of the North
Fleet Prison
Assize
Attainder
First Fruits & Tenths
Livery and Maintenance
Oyer and terminer
Praemunire


The Stuarts

King James I of England
Anne of Denmark
Henry, Prince of Wales
The Gunpowder Plot, 1605
George Villiers, 1st Duke of Buckingham
Robert Carr, Earl of Somerset
Arabella Stuart, Lady Lennox

William Alabaster
Bishop Hall
Bishop Thomas Morton
Archbishop William Laud
John Selden
Lucy Harington, Countess of Bedford
Henry Lawes

King Charles I
Queen Henrietta Maria

Long Parliament
Rump Parliament
Kentish Petition, 1642

Thomas Wentworth, Earl of Strafford
John Digby, Earl of Bristol
George Digby, 2nd Earl of Bristol
Thomas Fairfax, 3rd Lord Fairfax
Robert Devereux, 3rd E. of Essex
Robert Sidney, 2. E. of Leicester
Algernon Percy, E. of Northumberland
Henry Montagu, Earl of Manchester
Edward Montagu, 2. Earl of Manchester

The Restoration

King Charles II
King James II
Test Acts

Greenwich Palace
Hatfield House
Richmond Palace
Windsor Palace
Woodstock Manor

The Cinque Ports
Mermaid Tavern
Malmsey Wine
Great Fire of London, 1666
Merchant Taylors' School
Westminster School
The Sanctuary at Westminster
"Sanctuary"


Images:

Chart of the English Succession from William I through Henry VII

Medieval English Drama

London c1480, MS Royal 16
London, 1510, the earliest view in print
Map of England from Saxton's Descriptio Angliae, 1579
London in late 16th century
Location Map of Elizabethan London
Plan of the Bankside, Southwark, in Shakespeare's time
Detail of Norden's Map of the Bankside, 1593
Bull and Bear Baiting Rings from the Agas Map (1569-1590, pub. 1631)
Sketch of the Swan Theatre, c. 1596
Westminster in the Seventeenth Century, by Hollar
Visscher's View of London, 1616
Larger Visscher's View in Sections
c. 1690. View of London Churches, after the Great Fire
The Yard of the Tabard Inn from Thornbury, Old and New London