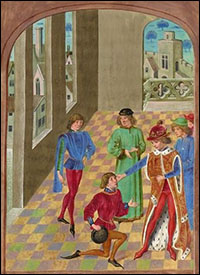 THOMAS PERCY, Earl of Worcester (d. 1403), second son of Henry, third Baron Percy of Alnwick (1322-1368), by Mary, youngest daughter of Henry, Earl of Lancaster (1281?-1346), was born about 1344. Henry de Percy, Earl of Northumberland (1342-1408) was his elder brother, and Blanche, first wife of John of Gaunt, his first cousin.

The first mention of him is early in 1369, when he was serving under Sir John Chandos at Montauban and Duravel;1 in July he was present at the siege of Roche-sur-Yon.2 On both these occasions he is described as seneschal of La Rochelle; and this is perhaps the post which Percy really held, though it has been alleged that in the early months of 1369 he was seneschal of Poitou.3 Certainly, in the latter part of 1369, Chandos was seneschal of Poitou, and Percy, as seneschal of La Rochelle, accompanied him on his attempted night attack on St. Savin on 30 Dec., and was present next day in the engagement at the bridge of Lussac, when Chandos lost his life.4 Probably after an interval of a few months—for he is stated to have succeeded Sir Baldwin de Freville5—Percy became seneschal of Poitou, a post which he was holding in November 1370.6

He was present at the relief of Belleperche in February 1370, and at the siege and sack of Limoges later in the same year.7 In February 1371 he served under John of Gaunt at the attack on Montpont, and in August commanded the force which captured Montcontour.8 On the departure of John of Gaunt, in September 1371, Percy was left in charge of Poitou and Saintonge. On 24 June 1372 he came to La Rochelle, where he received the news of the capture of John Hastings, second Earl of Pembroke. A little later he marched out to Soubise, but was shortly afterwards recalled to Poitiers, which was threatened by Du Guesclin.

About the middle of July Percy advanced, with John Devereux and Jean de Grailly, the Captal de Buch, to the relief of St. Severe. After the failure of this enterprise, and despite the dangerous position of Poitiers, Percy consented to remain with the Captal de Buch. The two commanders defeated a French force before Soubise, but were in their turn surprised and taken prisoners by Owen of Wales (d. 1378) under that town on 23 Aug. 1372.9 Percy, whose captor was a Welsh squire called Honvel [? Howel] Flinc, was still a prisoner at Paris on 10 Jan. 1373.10 But later in the same year he was ransomed by the surrender of the castle of St. Germain Leuroux.11

Percy spent the next few years in England. Previously to 4 April 1376 he was made a Knight of the Garter, and about the same time received two annuities of one hundred marks12 from the King and the Prince of Wales for his services in Guyenne. On 1 Dec. 1376 he was appointed Constable of Roxburgh Castle, a post which he held till 1 May 1381,13 and on 16 July 1377 was joint-warden of the eastern marches. In the previous February he had been employed, together with Geoffrey Chaucer the poet, in a mission to Flanders, receiving fifty marks14 for his expenses.15

At the coronation of Richard II, on 16 July, Percy was in attendance on his brother as marshal. On 22 Oct. 1378 Percy was a guardian of the truce, and one of the commissioners to treat with Scotland.16 On 5 Nov. he was appointed Admiral of the Fleet North of the Thames, Sir Hugh Calveley being the Admiral of the South. When the Earl of Buckingham put to sea, Percy remained behind to fit out his fleet, and so escaped the storm. Afterwards he sailed in December with a great ship, two barks and smaller vessels, and, falling in with a fleet of forty Spanish and Flemish merchantmen, captured two-and-twenty of them.17

In the following year [1379], Percy and Calveley cruised with success in the Channel. On 4 March they were appointed joint captains of Brest, and on 9 July were commissioners to confirm the alliance with Brittany.18 In the autumn he sailed with his fleet to escort the duke—Jean de Montfort—back to Brittany.19 While still at sea, in December, he fell in with a Spanish ship, and, though weakened by the effects of his long cruise, captured and brought it into Brest. His fleet escaped the disaster which overtook that under Sir John Arundel of Lanherne (d. 1379), perhaps through the good discipline which he and Calveley maintained; for while so many of Arundel's ships were wrecked, they lost no men, and not even any horses.20

In 1380 Percy took part in the great expedition of Thomas of Woodstock, Earl of Buckingham, for which he was retained with two hundred men-at-arms and two hundred archers.21 The English landed at Calais in July, and marched through northern France to Brittany. Percy was sent from Rennes with Sir Robert Knolles to bring the Duke of Brittany to the English camp. At the subsequent siege of Nantes he was posted with Knolles at St. Nicholas Gate, and in December was employed on a fresh mission to the duke. He took part in the skirmish before Nantes on 24 Dec., and after the siege was raised, on 2 Jan. 1381, was stationed with William, Lord Latimer, and Sir Thomas Trivet at Hennebon. When, on 11 April, Buckingham was on the point of sailing from Vannes, Jean de Montfort begged for an interview. Percy was sent to him, and had a three hours' conference; but Buckingham refused to delay, and set sail that same night, Percy no doubt returning with him to England.22

Percy is mentioned as keeper of Brest Castle on 30 June [1381].23 But in July he was employed under the Earl of Buckingham to suppress Jack Straw's rebellion in Essex [see Peasants' Revolt], and was afterwards sent to St. Albans to protect the abbey.24 On 3 Aug. 1383 he is named as joint warden of the eastern marches towards Scotland. On 4 Oct. he was appointed one of the commissioners to treat with Flanders, and on 4 Nov. to treat with France, for which purpose he crossed over to Calais.25 On 26 Jan. 1384 he was named one of the conservators of the consequent truce in Brittany, and appointed by the council on 8 Feb.26

On 23 April directions were given that he should be employed in the Scottish marches in support of his brother [Earl of Northumberland].27 In the following year it was intended to send Percy with John of Gaunt to Bordeaux; but fears of a French invasion through Scotland prevented the expedition.28 Percy was again employed as Admiral of the North, but did not repeat the successes of six years previously, and incurred unfavourable comment for letting the French cruise undisturbed.29 In 1386 Percy took part in the expedition of John of Gaunt to Spain. Before his departure he gave evidence in the Scrope and Grosvenor controversy at Plymouth, on 16 June, in support of Scrope.30

The expedition, of which Percy was admiral, sailed from Plymouth on 7 July, and landed at Corunna on 9 Aug. Percy took part in the reconnaissance and skirmish before Ribadavira, escorted Philippa of Lancaster to Oporto to be married to King John of Portugal, and returned in time to join in the march to Betancos. He fought with Barrois des Barres before Ferrol, and in 1387 was present at the skirmish before Vilhalpando. After the outbreak of pestilence which cost the life of his nephew, Thomas de Percy the younger, he returned with John Holland to England. On 15 May 1388 he sailed from Southampton in the expedition of Richard Fitzalan, Earl of Arundel, to Brittany and La Rochelle, and afterwards rejoined John of Gaunt at Bayonne, in time to take the chief part in the negotiations with Don John of Castile, and in the spring of 1389 was sent to Burgos as the principal ambassador of John of Gaunt.31

On his return to England Percy was appointed Vice-Chamberlain to the King, and on 14 May 1390 made Chief Justice of South Wales. On 4 June he gave evidence in the Scrope and Grosvenor case, and on 28 Nov. was one of the judges of the appeal in that suit.32 Percy was the chief of the embassy that was sent to treat for peace with France on 22 Feb. 1392, and was handsomely entertained by Charles VI for six days at Paris.33 He took part in the subsequent negotiations at Amiens and Leulingham in this and the following year. On 20 Jan. 1394 he was appointed Seneschal or Steward of the Royal Household.34 In July he was again Justice of South Wales, and was with the king when hunting in the Principality.35 Later in the year he went with Richard to Ireland, and on their return, in July 1395, was with the king at Canterbury and Leeds Castle in Kent, where, through his instrumentality, Froissart, who had come to England for this purpose, was introduced to Richard, and presented the king with his 'Livre d'Amoure'.36

Percy was with Richard at Eltham in 1397, when the Londoners made their complaint against Thomas, Duke of Gloucester. Froissart alleges that he resigned his office and withdrew from the court, in disapproval of the intended action against Gloucester.37 But this seems to be a misapprehension; for Percy was present in the parliament of September 1397, when by the king's wish he was chosen proctor for the clergy, in which capacity he assented to the banishment of Archbishop Arundel and the condemnation of the Earl of Arundel. On 29 Sept. he was rewarded with the title of Earl of Worcester. He was one of the committee appointed to wind up the business of the parliament in January 1398.38

On 19 Oct. 1397 Percy had been made constable of Jedburgh Castle; in January 1398 he was captain of Calais; on 5 Feb. was one of the commissioners to treat with Scotland; and on 16 March signed the truce at Hawdenstank.39 In October 1398 Worcester was one of the attorneys for his cousin, Henry of Lancaster, during his banishment.40 On 16 Jan. 1399 Worcester was named Admiral of the Fleet for Ireland, whither he accompanied the king in May. In the meantime there had been a quarrel between Richard and the Earl of Northumberland and his son Henry (Hotspur). Worcester had gone to his brother and nephew, and perhaps advised their withdrawal to Scotland.41

On 4 July Henry of Lancaster landed at Ravenspur, and in August Richard, accompanied by Worcester, crossed over from Ireland to Milford Haven. Creton alleges that Worcester treacherously abandoned Richard at Milford, and was plundered by the Welsh on his way to join Henry.42 Similarly, in the 'Traïson et Mort du Roy Richard,' it is stated that Worcester fled from Milford after bidding his followers disperse.43 But other chroniclers give a circumstantial account of how Worcester, at Richard's bidding, dismissed the royal household, and broke his rod of office as steward in the hall of Conway Castle.44 Both statements may be correct, on the assumption that the dismissal of Richard's household did not take place till after his surrender to Henry. But the author of the 'Annales Ricardi II' represents Worcester as acting with regret, and not with treachery. On the other hand, it is stated in the 'Traïson et Mort'45 that Worcester was sent by Henry to treat with Richard at Flint. In any case the influence of Northumberland would have secured Worcester a favourable reception from Henry.

Worcester is alleged to have opposed the assumption of the crown by Henry.46 He was, however, present in the parliament which approved the deposition of Richard,47 and at the coronation of the new king, on 13 Oct., acted as vice-seneschal for Thomas of Lancaster. On 7 Nov. all his previous grants and emoluments were confirmed to him, and on 15 Nov. he was appointed admiral. He had conducted the examination of Sir William Bagot on 16 Oct., but, owing to illness, was absent when judgment was pronounced on the accusers of Gloucester.48 On 29 Nov. he was appointed a commissioner to treat with France, and on 16 Dec. left London to cross over to Calais. The negotiations continued at Leulingham till the spring of 1400.49 In March 1400 Worcester was sent with a fleet to Aquitaine to quell the threatened disaffection, and succeeded in appeasing the communities of Bordeaux and Bayonne.50 On 13 May he was again appointed to treat for the restitution of Richard's child-queen Isabella.51

He was present in parliament on 22 Jan. 1401, when he answered certain petitions on behalf of the king.52 Early in 1401 Worcester was reappointed Seneschal,53 and on 20 April resigned his post as Admiral of the North. On 18 and 22 May he was present at the councils which settled the ordinances for Wales, and during this and the following month was employed in the negotiations with France.54 He was one of the commissioners who escorted Isabella to France in July. Early in 1402 Worcester was made lieutenant of South Wales, and captain of Cardigan and Lampeter Castles; but his formal appointment was only dated 31 March.55 About the same time he was appointed tutor to the Prince of Wales [afterwards Henry V]. On 8 April he was present at Eltham when Henry was married by proxy to Joanna of Navarre. Worcester was a trier of petitions in the parliament held in October, and on 24 Oct. was appointed one of the escort to bring the new queen from Brittany. With this purpose he left Southampton on 28 Nov., and returned with Joanna in January 1403.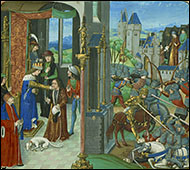 Worcester gave up his position as lieutenant of South Wales on 7 March 1403. He does not again appear in Henry's service, and was perhaps already falling under some suspicion; though the news that he had removed his treasure from London, abandoned his post with the prince, and joined his nephew Hotspur in open rebellion, came as a surprise about the middle of July. He joined with his brother and nephew in the formal defiance of the king,56 and was present with the latter outside Shrewsbury on 21 July. In reply to Henry's overtures, Worcester was sent in the morning to the king. According to the common account, which is followed by Shakespeare in 'The First Part of King Henry IV,' Act V. scenes 1 and 2, Henry showed a readiness to compromise; but Worcester made peace impossible by misrepresenting the king's proposals.57

In the subsequent Battle of Shrewsbury Worcester was taken prisoner. When he saw his nephew's dead body he burst into tears, declaring that he cared no more what fortune had in store for him.58 He was beheaded two days later, on 23 July, according to one account against the king's own wish.59 His head was sent to London, where it was displayed on the bridge till 18 Dec., when it was taken down and sent to be buried with the body in the abbey church of St. Peter at Shrewsbury.60 In January 1484 the attainder against him was reversed in response to a petition by the then Earl of Northumberland.61 In spite of a statement to the contrary,62 it does not seem that Worcester was ever married. Froissart speaks of his intention to make his nephew Thomas—probably meaning his great-nephew—his heir.63 His silver plate was granted to the Prince of Wales, and much of his other property to George, Earl of March.64

In his younger days, at all events, Percy was a brave and gallant soldier. Froissart says that he found him in 1395 'gentle, reasonable, and gracious.'65 The writer of the 'Annales Henrici Quarti' says that no one would ever have suspected him of treason; for while English perfidy was a byword, he was always trusted, and the kings of France and Spain accepted his word as better than a bond.66 Yet he played the traitor both to Richard and to Henry. Family affection may account for his first act of treason; but the second is not to be explained so simply. The common accounts represent him as a prime mover in the rebellion.67 The Monk of St. Denys speaks of Worcester's uneasy conscience at the memory of his share in Richard's fall.68 Worcester may also have felt that his family was too powerful to be tolerated permanently by the new king. Shakespeare suggests both views in 'The First Part of King Henry IV' (Act I. sc. 3, and Act V. scenes 1 and 2), in which play Worcester appears as the cool, wary intriguer, perhaps as a foil to his nephew Hotspur.


1. Froissart, Chronicles, vii. 140, 143, ed. Luce.
2. ib. vii. 160.
3. ib. vii. p. lxxv, n.
4. ib. vii. 196-202.
5. Chandos Herald, Le Prince Noir, l. 4233.
6. Froissart, vol. vii. pp. lxxv, lxxxvii, ed. Luce.
7. ib. vii. 215, 244.
8. ib. viii. 19, 20.
9. ib. viii. 69.
10. ib. vol. vii. p. xxxviii, n. 1.
11. Archaeologia, xx. 14.
12. 100 marks in 1376 was roughly equivalent in purchasing power to £33,100 in 2010.
Source: Measuring Worth.
13. Doyle, Official Baronage, iii. 715; cf. Calendar of Documents Relating to Scotland, iv. 250, 290.
14. 50 marks in 1376 was roughly equivalent in purchasing power to £16,550 in 2010.
Source: Measuring Worth.
15. Nicolas, Life of Chaucer, i. 21.
16. Doyle, iii. 715.
17. Walsingham, Historia Anglicana, i. 864-5.
18. Rymer, Foedera, iv. 58, 67, Record edit.
19. Vita Regis Ricardi Secundi, by the Monk of Evesham, ed. Hearne, pp. 11, 12.
20. Walsingham, i. 425-6; Monk of Evesham, p. 17, ascribes their better fortune to their superior
piety in paying their debts when in port.
21. Froissart, vol. ix. p. c n., ed. Reynaud.
22. Froissart, vii. 382-429, ed. Buchon.
23. Devon, Issues of the Exchequer, p. 216.
24. Walsingham, Gesta Abbatum, iii. 323, 342, and Historia Anglicana, ii. 18, 28.
25. Foedera, vii. 412, 414, orig. edit.; Froissart, ix. 4, ed. Buchon.
26. Foedera, vii. 420-1.
27. ib. vii. 425.
28. Froissart, ix. 77, ed. Buchon.
29. Walsingham, Historia Anglicana, ii. 127.
30. Scrope and Grosvenor Roll, p. 50.
31. Chronicon Angliae, 1328-88, p. 369; Lopez De Ayala, Crónicas de los Reyes de Costilla, ii. 284, Madrid, 1780.
32. Foedera, vii. 677, 686, orig. edit.
33. Froissart, xii. 316-21, ed. Buchon; cf. Beltz, Memorials of the Order of the Garter, pp. 224-5.
34. Monk of Evesham, p. 125.
35. Froissart, ix. 201.
36. ib. xii. 207-12, 234.
37. ib. xii. 17, 24-5.
38. Rolls of Parliament, iii. 384 b, 351 b, 356 b, 377 b, 368 b.
39. Foedera, viii. 32, 35, orig. edit.
40. ib. viii. 49; he had held a similar position eight years before, ib. vii. 691.
41. Froissart, xiv. 167-8, ed. Buchon.
42. Archaeologia, xx. 105,157-8.
43. Traïson et Mort du Roy Richard, p. 46.
44. Walsingham, Historia Anglicana, ii. 233; Otterbourne, Chronica regum Angliae in Duo rerum Anglicarum
scriptores veteres, ed. Hearne, 1732, pp. 206-7; Trokelowe, Annales Ricardi II, ed. Riley, 1866, pp. 248-9.
45. Traïson et Mort, p. 58.
46. Hardyng, The Chronicle of lohn Hardyng, ed. Ellis, London, 1812, p. 351.
47. Rolls of Parliament, iii. 427 a.
48. Trokelowe, Blaneford, &c. Annales Henrici IV, ed. Riley, 1866, pp. 308, 315.
49. Foedera, viii. 108, 126, 128, 132; Ordinances and Proceedings of the Privy Council, ed. Nicolas, i. 83, 102;
Traïson et Mort, p. 106.
50. Froissart, xiv. 288-41.
51. Foedera, viii. 142.
52. Rolls of Parliament, iii. 455 b.
53. Annales Henrici IV, p. 337.
54. Foedera, viii. 185-6, 199, 208.
55. Cf. Wylie, History of England under Henry IV, i. 244.
56. Hardyng, p. 352.
57. Walsingham, Historia Anglicana, ii. 257; Nicolas, A Chronicle of London, p. 88.
58. Annales Henrici IV, p. 370.
59. ib..
60. Wylie, i. 364.
61. Rolls of Parliament, vi. 252 b.
62. Cf. Beltz, p. 227 n.
63. Froissart, xiv. 168, ed. Buchon.
64. George de Dunbar, 10th Earl of Dunbar and March. Wylie, i. 370; Calendar of Documents
relating to Scotland, iv. 689; Devon, Issues of Exchequer, p. 298.
65. Froissart, xiii 208. 66. Annales Henrici IV, p. 365.
67. ib., p. 368; Chronicle of London p. 88; Chronique du Religieux de Saint-Denys, iii. 112.
68. ib. iii. 110.



---

Excerpted from:

Kingsford, C. L. "Thomas Percy, Earl of Worcester."
Dictionary of National Biography. Vol. XV. Sidney Lee, ed.
New York: The Macmillan Co., 1909. 874-878.


---
Other Local Resources:
---
Books for further study:
Brenan, Gerald. A History of the House of Percy.
Fremantle & Co., 1902.

Collins, Arthur. An History of the Ancient and Illustrious Family of the Percys.
Gale ECCO, 2010. (Reprint from 1750)

Davies, R. R. The Revolt of Owain Glyn Dwr.
Oxford University Press, 2001.

De Fonblanque, E. Barrington. Annals of the House of Percy.
London: Richard Clay & Sons, 1887.

Lomas, Richard. The Fall of the House of Percy.
Edinburgh: John Donald Publishers, Ltd., 2007.

Lomas, Richard. A Power in the Land: The Percys.
East Linton: Tuckwell Press, Ltd., 1999.

Rose, Alexander. Kings in the North: The House of Percy in British History.
Phoenix Press, 2003.

Valente, Claire. The Theory and Practice of Revolt in Medieval England.
Ashgate Publishing, 2003.

Whitewood, Dickon. Shrewsbury 1403: Struggle for a Fragile Crown.
Osprey Publishing, 2017.


---
Thomas Percy, Earl of Worcester, on the Web:
---
| | |
| --- | --- |
| | to Hundred Years' War |
| | to Luminarium Encyclopedia |


Site ©1996-2023 Anniina Jokinen. All rights reserved.
This page was created on July 1, 2012. Last updated March 28, 2023.








Index of Encyclopedia Entries:

Medieval Cosmology
Prices of Items in Medieval England

Edward II
Isabella of France, Queen of England
Piers Gaveston
Thomas of Brotherton, E. of Norfolk
Edmund of Woodstock, E. of Kent
Thomas, Earl of Lancaster
Henry of Lancaster, Earl of Lancaster
Henry of Grosmont, Duke of Lancaster
Roger Mortimer, Earl of March
Hugh le Despenser the Younger
Bartholomew, Lord Burghersh, elder

Hundred Years' War (1337-1453)

Edward III
Philippa of Hainault, Queen of England
Edward, Black Prince of Wales
John of Eltham, Earl of Cornwall
The Battle of Crécy, 1346
The Siege of Calais, 1346-7
The Battle of Poitiers, 1356
Lionel of Antwerp, Duke of Clarence
John of Gaunt, Duke of Lancaster
Edmund of Langley, Duke of York
Thomas of Woodstock, Gloucester
Richard of York, E. of Cambridge
Richard Fitzalan, 3. Earl of Arundel
Roger Mortimer, 2nd Earl of March
The Good Parliament, 1376
Richard II
The Peasants' Revolt, 1381
Lords Appellant, 1388
Richard Fitzalan, 4. Earl of Arundel
Archbishop Thomas Arundel
Thomas de Beauchamp, E. Warwick
Robert de Vere, Earl of Oxford
Ralph Neville, E. of Westmorland
Thomas Mowbray, Duke of Norfolk
Edmund Mortimer, 3. Earl of March
Roger Mortimer, 4. Earl of March
John Holland, Duke of Exeter
Michael de la Pole, E. Suffolk
Hugh de Stafford, 2. E. Stafford
Henry IV
Edward, Duke of York
Edmund Mortimer, 5. Earl of March
Henry Percy, Earl of Northumberland
Sir Henry Percy, "Harry Hotspur"
Thomas Percy, Earl of Worcester
Owen Glendower
The Battle of Shrewsbury, 1403
Archbishop Richard Scrope
Thomas Mowbray, 3. E. Nottingham
John Mowbray, 2. Duke of Norfolk
Thomas Fitzalan, 5. Earl of Arundel
Henry V
Thomas, Duke of Clarence
John, Duke of Bedford
Humphrey, Duke of Gloucester
John Talbot, Earl of Shrewsbury
Richard, Earl of Cambridge
Henry, Baron Scrope of Masham
William de la Pole, Duke of Suffolk
Thomas Montacute, E. Salisbury
Richard Beauchamp, E. of Warwick
Henry Beauchamp, Duke of Warwick
Thomas Beaufort, Duke of Exeter
Cardinal Henry Beaufort
John Beaufort, Earl of Somerset
Sir John Fastolf
John Holland, 2. Duke of Exeter
Archbishop John Stafford
Archbishop John Kemp
Catherine of Valois
Owen Tudor
John Fitzalan, 7. Earl of Arundel
John, Lord Tiptoft

Charles VII, King of France
Joan of Arc
Louis XI, King of France
Charles the Bold, Duke of Burgundy
The Battle of Agincourt, 1415
The Battle of Castillon, 1453



The Wars of the Roses 1455-1485
Causes of the Wars of the Roses
The House of Lancaster
The House of York
The House of Beaufort
The House of Neville

The First Battle of St. Albans, 1455
The Battle of Blore Heath, 1459
The Rout of Ludford, 1459
The Battle of Northampton, 1460
The Battle of Wakefield, 1460
The Battle of Mortimer's Cross, 1461
The 2nd Battle of St. Albans, 1461
The Battle of Towton, 1461
The Battle of Hedgeley Moor, 1464
The Battle of Hexham, 1464
The Battle of Edgecote, 1469
The Battle of Losecoat Field, 1470
The Battle of Barnet, 1471
The Battle of Tewkesbury, 1471
The Treaty of Pecquigny, 1475
The Battle of Bosworth Field, 1485
The Battle of Stoke Field, 1487

Henry VI
Margaret of Anjou
Richard Plantagenet, Duke of York
Edward IV
Elizabeth Woodville
Richard Woodville, 1. Earl Rivers
Anthony Woodville, 2. Earl Rivers
Jane Shore
Edward V
Richard III
George, Duke of Clarence

Ralph Neville, 2. Earl of Westmorland
Richard Neville, Earl of Salisbury
Richard Neville, Earl of Warwick
Edward Neville, Baron Bergavenny
William Neville, Lord Fauconberg
Robert Neville, Bishop of Salisbury
John Neville, Marquis of Montagu
George Neville, Archbishop of York
John Beaufort, 1. Duke Somerset
Edmund Beaufort, 2. Duke Somerset
Henry Beaufort, 3. Duke of Somerset
Edmund Beaufort, 4. Duke Somerset
Margaret Beaufort
Edmund Tudor, Earl of Richmond
Jasper Tudor, Earl of Pembroke
Humphrey Stafford, D. Buckingham
Henry Stafford, Duke of Buckingham
Humphrey Stafford, E. of Devon
Thomas, Lord Stanley, Earl of Derby
Sir William Stanley
Archbishop Thomas Bourchier
Henry Bourchier, Earl of Essex
John Mowbray, 3. Duke of Norfolk
John Mowbray, 4. Duke of Norfolk
John Howard, Duke of Norfolk
Henry Percy, 2. E. Northumberland
Henry Percy, 3. E. Northumberland
Henry Percy, 4. E. Northumberland
William, Lord Hastings
Henry Holland, Duke of Exeter
William Fitzalan, Earl of Arundel
William Herbert, 1. Earl of Pembroke
John de Vere, 12th Earl of Oxford
John de Vere, 13th Earl of Oxford
Thomas de Clifford, 8. Baron Clifford
John de Clifford, 9. Baron Clifford
John Tiptoft, Earl of Worcester
Thomas Grey, 1. Marquis Dorset
Sir Andrew Trollop
Archbishop John Morton
Edward Plantagenet, E. of Warwick
John Talbot, 2. E. Shrewsbury
John Talbot, 3. E. Shrewsbury
John de la Pole, 2. Duke of Suffolk
John de la Pole, E. of Lincoln
Edmund de la Pole, E. of Suffolk
Richard de la Pole
John Sutton, Baron Dudley
James Butler, 5. Earl of Ormonde
Sir James Tyrell
Edmund Grey, first Earl of Kent
George Grey, 2nd Earl of Kent
John, 5th Baron Scrope of Bolton
James Touchet, 7th Baron Audley
Walter Blount, Lord Mountjoy
Robert Hungerford, Lord Moleyns
Thomas, Lord Scales
John, Lord Lovel and Holand
Francis Lovell, Viscount Lovell
Sir Richard Ratcliffe
William Catesby
Ralph, 4th Lord Cromwell
Jack Cade's Rebellion, 1450


Tudor Period

King Henry VII
Queen Elizabeth of York
Arthur, Prince of Wales
Lambert Simnel
Perkin Warbeck
The Battle of Blackheath, 1497

King Ferdinand II of Aragon
Queen Isabella of Castile
Maximilian I, Holy Roman Emperor

King Henry VIII
Queen Catherine of Aragon
Queen Anne Boleyn
Queen Jane Seymour
Queen Anne of Cleves
Queen Catherine Howard
Queen Katherine Parr

King Edward VI
Queen Mary I
Queen Elizabeth I
Henry Fitzroy, Duke of Richmond

Margaret Tudor, Queen of Scotland
James IV, King of Scotland
The Battle of Flodden Field, 1513
James V, King of Scotland
Mary of Guise, Queen of Scotland

Mary Tudor, Queen of France
Louis XII, King of France
Francis I, King of France
The Battle of the Spurs, 1513
Field of the Cloth of Gold, 1520
Charles V, Holy Roman Emperor
Eustace Chapuys, Imperial Ambassador
The Siege of Boulogne, 1544

Cardinal Thomas Wolsey
Archbishop Thomas Cranmer
Thomas Cromwell, Earl of Essex
Thomas, Lord Audley
Thomas Wriothesley, E. Southampton
Sir Richard Rich

Edward Stafford, D. of Buckingham
Thomas Howard, 2nd Duke of Norfolk
Thomas Howard, 3rd Duke of Norfolk
John Dudley, Duke of Northumberland
Charles Brandon, Duke of Suffolk
Thomas Boleyn, Earl of Wiltshire
George Boleyn, Viscount Rochford
John Russell, Earl of Bedford
Thomas Grey, 2. Marquis of Dorset
Henry Grey, D. of Suffolk
Charles Somerset, Earl of Worcester
George Talbot, 4. E. Shrewsbury
Francis Talbot, 5. E. Shrewsbury
Henry Algernon Percy,
5th Earl of Northumberland
Henry Algernon Percy,
6th Earl of Northumberland
Ralph Neville, 4. E. Westmorland
Henry Neville, 5. E. Westmorland
William Paulet, Marquis of Winchester
Sir Francis Bryan
Sir Nicholas Carew
John de Vere, 15th Earl of Oxford
John de Vere, 16th Earl of Oxford
Thomas Seymour, Lord Admiral
Edward Seymour, Protector Somerset
Margaret Pole, Countess of Salisbury
Henry Pole, Lord Montague
Sir Geoffrey Pole
Thomas Manners, Earl of Rutland
Henry Manners, Earl of Rutland
Henry Bourchier, 2. Earl of Essex
Robert Radcliffe, 1. Earl of Sussex
Henry Radcliffe, 2. Earl of Sussex
George Hastings, Earl of Huntingdon
Henry Courtenay, Marquis of Exeter
George Neville, Baron Bergavenny
Sir Edward Neville
William, Lord Paget
William Sandys, Baron Sandys
William Fitzwilliam, E. Southampton
Sir Anthony Browne
Sir Thomas Wriothesley
Sir William Kingston
George Brooke, Lord Cobham
Sir Richard Southwell
Thomas Fiennes, 9th Lord Dacre
Sir Francis Weston
Henry Norris
Lady Jane Grey
Sir Thomas Arundel
Sir Richard Sackville
Sir William Petre
Sir John Cheke
Walter Haddon, L.L.D
Sir Peter Carew
Sir John Mason
Nicholas Wotton
John Taylor
Sir Thomas Wyatt, the Younger

Cardinal Lorenzo Campeggio
Cardinal Reginald Pole
Stephen Gardiner, Bishop of Winchester
Edmund Bonner, Bishop of London
Nicholas Ridley, Bishop of London
John Hooper, Bishop of Gloucester
John Aylmer, Bishop of London
Thomas Linacre
William Grocyn
Archbishop William Warham
Cuthbert Tunstall, Bishop of Durham
Richard Fox, Bishop of Winchester
Edward Fox, Bishop of Hereford

Pope Julius II
Pope Leo X
Pope Clement VII
Pope Paul III
Pope Pius V

Pico della Mirandola
Desiderius Erasmus
Martin Bucer
Richard Pace
Christopher Saint-German
Thomas Tallis
Elizabeth Barton, the Nun of Kent
Hans Holbein, the Younger
The Sweating Sickness

Dissolution of the Monasteries
Pilgrimage of Grace, 1536
Robert Aske
Anne Askew
Lord Thomas Darcy
Sir Robert Constable

Oath of Supremacy
The Act of Supremacy, 1534
The First Act of Succession, 1534
The Third Act of Succession, 1544
The Ten Articles, 1536
The Six Articles, 1539
The Second Statute of Repeal, 1555
The Act of Supremacy, 1559
Articles Touching Preachers, 1583

Queen Elizabeth I
William Cecil, Lord Burghley
Robert Cecil, 1st Earl of Salisbury
Sir Francis Walsingham
Sir Nicholas Bacon
Sir Thomas Bromley

Robert Dudley, Earl of Leicester
Ambrose Dudley, Earl of Warwick
Henry Carey, Lord Hunsdon
Sir Thomas Egerton, Viscount Brackley
Sir Francis Knollys
Katherine "Kat" Ashley
Lettice Knollys, Countess of Leicester
George Talbot, 6. E. of Shrewsbury
Elizabeth, Countess of Shrewsbury
Gilbert Talbot, 7. E. of Shrewsbury
Sir Henry Sidney
Sir Robert Sidney
Archbishop Matthew Parker
Walter Devereux, 1st Earl of Essex
Robert Devereux, 2nd Earl of Essex
Penelope Devereux, Lady Rich
Sir Christopher Hatton
Edward Courtenay, E. Devonshire
Edward Manners, 3rd Earl of Rutland
Thomas Radcliffe, 3. Earl of Sussex
Henry Radcliffe, 4. Earl of Sussex
Robert Radcliffe, 5. Earl of Sussex
William Parr, Marquis of Northampton
Henry Wriothesley, 2. Southampton
Henry Wriothesley, 3. Southampton
Charles Neville, 6. E. Westmorland
Thomas Percy, 7. E. Northumberland
Henry Percy, 8. E. Northumberland
Henry Percy, 9. E. Nothumberland
William Herbert, 1. Earl of Pembroke
Charles, Lord Howard of Effingham
Thomas Howard, 4th Duke of Norfolk
Henry Howard, 1. Earl of Northampton
Thomas Howard, 1. Earl of Suffolk
Henry Hastings, 3. E. of Huntingdon
Edward Manners, 3rd Earl of Rutland
Roger Manners, 5th Earl of Rutland
Francis Manners, 6th Earl of Rutland
Henry FitzAlan, 12. Earl of Arundel
Thomas, Earl Arundell of Wardour
Edward Somerset, E. of Worcester
William Davison
Sir Walter Mildmay
Sir Ralph Sadler
Sir Amyas Paulet
Gilbert Gifford
Anthony Browne, Viscount Montague
François, Duke of Alençon & Anjou

Mary, Queen of Scots
Henry Stuart, Lord Darnley
James Hepburn, Earl of Bothwell
Anthony Babington and the Babington Plot
John Knox

Philip II of Spain
The Spanish Armada, 1588
Sir Francis Drake
Sir John Hawkins

William Camden
Archbishop Whitgift
Martin Marprelate Controversy
John Penry (Martin Marprelate)
Richard Bancroft, Archbishop of Canterbury
John Dee, Alchemist

Philip Henslowe
Edward Alleyn
The Blackfriars Theatre
The Fortune Theatre
The Rose Theatre
The Swan Theatre
Children's Companies
The Admiral's Men
The Lord Chamberlain's Men
Citizen Comedy
The Isle of Dogs, 1597

Common Law
Court of Common Pleas
Court of King's Bench
Court of Star Chamber
Council of the North
Fleet Prison
Assize
Attainder
First Fruits & Tenths
Livery and Maintenance
Oyer and terminer
Praemunire


The Stuarts

King James I of England
Anne of Denmark
Henry, Prince of Wales
The Gunpowder Plot, 1605
George Villiers, 1st Duke of Buckingham
Robert Carr, Earl of Somerset
Arabella Stuart, Lady Lennox

William Alabaster
Bishop Hall
Bishop Thomas Morton
Archbishop William Laud
John Selden
Lucy Harington, Countess of Bedford
Henry Lawes

King Charles I
Queen Henrietta Maria

Long Parliament
Rump Parliament
Kentish Petition, 1642

Thomas Wentworth, Earl of Strafford
John Digby, Earl of Bristol
George Digby, 2nd Earl of Bristol
Thomas Fairfax, 3rd Lord Fairfax
Robert Devereux, 3rd E. of Essex
Robert Sidney, 2. E. of Leicester
Algernon Percy, E. of Northumberland
Henry Montagu, Earl of Manchester
Edward Montagu, 2. Earl of Manchester

The Restoration

King Charles II
King James II
Test Acts

Greenwich Palace
Hatfield House
Richmond Palace
Windsor Palace
Woodstock Manor

The Cinque Ports
Mermaid Tavern
Malmsey Wine
Great Fire of London, 1666
Merchant Taylors' School
Westminster School
The Sanctuary at Westminster
"Sanctuary"


Images:

Chart of the English Succession from William I through Henry VII

Medieval English Drama

London c1480, MS Royal 16
London, 1510, the earliest view in print
Map of England from Saxton's Descriptio Angliae, 1579
London in late 16th century
Location Map of Elizabethan London
Plan of the Bankside, Southwark, in Shakespeare's time
Detail of Norden's Map of the Bankside, 1593
Bull and Bear Baiting Rings from the Agas Map (1569-1590, pub. 1631)
Sketch of the Swan Theatre, c. 1596
Westminster in the Seventeenth Century, by Hollar
Visscher's View of London, 1616
Larger Visscher's View in Sections
c. 1690. View of London Churches, after the Great Fire
The Yard of the Tabard Inn from Thornbury, Old and New London