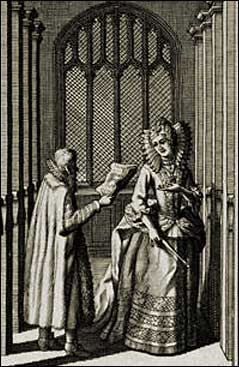 Roger Ascham and Princess Elizabeth.
Engraving by Michael Burghers, 17th-c.




Roger Ascham was born in Kirby Wiske, Yorkshire, in 1515, the youngest son of John and Margaret Ascham. In 1530 Ascham entered St. John's College, Cambridge, where he applied himself to the study of Greek. He received his bachelor's degree at the age of eighteen on February 18, 1534 and became fellow of the college in March. In 1537, at the age of twenty-one, Ascham became master of arts and began tutoring younger students. Ascham became reader in Greek around 1538 until Henry VIII founded a lecture to take his place.
One of Ascham's favorite pastimes was archery. In 1545 Ascham published the treatise Toxophilus or the Schole or Partitions of Shooting partly in defense of archery against those who found the sport unbefitting a scholar. The work was dedicated to Henry VIII who enjoyed the treatise so much that he granted Ascham a pension: ten pounds a year. Ascham was further honored by being assigned to tutor Prince Edward.
In 1548, after the death of Princess Elizabeth's tutor, Ascham was appointed to the post of teaching the young woman who would become Queen Elizabeth I. He held the post until 1550 when he left the post without her consent. He was appointed secretary to Sir Richard Morisine and accompanied him to Germany later the same year. During his trip Ascham wrote his Report and Discourse of the Affairs in Germany containing his impressions on the people and culture of Germany. Ascham also visited Italy, later recounting "the vices of Venice" in The Scholemaster.1 Morisine was recalled to England at the death of Edward in 1553, and Ascham returned to Cambridge.
During Ascham's absence he had been appointed Latin secretary to King Edward, a post he was instated in also under Queen Mary I. In 1554 Ascham married Margaret Howe. Upon Queen Mary's death in 1558, he was appointed secretary to Queen Elizabeth, and in 1559 he was given the prebend of Westwang in Yorkshire.
In 1563 Ascham was invited by Sir Edward Sackville to write a treatise on education. This became The Scholemaster, published posthumously in 1570. Ascham took ill in 1568 with an unidentified disease and died at the age of fifty-three. Hearing of his death Queen Elizabeth is said to have exclaimed: "I would rather have cast ten thousand pounds in the sea than parted from my Ascham." 2





1. Johnson, Samuel. "The Life of Ascham." Works.
Oxford: Oxford University Press, 1825.
http://andromeda.rutgers.edu/~jlynch/Texts/ascham.html.

2. The Norton Anthology of English Literature, 6th ed. Vol. 1.
New York: W. W. Norton & Company, 1993. 991.

---

To cite this article:

Jokinen, Anniina. "The Life of Roger Ascham." Luminarium.
8 May 2009. [Date you accessed the article].
<http://www.luminarium.org/renlit/aschbio.htm>


---
| | |
| --- | --- |
| | to Ascham Main |
Site copyright ©1996-2009 Anniina Jokinen. All rights reserved.
Created by Anniina Jokinen on September 14, 1997. Last updated on May 8, 2009.







The Tudors

King Henry VII
Elizabeth of York

King Henry VIII
Queen Catherine of Aragon
Queen Anne Boleyn
Queen Jane Seymour
Queen Anne of Cleves
Queen Catherine Howard
Queen Katherine Parr

King Edward VI
Lady Jane Grey
Queen Mary I
Queen Elizabeth I


Renaissance English Writers
Bishop John Fisher
William Tyndale
Sir Thomas More
John Heywood
Thomas Sackville
John Bale
Nicholas Udall
John Skelton
Sir Thomas Wyatt
Henry Howard
Hugh Latimer
Thomas Cranmer
Roger Ascham
Sir Thomas Hoby
John Foxe
George Gascoigne
John Lyly
Thomas Nashe
Sir Philip Sidney
Edmund Spenser
Richard Hooker
Robert Southwell
Robert Greene
George Peele
Thomas Kyd
Edward de Vere
Christopher Marlowe
Anthony Munday
Sir Walter Ralegh
Thomas Hariot
Thomas Campion
Mary Sidney Herbert
Sir John Davies
Samuel Daniel
Michael Drayton
Fulke Greville
Emilia Lanyer
William Shakespeare


Persons of Interest
Visit Encyclopedia


Historical Events
Field of the Cloth of Gold, 1520
Pilgrimage of Grace, 1536
The Babington Plot, 1586
The Spanish Armada, 1588


Elizabethan Theatre
See section
English Renaissance Drama


Images of London:
London in the time of Henry VII. MS. Roy. 16 F. ii.
London, 1510, the earliest view in print
Map of England from Saxton's Descriptio Angliae, 1579
Location Map of Elizabethan London
Plan of the Bankside, Southwark, in Shakespeare's time
Detail of Norden's Map of the Bankside, 1593
Bull and Bear Baiting Rings from the Agas Map (1569-1590, pub. 1631)
Sketch of the Swan Theatre, c. 1596
Westminster in the Seventeenth Century, by Hollar
Visscher's Panoramic View of London, 1616. COLOR