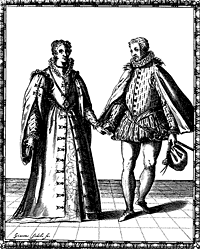 "My self am centre of my circling thought
Only my self I study, learn and know."
- Sir John Davies, Nosce Teipsum (1599)

Life of Sir John Davies (1569-1626)

          Sir John Davies was born at Tisbury, Wiltshire, where he was christened on April 16, 1569, third son of Mary and of John. His father died when he was ten. In 1580 he was sent to school at Winchester. He entered The Queen's College, Oxford, in 1585. Leaving Oxford a year and a half later, he proceeded to read law first at the New Inn, and then at the Middle Temple, 1588 onwards. The Epigrammes were written perhaps around 1590, the year Davies' mother passed away.
          Sir John Davies wrote Orchestra, or a Poem of Dancing, Judicially proving the true observation of time and measure in the authentical and laudable use of dancing in early 1594. In 1595, Davies was called to the bar, and started his legal career. Orchestra was published in 1596, his contemporaries seeing it as a "frivolous poem."1 Davies was disbarred in 1598 for a quarrel with Richard Martin, the dedicatee of Orchestra. He had hit his friend, who was later to become Recorder of London, with a cudgel during dinner. Gulling Sonnets, mocking Petrarchan conventions in Elizabethan sonnets, were published in 1597. In 1599, Davies published his great philosophical poem Nosce Teipsum ("Know Thyself"). Queen Elizabeth was an admirer of Davies' work, and in the same year Davies addressed to her his Hymns of Astræa, acrostic poems all of which spelled out 'Elizabetha Regina'.
          After apologizing, and with the support of the Keeper of the Seal, Lord Egerton, Davies was finally reinstated to the bar in 1601, and went on to have a brilliant legal career. In 1601, Davies was elected MP for Corfe Castle, Dorset and sat in the Queen's last parliament. Davies was one of the men chosen to accompany Lord Hunsdon in announcing the succession to James VI of Scotland. When Davies was announced to the King, the King presently asked "whether he were Nosce Teipsum," and hearing that he was, the King "embraced him and conceived a considerable liking for him."3 The King's further favor was shown by Davies' appointment in November of the same year, 1603, to be Solicitor General for Ireland when he was knighted.
          Sir John Davies' political career continued as successfully. He was appointed Attorney General for Ireland in 1606, elected MP for Fermanagh in 1612 and Speaker of the Irish Parliament's Lower House in 1613. He enjoyed both in Ireland and England the reputation of "being judex incorruptus et patronus fidus."3 After his return to England in 1619, he was a circuit judge and MP for Newcastle-under-Lyne (1621). He was eventually appointed Lord Chief Justice of England, but died December 8, 1626, a day before assuming office.
          A founder member of the Society of Antiquaries, Davies' other literary works include Gullinge Sonnets (c.1596), Ten Sonnets to Philomel (1602), Yet Other Twelve Wonders of the World (c.1602; Published in Davison's Poetical Rhapsody, var. eds. 1602-1621), A Lottery (1602), and A Contention betwixt a Wife, a Widow and a Maid (1602).

Books:

Sanderson, James L. Sir John Davies. G.K. Hall, 1975.
Pawlisch, Hans S. Sir John Davies and the Conquest of Ireland. Cambridge, 1985.

Sources:
The Cambridge Guide to Literature in English. Ian Ousby, Ed.
Cambridge, Cambridge University Press, 1993. 669-670.

The Norton Anthology of English Literature, 6th ed. vol 1.
New York: W. W. Norton & Company, 1993.

Garnett, Richard and Edmund Gosse. English Literature: An Illustrated Record. Vol II, Part II.
New York: The Macmillan Company, 1904. 267-268.

Microsoft® Encarta® 96 Encyclopedia
&copy, 1993-1995 Microsoft Corporation.