The Life of Thomas Nashe (1567-1601)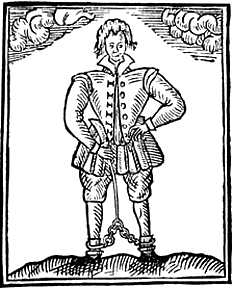 Thomas Nashe was born in Lowestoft in 1561, and educated at St John's College, Cambridge. After graduating in 1586, he became one of the "University Wits", a circle of writers who came to London in the reign of Queen Elizabeth I, and wrote for the stage and the press. In 1589 his preface to Robert Greene's Menaphon was published. The preface attacked contemporary writers who plagiarized from classical authors, and it praised Spenser and Greene. The Anatomie of Absurditie, also published in 1589, satirized contemporary literature, especially romances.

Nashe took part in the Martin Marprelate controversy, answering attacks made on the Church of England by a Puritan group of writers known as Martin Marprelate. Using the pen name 'Pasquil', Nashe may have written several satiric pamphlets, of which An Almond for a Parrat (1590) is the only one attributed to him with conviction.

Nashe also took part in a violent literary controversy with the poet Gabriel Harvey and his brother Richard. Richard Harvey had been extremely critical of Nashe's preface to Greene's Menaphon, and Nashe retaliated in Pierce Penniless, His Supplication to the Devil (1592). The work, a prose satire, was in part an attack on the Harveys, as well as on Nashe's opponents in the Marprelate controversy; it also protests against the public's neglect of worthy writers. Gabriel Harvey wrote an unpleasant account of Greene's final days in his Four Letters the same year, and Nashe responded by writing Four Letters Confuted to defend his dead friend's memory. The latter was published in 1593, and is also known as Strange Newes of the Intercepting of Certain Letters.

Nashe may have tried to make peace in Christs Teares over Jerusalem (1593), a prose work warning Londoners that unless they reformed, London would suffer the fate of Jerusalem. Gabriel Harvey further attacked Nashe's Pierce Penniless in Pierce's Supererogation (1593), which Nashe in turn countered with Have with You to Saffron Walden (1596). This "war" was finally ended in June 1599, when Archbishop Whitgift and Bishop Bancroft decreed that "all Nasshes bookes and Doctor Harveyes bookes be taken wheresoever they maye be found and that none of theire bookes bee ever printed hereafter." 1

Nashe's best-known work, the novel The Unfortunate Traveller, or The Life of Jack Wilton (1594) is now thought to have been the first picaresque novel in English. It is a loosely connected account of adventures real and fictional on the Continent. Important among Nashe's other writings are Summer's Last Will and Testament, a masque (1600); The Terrors of the Night, an attack on demonology; and Lenten Stuff (1599).

The details surrounding Nashe's death are uncertain. He died in 1601, aged 34, and various causes ranging from the plague to food poisoning to a stroke have been suggested. In Thomas Dekker's A Knight's Conjuring (2nd ed. revised of his News from Hell), he described Nashe in Elysium "still haunted with the sharp and satirical spirit that followed him here upon earth." 2 An anonymous contemporary tribute to Nashe said:

Let all his faults sleep with his mournful chest,
And there for ever with his ashes rest.
His style was witty, though it had some gall,
Some things he might have mended, so may all.
Yet this I say, that for a mother wit,
Few men have ever seen the like of it. 3

---
Britannica Online. Electronic Resource.
Available: http://search.eb.com/shakespeare/article-9054903.

Symonds, John Addington. Shakspere's Predecessors in the English Drama.
London: Smith, Elder & Co., 1900. 437.

Cook, Judith. Roaring Boys: Shakespeare's Rat Pack.
Thrupp, Stroud, Glos., England: Sutton Publishing, 2005. 144.

The Norton Anthology of English Literature, 6th ed. v1.
New York: W. W. Norton & Company, 1993.

The Cambridge Guide to Literature in English. Ian Ousby, Ed.
Cambridge, Cambridge University Press, 1993. 669-670.

---


Bibliography:
Books
Chambers, E.K. The Elizabethan Stage. 4 vols. Oxford, 1923.
Hibbard, G. R. Thomas Nashe: A Critical Introduction. Harvard, 1962.
Hilliard, Stephen S. The Singularity of Thomas Nashe.
Lincoln : University of Nebraska Press, 1986.
Hutson, Lorna. Thomas Nashe In Context. Oxford University Press, 1989.
McGinn, Donald J. Thomas Nashe. Twayne, 1981.
McKerrow, R. B.,ed. The Works of Thomas Nashe. 5 vols. 1904-1910.
Nicholl, Charles. A Cup of News: The Life of Thomas Nashe. Routledge, 1984.
Wells, Stanley, ed. Thomas Nashe: Selected Works, 1964


Articles
Harlow, C. G. "Thomas Nashe, Robert Cotton the Antiquary, and The Terrors of the Night", RES 12 (1961), 7.
Harlow, C. G. "Nashe's Visit to the Isle of Wight and His Publications of 1592-4", RES 14 (1963), 15.
Mackerness, E. D. "Thomas Nashe and William Cotton", RES 25 (1949), 342.
Miller, Edward Haviland. "The Relationship of Robert Greene and Thomas Nashe (1588-1592)", Philological Quarterly 33 (1954), 353.




MLA Style Citation:

Jokinen, Anniina. "Life of Thomas Nashe." Luminarium.
2 Apr 2009. [Date you accessed this article].
<http://www.luminarium.org/renlit/nashebio.htm>




Nashe | Works | Links | Essays | Books | English Renaissance Drama | Renaissance Literature



| | |
| --- | --- |
| | to Thomas Nashe |


Site copyright ©1996-2009 Anniina Jokinen. All rights reserved.
Created by Anniina Jokinen on August 8, 1996. Last updated on April 2, 2009.