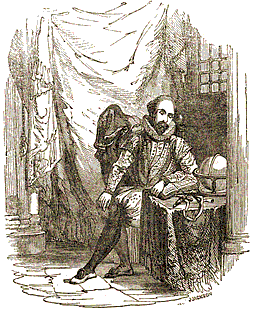 SIR WALTER RALEIGH BIDS FAREWELL TO HIS

WIFE A FEW HOURS BEFORE HE EXPECTS

TO BE EXECUTED

Many critics have pointed out that this dramatic letter is marked by a "Shakespearian eloquence." It was written with what Raleigh believed was his dying hand, as he expected to be executed the following morning.
Born in 1552, Walter Raleigh achieved early fame as a favorite of Queen Elizabeth, as the classic type of courtier, as historian, explorer, and foreign adventurer. He is known partly in legend and partly in history for his gallantry and for his colonial exploits, which led to the introduction of tobacco to the civilized world. He was supplanted in the Queen's favor by the Earl of Essex, went to Ireland, and was finally restored to favor until the Queen discovered his intrigue with Elizabeth Throgmorton. After his rise and fall, his many powerful enemies at court took advantage of one of his unsuccessful colonial expeditions to South America and had him brought to trial at Winchester, on a charge of conspiring against the crown. On his conviction, he was sent to the Tower of London in 1603, under James I. During his stay there, he wrote the famous History of the World, which contains his oft-quoted apostrophe to death. It is quoted here because it is relevant to the theme of his letter:
"It is therefore death alone that can suddenly make man to know himself. He tells the proud and insolent, that they are but abjects, and humbles them at the instant; makes them cry, complain, and repent; yea, even to hate their fore-passed happiness.
"He takes the account of the rich, and proves him a beggar; a naked beggar, which hath interest in nothing, but in the gravel that fills his mouth. He holds a glass before the eyes of the most beautiful, and makes them see therein their deformity and rottenness; and they acknowledge it.
"O eloquent, just, and mighty death! whom none could advise, thou hast persuaded; what none hath dared thou hast done; and whom all the world hath flattered, thou only hast cast out of the world and despised: thou hast drawn together all the farstretched greatness, all the pride, cruelty, and ambition of man, and covered it all over with these two narrow words, Hic jacet."



You shall now receive (my deare wife) my last words in these last lines. My love I send you that you may keep it when I am dead, and my councell that you may remember it when I am no more. I would not by my will present you with sorrowes (dear Besse) let them go to the grave with me and be buried in the dust. And seeing that it is not Gods will that I should see you any more in this life, beare it patiently, and with a heart like thy selfe.
First, I send you all the thankes which my heart can conceive, or my words can rehearse for your many travailes, and care taken for me, which though they have not taken effect as you wished, yet my debt to you is not the lesse: but pay it I never shall in this world.
Secondly, I beseech you for the love you beare me living, do not hide your selfe many dayes, but by your travailes seeke to helpe your miserable fortunes and the right of your poor childe. Thy mourning cannot availe me, I am but dust.
Thirdly, you shall understand, that my land was conveyed bona fide to my childe: the writings were drawne at midsummer was twelve months, my honest cosen Brett can testify so much, and Dolberry too, can remember somewhat therein. And I trust my blood will quench their malice that have cruelly murthered me: and that they will not seek also to kill thee and thine with extreame poverty.
To what friend to direct thee I know not, for all mine have left me in the true time of tryall. And I perceive that my death was determined from the first day. Most sorry I am God knowes that being thus surprised with death I can leave you in no better estate. God is my witnesse I meant you all my office of wines or all that I could have purchased by selling it, halfe of my stuffe, and all my jewels, but some one for the boy, but God hath prevented all my resolutions. That great God that ruleth all in all, but if you live free from want, care for no more, for the rest is but vanity. Love God, and begin betimes to repose your selfe upon him, and therein shall you finde true and lasting riches, and endlesse comfort: for the rest when you have travailed and wearied your thoughts over all sorts of worldly cogitations, you shall but sit downe by sorrowe in the end.
Teach your son also to love and feare God whilst he is yet young, that the feare of God may grow with him, and then God will be a husband to you, and a father to him; a husband and a father which cannot be taken from you.
Baily oweth me 200 pounds, and Adrian Gilbert 600. In Jersey I also have much owing me besides. The arrearages of the wines will pay my debts. And howsoever you do, for my soules sake, pay all poore men. When I am gone, no doubt you shall be sought for by many, for the world thinkes that I was very rich. But take heed of the pretences of men, and their affections, for they last not but in honest and worthy men, and no greater misery can befall you in this life, than to become a prey, and afterwards to be despised. I speake not this (God knowes) to dissuade you from marriage, for it will be best for you, both in respect of the world and of God. As for me, I am no more yours, nor you mine, death hath cut us asunder: and God hath divided me from the world, and you from me.
Remember your poor childe for his father's sake, who chose you, and loved you in his happiest times. Get those letters (if it be possible) which I writ to the Lords, wherein I sued for my life: God is my witnesse it was for you and yours that I desired life, but it is true that I disdained my self for begging of it: for know it (my deare wife) that your son is the son of a true man, and one who in his owne respect despiseth death and all his misshapen & ugly formes.
I cannot write much, God he knows how hardly I steale this time while others sleep, and it is also time that I should separate my thoughts from the world. Begg my dead body which living was denied thee; and either lay it at Sherburne (and if the land continue) or in Exeter-Church, by my Father and Mother; I can say no more, time and death call me away.
The everlasting God, powerfull, infinite, and omnipotent God, That Almighty God, who is goodnesse it selfe, the true life and true light keep thee and thine: have mercy on me, and teach me to forgive my persecutors and false accusers, and send us to meet in his glorious Kingdome. My deare wife farewell. Blesse my poore boy. Pray for me, and let my good God hold you both in his armes.
Written with the dying hand of sometimes thy Husband, but now alasse overthrowne.
Yours that was, but now not my own.

Walter Rawleigh
ACTUALLY, Sir Walter Raleigh was not executed the following morning, but was confined in the Tower of London with his wife until 1616, when he was allowed to undertake an expedition to the Orinoco in search of gold. But this proved only a reprieve, and he was finally executed in 1618, in the same courtyard of the Tower where he had once witnessed the execution of his bitter and far more popular rival, Robert Devereux, Earl of Essex.