Sir Philip Sidney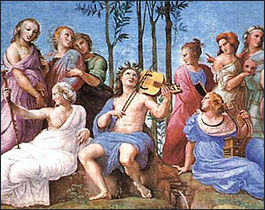 Raphael. Mount Parnassus [detail], c1510.


Astrophel and Stella



III



Let dainty wits cry on the sisters nine,
That, bravely masked, their fancies may be told;
Or Pindar's apes flaunt they in phrases fine,
Enam'ling with pied flowers their thoughts of gold;
Or else let them in statelier glory shine,
Ennobling new-found tropes with problems old;
Or with strange similes enrich each line,
Of herbs or beasts with Ind or Afric hold.
For me, in sooth, no Muse but one I know;
Phrases and problems from my reach do grow,
And strange things cost too dear for my poor sprites.
How then? even thus,—in Stella's face I read
What love and beauty be, then all my deed
But copying is, what in her Nature writes.



---
Source:
Poetry of the English Renaissance 1509-1660.
J. William Hebel and Hoyt H. Hudson, Eds.
New York: F. S. Crofts & Co., 1941. 107.

---
| | |
| --- | --- |
| | to Works of Sir Philip Sidney |




Site copyright ©1996-2010 Anniina Jokinen. All Rights Reserved.
Created by Anniina Jokinen on October 6, 2001. Last updated on December 10, 2011.






The Tudors

King Henry VII
Elizabeth of York

King Henry VIII
Queen Catherine of Aragon
Queen Anne Boleyn
Queen Jane Seymour
Queen Anne of Cleves
Queen Catherine Howard
Queen Katherine Parr

King Edward VI
Lady Jane Grey
Queen Mary I
Queen Elizabeth I


Renaissance English Writers
Bishop John Fisher
William Tyndale
Sir Thomas More
John Heywood
Thomas Sackville
Nicholas Udall
John Skelton
Sir Thomas Wyatt
Henry Howard
Hugh Latimer
Thomas Cranmer
Roger Ascham
Sir Thomas Hoby
John Foxe
George Gascoigne
John Lyly
Thomas Nashe
Sir Philip Sidney
Edmund Spenser
Richard Hooker
Robert Southwell
Robert Greene
George Peele
Thomas Kyd
Edward de Vere
Christopher Marlowe
Anthony Munday
Sir Walter Ralegh
Thomas Hariot
Thomas Campion
Mary Sidney Herbert
Sir John Davies
Samuel Daniel
Michael Drayton
Fulke Greville
Emilia Lanyer
William Shakespeare


Persons of Interest
Visit Encyclopedia


Historical Events
Field of the Cloth of Gold, 1520
Pilgrimage of Grace, 1536
The Babington Plot, 1586
The Spanish Armada, 1588


Elizabethan Theatre
See section
English Renaissance Drama


Images of London:
London in the time of Henry VII. MS. Roy. 16 F. ii.
London, 1510, the earliest view in print
Map of England from Saxton's Descriptio Angliae, 1579
Location Map of Elizabethan London
Plan of the Bankside, Southwark, in Shakespeare's time
Detail of Norden's Map of the Bankside, 1593
Bull and Bear Baiting Rings from the Agas Map (1569-1590, pub. 1631)
Sketch of the Swan Theatre, c. 1596
Westminster in the Seventeenth Century, by Hollar
Visscher's Panoramic View of London, 1616. COLOR