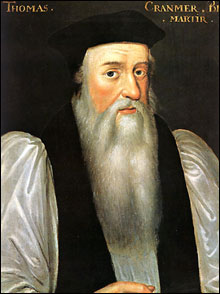 Letter of Archbishop Cranmer to King Henry VIII,
Regarding Thomas Cromwell.1

[14 June 1540]


........ I heard yesterday in your Grace's Council, that he [Crumwell] is a traitor, yet who cannot be sorrowful and amazed that he should be a traitor against your Majesty, he that was so advanced by your Majesty; he whose surety was only by your Majesty; he who loved your Majesty, as I ever thought, no less than God; he who studied always to set forwards whatsoever was your Majesty's will and pleasure; he that cared for no man's displeasure to serve your Majesty; he that was such a servant in my judgmentt, in wisdom, diligence, faithfulness, and experience, as no prince in this realm ever had; he that was so vigilant to preserve your Majesty from all treasons, that few could be so secretly conceived, but he detected the same in the beginning? If the noble princes of memory, King John, Henry the Second, and Richard II had had such a counsellor about them, I suppose that they should never have been so traitorously abandoned, and overthrown as those good princes were: ........ I loved him as my friend, for so I took him to be; but I chiefly loved him for the love which I thought I saw him bear ever towards your Grace, singularly above all other. But now, if he be a traitor, I am sorry that ever I loved him or trusted him, and I am very glad that his treason is discovered in time; but yet again I am very sorrowful; for who shall your Grace trust hereafter, if you might not trust him? Alas! I bewail and lament your Grace's chance herein, I wot not whom your Grace may trust. But I pray God continually night and day, to send such a counsellor in his place whom your Grace may trust, and who for all his qualities can and will serve your Grace like to him, and that will have so much solicitude and care to preserve your Grace from all dangers as I ever thought he had........ [14 June 1540.]



1 It is much to be regretted that this Letter has not been found entire. The fragment here printed, which is justly characterized by Sir James Mackintosh as being very earnest and persuasive, has been preserved by Lord Herbert [in Life of Henry VIII, p. 519]. Crumwell was beheaded about six weeks afterwards, on the 28th of July 1540.



---


The Remains of Thomas Cranmer. Vol I. Rev. Henry Jenkyns, Ed.
Oxford: Oxford University Press, 1833. 298-299.


---
| | |
| --- | --- |
| | to Works of Thomas Cranmer |
| | to King Henry VIII |
| | to Thomas Cromwell |
| | to Luminarium Encyclopedia |




Site copyright ©1996-2009 Anniina Jokinen. All Rights Reserved.
Created by Anniina Jokinen on August 8, 2009.






The Tudors

King Henry VII
Elizabeth of York

King Henry VIII
Queen Catherine of Aragon
Queen Anne Boleyn
Queen Jane Seymour
Queen Anne of Cleves
Queen Catherine Howard
Queen Katherine Parr

King Edward VI
Queen Mary I
Queen Elizabeth I
Henry Fitzroy, Duke of Richmond

Renaissance English Writers
Bishop John Fisher
William Tyndale
Sir Thomas More
John Heywood
Thomas Sackville
Nicholas Udall
John Skelton
Sir Thomas Wyatt
Henry Howard
Hugh Latimer
Thomas Cranmer
Roger Ascham
Sir Thomas Hoby
John Foxe
George Gascoigne
John Lyly
Thomas Nashe
Sir Philip Sidney
Edmund Spenser
Richard Hooker
Robert Southwell
Robert Greene
George Peele
Thomas Kyd
Edward de Vere
Christopher Marlowe
Anthony Munday
Sir Walter Ralegh
Thomas Hariot
Thomas Campion
Mary Sidney Herbert
Sir John Davies
Samuel Daniel
Michael Drayton
Fulke Greville
Emilia Lanyer
William Shakespeare


Persons of Interest
Cardinal Thomas Wolsey
Archbishop Thomas Cranmer
Thomas Cromwell
John Fisher, Bishop of Rochester
Cardinal Lorenzo Campeggio
Cardinal Reginald Pole
Stephen Gardiner, Bishop of Winchester
William Tyndale
Pico della Mirandola
Desiderius Erasmus
Christopher Saint-German
Thomas Linacre
William Grocyn
Hugh Latimer
Elizabeth Barton, the Nun of Kent
For more, visit Encyclopedia


Historical Events
Field of the Cloth of Gold, 1520
Pilgrimage of Grace, 1536
The Babington Plot, 1586
The Spanish Armada, 1588


Government
Oath of Supremacy
The Act of Supremacy, 1534
The First Act of Succession, 1534
The Third Act of Succession, 1544
The Ten Articles, 1536
The Six Articles, 1539
The Second Statute of Repeal, 1555


Images of London:
London in the time of Henry VII. MS. Roy. 16 F. ii.
London, 1510, earliest view in print
Map of England from Saxton's Descriptio Angliae, 1579
Location Map of Elizabethan London
Plan of the Bankside, Southwark, in Shakespeare's time
Detail of Norden's Map of the Bankside, 1593
Bull and Bear Baiting Rings from the Agas Map (1569-1590, pub. 1631)
Sketch of the Swan Theatre, c. 1596
Westminster in the Seventeenth Century, by Hollar
Visscher's Panoramic View of London, 1616. COLOR



For more, visit Encyclopedia