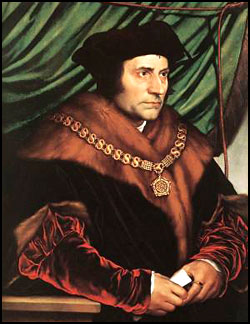 Hans Holbein the Younger. Sir Thomas More.
© Frick Collection, New York


Sir Thomas More's Speech at his Trial.

[1535]
If I were a man, my lords, that did not regard an oath, I need not, as it is well known, in this place, at this time, nor in this case to stand as an accused person. And if this oath of yours, Master Rich, be true, then pray I that I may never see God in the face, which I would not say, were it otherwise to win the whole world.
In good faith, Master Rich, I am sorrier for your perjury than for mine own peril, and you shall understand that neither I nor any man else to my knowledge ever took you to be a man of such credit in any matter of importance I or any other would at any time vouchsafe to communicate with you. And I, as you know, of no small while have been acquainted with you and your conversation, who have known you from your youth hitherto, for we long dwelled together in one parish. Whereas yourself can tell (I am sorry you compel me to say) you were esteemed very light of tongue, a great dicer, and of no commendable fame. And so in your house at the Temple, where hath been your chief bringing up, were you likewise accounted. Can it therefore seem likely to your honorable lordships, that I would, in so weighty a cause, so unadvisedly overshoot myself as to trust Master Rich, a man of me always reputed for one of little truth, as your lordships have heard, so far above my sovereign lord the king, or any of his noble counselors, that I would unto him utter the secrets of my conscience touching the king's supremacy, the special point and only mark at my hands so long sought for?
A thing which I never did, nor ever would, after the statute thereof made, reveal unto the King's Highness himself or to any of his honorable counselors, as it is not unknown to your honors, at sundry and several times, sent from His Grace's own person unto the Tower unto me for none other purpose. Can this in your judgment, my lords, seem likely to be true? And if I had so done, indeed, my lords, as Master Rich hath sworn, seeing it was spoken but in familiar, secret talk, nothing affirming, and only in putting of cases, without other displeasant circumstances, it cannot justly be taken to be spoken maliciously; and where there is no malice there can be no offense. And over this I can never think, my lords, that so many worthy bishops, so many noble personages, and many other worshipful, virtuous, wise, and well-learned men as at the making of the law were in Parliament assembled, ever meant to have any man punished by death in whom there could be found no malice, taking malitia pro malevolentia: for if malitia be generally taken for sin, no man is there that can excuse himself. Quia si dixerimus quod peccatum non habemus, nosmetipsos seducimus, et veritas in nobis non est. [If we say we have no sin, we deceive ourselves and the truth is not in us.] And only this word, "maliciously" is in the statute material, as this term "forcibly" is in the statute of forcible entries, by which statute if a man enter peaceably, and put not his adversary out "forcibly," it is no offense, but if he put him out "forcibly," then by that statute it is an offense, and so shall be punished by this term, "forcibly."
Besides this, the manifold goodness of the King's Highness himself, that hath been so many ways my singular good lord and gracious sovereign, and that hath so dearly loved and trusted me, even at my first coming into his noble service, with the dignity of his honorable privy council, vouchsafing to admit me; and finally with the weighty room of His Grace's higher chancellor, the like whereof he never did to temporal man before, next to his own royal person the highest office in this whole realm, so far above my qualities or merits and meet therefor of his own incomparable benignity honored and exalted me, by the space of twenty years or more, showing his continual favors towards me, and (until, at mine own poor suit it pleased His Highness, giving me license with His Majesty's favor to bestow the residue of my life wholly for the provision of my soul in the service of God, and of his special goodness thereof to discharge and unburden me) most benignly heaped honors continually more and more upon me; all this His Highness's goodness, I say, so long thus bountifully extended towards me, were in my mind, my lords, matter sufficient to convince this slanderous surmise by this man so wrongfully imagined against me....
Forasmuch, my lord, as this indictment is grounded upon an act of Parliament directly oppugnant to the laws of God and his holy church, the supreme government of which, or of any part thereof, may no temporal prince presume by any law to take upon him, as rightfully belonging to the See of Rome, a spiritual preeminence by the mouth of our Savior himself, personally present upon the earth, to Saint Peter and his successors, bishops of the same see, by special prerogative granted; it is therefore in law amongst Christian men, insufficient to charge any Christian man....
More have I not to say, my lords, but that like as the blessed apostle Saint Paul, as we read in the Acts of the Apostles, was present and consented to the death of Saint Stephen, and kept their clothes that stoned him to death, and yet be they now twain holy saints in heaven, and shall continue there friends forever: so I verily trust and shall therefore right heartily pray, that though your lordships have now in earth been judges to my condemnation, we may yet hereafter in heaven merrily all meet together to our everlasting salvation.




---

Safire, William, ed. Lend Me Your Ears: Great Speeches in History. Rev. Ed.
New York: W. W. Norton & Co., 1997, . 328-330.


---
| | |
| --- | --- |
| | to the Works of Sir Thomas More |
Site copyright ©1996-2018 Anniina Jokinen. All Rights Reserved.
Created by Anniina Jokinen on June 13, 2009. Last updated on December 11, 2018.







The Tudors

King Henry VII
Elizabeth of York

King Henry VIII
Queen Catherine of Aragon
Queen Anne Boleyn
Queen Jane Seymour
Queen Anne of Cleves
Queen Catherine Howard
Queen Katherine Parr

King Edward VI
Queen Mary I
Queen Elizabeth I
Henry Fitzroy, Duke of Richmond

Renaissance English Writers
Bishop John Fisher
William Tyndale
Sir Thomas More
John Heywood
Thomas Sackville
Nicholas Udall
John Skelton
Sir Thomas Wyatt
Henry Howard
Hugh Latimer
Thomas Cranmer
Roger Ascham
Sir Thomas Hoby
John Foxe
George Gascoigne
John Lyly
Thomas Nashe
Sir Philip Sidney
Edmund Spenser
Richard Hooker
Robert Southwell
Robert Greene
George Peele
Thomas Kyd
Edward de Vere
Christopher Marlowe
Anthony Munday
Sir Walter Ralegh
Thomas Hariot
Thomas Campion
Mary Sidney Herbert
Sir John Davies
Samuel Daniel
Michael Drayton
Fulke Greville
Emilia Lanyer
William Shakespeare


Persons of Interest
Cardinal Thomas Wolsey
Archbishop Thomas Cranmer
Thomas Cromwell
John Fisher, Bishop of Rochester
Cardinal Lorenzo Campeggio
Cardinal Reginald Pole
Stephen Gardiner, Bishop of Winchester
William Tyndale
Pico della Mirandola
Desiderius Erasmus
Christopher Saint-German
Thomas Linacre
William Grocyn
Hugh Latimer
Elizabeth Barton, the Nun of Kent
For more, visit Encyclopedia


Historical Events
Field of the Cloth of Gold, 1520
Pilgrimage of Grace, 1536
The Babington Plot, 1586
The Spanish Armada, 1588


Government
Oath of Supremacy
The Act of Supremacy, 1534
The First Act of Succession, 1534
The Third Act of Succession, 1544
The Ten Articles, 1536
The Six Articles, 1539
The Second Statute of Repeal, 1555


Images of London:
London in the time of Henry VII. MS. Roy. 16 F. ii.
London, 1510, earliest view in print
Map of England from Saxton's Descriptio Angliae, 1579
Location Map of Elizabethan London
Plan of the Bankside, Southwark, in Shakespeare's time
Detail of Norden's Map of the Bankside, 1593
Bull and Bear Baiting Rings from the Agas Map (1569-1590, pub. 1631)
Sketch of the Swan Theatre, c. 1596
Westminster in the Seventeenth Century, by Hollar
Visscher's Panoramic View of London, 1616. COLOR



For more, visit Encyclopedia