Sir Thomas More's Letter from the Tower.

2 or 3 May, 1535.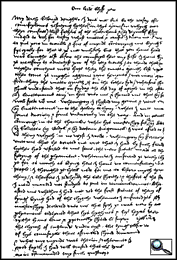 A Letter written and sent by Sir Thomas More to his daughter Mistress Roper, written the second or third day of May, in the Year of our Lord, 1535, and in the 27th Year of the Reign of King Henry VIII.

Our Lord bless you.
My dearly beloved daughter, I doubt not but by the reason of the King's councillors resorting hither in this time (in which our Lord be their comfort) these fathers of the Charterhouse and Master Reynolds of Sion be now judged to death for treason (whose matters and causes I know not) may hap to put you in trouble and fear of mind concerning me being here prisoner, specially for that it is not unlikely that you have heard that I was brought also before the council here myself, I have thought it necessary to advertise you of the very truth, to the end that you should neither conceive more hope than the matter giveth, lest upon another turn it might aggrieve your heaviness: nor more grief and fear than the matter giveth on the tother side.

Wherefore shortly ye shall understand that on Friday, the last day of April in the afternoon, Master Lieutenant came in here unto me, and showed me that Master Secretary would speak with me, whereupon I shifted my gown, and went out with Master Lieutenant into the gallery to him, where I met many, some known and some unknown, in the way. And in conclusion coming into the chamber where his Mastership sat with Master Attorney, Master Solicitor, Master Bedell, and Master Doctor Tregonwell, I was offered to sit down with them, which in no wise I would. Whereupon Master Secretary showed unto me, that he doubted not, but that I had, by such friends as hither had resorted to me, seen the new statutes made at the last sitting of the parliament. Whereunto I answered: Yea, verily. Howbeit forasmuch as, being here, I have no conversation with any people, I thought it little need for me to bestow much time upon them, and therefore I redelivered the book shortly, and the effect of the statutes I never marked or studied to put in remembrance.

Then he asked me whether I had not read the first statute of them, of the King being head of the church. Whereunto I answered, Yes. Then his Mastership declared unto me, that sith it was now by act of parliament ordained, that his Highness and his heirs be, and ever of right have been, and perpetually should be, supreme head in earth of the Church of England under Christ, the King's pleasure was, that those of his council there assembled, should demand mine opinion, and what my mind was therein. Whereunto I answered, that in good faith I had well trusted, that the King's highness would never have commanded any such question to be demanded of me, considering that I ever from the beginning, well and truly from time to time declared my mind unto his highness; and since that time (I said) unto your Mastership, Master Secretary, also, both by mouth and by writing. And now I have in good faith discharged my mind of all such matters, and neither will dispute kings' titles nor popes': but the King's true faithful subject I am, and will be, and daily I pray for him, and all his, and for you all that are of his honourable council, and for all the realm. And otherwise than this I never intend to meddle.

Whereunto Master Secretary answered, that he thought this manner of answer should not satisfy nor content the King's highness, but that his grace would exact a more full answer. And his Mastership added thereunto that the King's highness was a prince, not of rigour, but of mercy and pity. And though that he had found obstinacy at some time in any of his subjects, yet when he should find them at another time conformable and submit themselves, his Grace would show mercy: and that concerning myself, his highness would be glad to see me take such confortable ways, as I might be abroad in the world again among other men, as I have been before. Whereunto I shortly (after the inward affection of my mind) answered for a very truth, that I would never meddle in the world again, to have the world given me. And to the remnant of the matter, I answered in effect as before, showing that I had fully determined with myself, neither to study nor meddle with any matter of this world, but that my whole study should be upon the passion of Christ, and mine own passage out of this world.

Upon this I was commanded to go forth for a while, and after called in again. At which time Master Secretary said unto me, that though I were a prisoner condemned to perpetual prison, yet I was not thereby discharged of mine obedience and allegiance unto the King's highness. And thereupon demanded me whether that I thought that the King's grace might not exact of me such things as are contained in the statutes, and upon like pains, as he might upon other men. Whereto I answered that I would not say the contrary. Whereunto he said that, likewise as the King's Highness would be gracious to them that he found conformable, so his Grace would follow the course of his laws toward such as he shall find obstinate. And his Mastership said further, that my demeanour in that matter was a thing that of likelihood made others so stiff therein as they be.

Whereto I answered, that I give no man occasion to hold any one point or other, nor never gave any man advice or counsel therein one way or other. And for conclusion I could no farther go, whatsoever pain should come thereof. I am (quoth I) the King's true faithful subject and daily bedesman, and pray for his highness and all the realm. I do nobody no harm, I say none harm, I think none harm, but wish everybody good. And if this be not enough to keep a man alive, in good faith I long not to live. And I am dying already, and have since I came here, been divers times in the case that I thought to die within one hour. And I thank our Lord thatI was never sorry for it, but rather sorry when I saw the pang past. And therefore my poor body is at the King's pleasure. Would God my death might do him good.

After this Master Secretary said: Well, ye find no fault in that statute: find you any in any of the other statutes after? Whereto I answered, Sir, whatsoever thing should seem to me other than good, in any other statutes or in that statute either, I would not declare what fault I found, nor speak thereof. Whereunto finally his Mastership said, full gently, that of anything that I had spoken here should none advantage be taken. And whether he said farther that there was none to be taken, I am not well remembered. But he said that report should be made unto the King's highness, and his gracious pleasure known. Whereupon I was delivered again to Master Lieutenant, which was then called in. And so was I by Master Lieutenant brought again into my chamber. And here am I yet in such case as I was, neither better nor worse.

That which shall follow lieth in the hand of God, Whom I beseech to put in King's grace's mind, that thing that may be to His high pleasure, and in mine, to mind only the weal of my soul, with little regard of my body, and you with all yours, and my wife, and all my children, and all our other friends, both bodily and ghostly, heartily well to fare. And I pray you and them all pray for me, and take no thought whatsoever shall happen me. For I verily trust in the goodness of God, seem it never so evil to this world, it shall indeed in another world be for the best.
Your loving father,
THOMAS MORE, KNIGHT.



---

Text Source:

Roper, William. The Mirrour of Vertue in Worldly Greatness;
Or, The Life of Sir Thomas More, Kt.
London: The De La More Press, 1903. 161-166.


---

Image Source:

Garnett, Richard. English Literature: An Illustrated Record. Vol I.
London: William Heinemann, 1903. 320.


---
| | |
| --- | --- |
| | to the Works of Sir Thomas More |
Site copyright ©1996-2018 Anniina Jokinen. All Rights Reserved.
Created by Anniina Jokinen on April 20, 2007. Last updated on December 11, 2018.





The Tudors

King Henry VII
Elizabeth of York

King Henry VIII
Queen Catherine of Aragon
Queen Anne Boleyn
Queen Jane Seymour
Queen Anne of Cleves
Queen Catherine Howard
Queen Katherine Parr

King Edward VI
Queen Mary I
Queen Elizabeth I
Henry Fitzroy, Duke of Richmond

Renaissance English Writers
Bishop John Fisher
William Tyndale
Sir Thomas More
John Heywood
Thomas Sackville
Nicholas Udall
John Skelton
Sir Thomas Wyatt
Henry Howard
Hugh Latimer
Thomas Cranmer
Roger Ascham
Sir Thomas Hoby
John Foxe
George Gascoigne
John Lyly
Thomas Nashe
Sir Philip Sidney
Edmund Spenser
Richard Hooker
Robert Southwell
Robert Greene
George Peele
Thomas Kyd
Edward de Vere
Christopher Marlowe
Anthony Munday
Sir Walter Ralegh
Thomas Hariot
Thomas Campion
Mary Sidney Herbert
Sir John Davies
Samuel Daniel
Michael Drayton
Fulke Greville
Emilia Lanyer
William Shakespeare


Persons of Interest
Cardinal Thomas Wolsey
Archbishop Thomas Cranmer
Thomas Cromwell
John Fisher, Bishop of Rochester
Cardinal Lorenzo Campeggio
Cardinal Reginald Pole
Stephen Gardiner, Bishop of Winchester
William Tyndale
Pico della Mirandola
Desiderius Erasmus
Christopher Saint-German
Thomas Linacre
William Grocyn
Hugh Latimer
Elizabeth Barton, the Nun of Kent
For more, visit Encyclopedia


Historical Events
Field of the Cloth of Gold, 1520
Pilgrimage of Grace, 1536
The Babington Plot, 1586
The Spanish Armada, 1588


Government
Oath of Supremacy
The Act of Supremacy, 1534
The First Act of Succession, 1534
The Third Act of Succession, 1544
The Ten Articles, 1536
The Six Articles, 1539
The Second Statute of Repeal, 1555


Images of London:
London in the time of Henry VII. MS. Roy. 16 F. ii.
London, 1510, earliest view in print
Map of England from Saxton's Descriptio Angliae, 1579
Location Map of Elizabethan London
Plan of the Bankside, Southwark, in Shakespeare's time
Detail of Norden's Map of the Bankside, 1593
Bull and Bear Baiting Rings from the Agas Map (1569-1590, pub. 1631)
Sketch of the Swan Theatre, c. 1596
Westminster in the Seventeenth Century, by Hollar
Visscher's Panoramic View of London, 1616. COLOR



For more, visit Encyclopedia