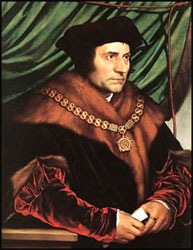 Hans Holbein. Thomas More.
The Frick Collection, New York.

A Godly Meditation

c.1534

Written in the Tower.

Give me Thy grace, good Lord, to set the world at naught; to set my mind fast upon Thee; and not to hang upon the blast of men's mouths.
To be content to be solitary; not to long for worldly company; little and little utterly to cast off the world, and rid my mind of all the business thereof; not to long to hear of any worldly things, but that the hearing of worldly phantasies may be to me displeasant.
Gladly to be thinking of God; piteously to call for His help; to lean unto the comfort of God; busily to labour to love Him.
To know mine own vility and wretchedness; to humble and meeken myself under the mighty hand of God. To bewail my sins past; for the purging of them patiently to suffer adversity; gladly to bear my purgatory here; to be joyful of tribulations; to walk the narrow way that leadeth to life.
To bear the cross with Christ; to have the last things in remembrance; to have ever afore mine eye my death that is ever at hand; to make death no stranger to me; to foresee and consider the everlasting fire of hell; to pray for pardon before the Judge come.
To have continually in mind the passion that Christ suffered for me; for His benefits uncessantly to give Him thanks.
To buy the time again, that I before have lost; to abstain from vain confabulations; to eschew light, foolish mirth; and gladness; recreations not necessary to cut off; of worldly substance, friends, liberty, life and all, to set the loss at right nought for the winning of Christ.
To think my most enemies my best friends; for the brethren of Joseph could never have done him so much good with their love and favour as they did him with their malice and hatred.
These minds are more to be desired of every man than all the treasure of all the princes and kings, Christian and heathen, were it gathered and laid together all upon one heap.



---

Source:

Bridgett, Thomas Edward. The Wisdom and Wit of Blessed Thomas More.
London: Burns and Oates, Ltd., 1892. 92-94.


---
| | |
| --- | --- |
| | to the Works of Sir Thomas More |
Site copyright ©1996-2018 Anniina Jokinen. All Rights Reserved.
Created by Anniina Jokinen on May 29, 2009. Last updated December 11, 2018.







The Tudors

King Henry VII
Elizabeth of York

King Henry VIII
Queen Catherine of Aragon
Queen Anne Boleyn
Queen Jane Seymour
Queen Anne of Cleves
Queen Catherine Howard
Queen Katherine Parr

King Edward VI
Queen Mary I
Queen Elizabeth I
Henry Fitzroy, Duke of Richmond

Renaissance English Writers
Bishop John Fisher
William Tyndale
Sir Thomas More
John Heywood
Thomas Sackville
Nicholas Udall
John Skelton
Sir Thomas Wyatt
Henry Howard
Hugh Latimer
Thomas Cranmer
Roger Ascham
Sir Thomas Hoby
John Foxe
George Gascoigne
John Lyly
Thomas Nashe
Sir Philip Sidney
Edmund Spenser
Richard Hooker
Robert Southwell
Robert Greene
George Peele
Thomas Kyd
Edward de Vere
Christopher Marlowe
Anthony Munday
Sir Walter Ralegh
Thomas Hariot
Thomas Campion
Mary Sidney Herbert
Sir John Davies
Samuel Daniel
Michael Drayton
Fulke Greville
Emilia Lanyer
William Shakespeare


Persons of Interest
Cardinal Thomas Wolsey
Archbishop Thomas Cranmer
Thomas Cromwell
John Fisher, Bishop of Rochester
Cardinal Lorenzo Campeggio
Cardinal Reginald Pole
Stephen Gardiner, Bishop of Winchester
William Tyndale
Pico della Mirandola
Desiderius Erasmus
Christopher Saint-German
Thomas Linacre
William Grocyn
Hugh Latimer
Elizabeth Barton, the Nun of Kent
For more, visit Encyclopedia


Historical Events
Field of the Cloth of Gold, 1520
Pilgrimage of Grace, 1536
The Babington Plot, 1586
The Spanish Armada, 1588


Government
Oath of Supremacy
The Act of Supremacy, 1534
The First Act of Succession, 1534
The Third Act of Succession, 1544
The Ten Articles, 1536
The Six Articles, 1539
The Second Statute of Repeal, 1555


Images of London:
London in the time of Henry VII. MS. Roy. 16 F. ii.
London, 1510, earliest view in print
Map of England from Saxton's Descriptio Angliae, 1579
Location Map of Elizabethan London
Plan of the Bankside, Southwark, in Shakespeare's time
Detail of Norden's Map of the Bankside, 1593
Bull and Bear Baiting Rings from the Agas Map (1569-1590, pub. 1631)
Sketch of the Swan Theatre, c. 1596
Westminster in the Seventeenth Century, by Hollar
Visscher's Panoramic View of London, 1616. COLOR



For more, visit Encyclopedia