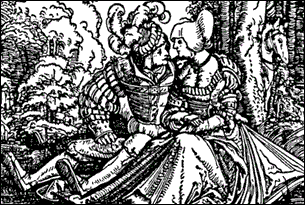 MARLOWE'S SONG.

THE PASSIONATE SHEPHERD TO HIS LOVE.1

(Before 1593.)



1. MARLOWE'S SONG.



2. RALEGH'S REPLY.




OME live with me, and be my love;
  And we will all the pleasures prove
  That hills and valleys, dales and fields,
   Woods, or steepy mountain yields.

And we will sit upon the rocks,
Seeing the shepherds feed their flocks
By shallow rivers, to whose falls
Melodious birds sing madrigals.

And I will make thee beds of roses
And a thousand fragrant posies;
A cap of flowers, and a kirtle
Embroidered all with leaves of myrtle;

A gown made of the finest wool
Which from our pretty lambs we pull;
Fair-lined slippers for the cold,
With buckles of the purest gold;

A belt of straw and ivy-buds,
With coral clasps and amber-studs:
And if these pleasures may thee move,
Come live with me, and be my love.

The shepherd-swains shall dance and sing
For thy delight each May-morning:
If these delights thy mind may move,
Then live with me and be my love.





1 Dyce's "Marlowe," iii. 299. An imperfect copy was
printed in the "Passionate Pilgrim" in 1599, and it is
quoted in the "Merry Wives of Windsor," iii. 1. It was
printed at length with Marlowe's name in "England's
Helicon," 1600; and also in Walton's "Compleat Angler,"
1653, as "that smooth song which was made by Kit Mar-
low, now at least fifty years ago." Marlowe died sixty
years before,—in 1593.



---
Source:
Hannah, J., Ed. The Poems of Sir Walter Raleigh.
London: George Bell and Sons, 1891. 10.

---
| | |
| --- | --- |
| | to Christopher Marlowe |




Site copyright ©1996-2010 Anniina Jokinen. All Rights Reserved.
Created by Anniina Jokinen on October 13, 2006. Last updated on June 5, 2010.






The Tudors

King Henry VII
Elizabeth of York

King Henry VIII
Queen Catherine of Aragon
Queen Anne Boleyn
Queen Jane Seymour
Queen Anne of Cleves
Queen Catherine Howard
Queen Katherine Parr

King Edward VI
Lady Jane Grey
Queen Mary I
Queen Elizabeth I


Renaissance English Writers
Bishop John Fisher
William Tyndale
Sir Thomas More
John Heywood
Thomas Sackville
John Bale
Nicholas Udall
John Skelton
Sir Thomas Wyatt
Henry Howard
Hugh Latimer
Thomas Cranmer
Roger Ascham
Sir Thomas Hoby
John Foxe
George Gascoigne
John Lyly
Thomas Nashe
Sir Philip Sidney
Edmund Spenser
Richard Hooker
Robert Southwell
Robert Greene
George Peele
Thomas Kyd
Edward de Vere
Christopher Marlowe
Anthony Munday
Sir Walter Ralegh
Thomas Hariot
Thomas Campion
Mary Sidney Herbert
Sir John Davies
Samuel Daniel
Michael Drayton
Fulke Greville
Emilia Lanyer
William Shakespeare


Persons of Interest
Visit Encyclopedia


Historical Events
Field of the Cloth of Gold, 1520
Pilgrimage of Grace, 1536
The Babington Plot, 1586
The Spanish Armada, 1588


Elizabethan Theatre
See section
English Renaissance Drama


Images of London:
London in the time of Henry VII. MS. Roy. 16 F. ii.
London, 1510, the earliest view in print
Map of England from Saxton's Descriptio Angliae, 1579
Location Map of Elizabethan London
Plan of the Bankside, Southwark, in Shakespeare's time
Detail of Norden's Map of the Bankside, 1593
Bull and Bear Baiting Rings from the Agas Map (1569-1590, pub. 1631)
Sketch of the Swan Theatre, c. 1596
Westminster in the Seventeenth Century, by Hollar
Visscher's Panoramic View of London, 1616. COLOR