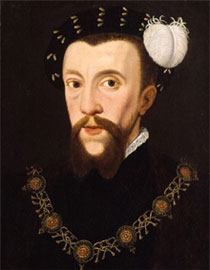 Henry Howard, Earl of Surrey: Quotes
And lo! moist night now from the welkin falls;
And stars declining counsel us to rest.



— Aeneid, Bk 2


Good Troyans! give no trust
Unto this horse; for what so ever it be,
I dread the Greeks; yea! when they offer gifts.



— Aeneid, Bk 2


The first sleep creeps most sweet in weary folks.



— Aeneid, Bk 2


Wrath pricked us forth; and unto us it seemed
A seemly thing to die, armed in the field.



— Aeneid, Bk 2


To vanquished folk, despair is only hope.



— Aeneid, Bk 2


Ay me! bootless it is for any wight
To hope on aught against will of the gods.



— Aeneid, Bk 2


Aurora now from Titan's purple bed
With new daylight had overspread the earth.



— Aeneid, Bk 4


Like as the roaring waves the sunken ship surround,
Great heaps of care did swallow me, and I no succour found.



— 'Paraphrase of Psalm 88'


The winter's hurt recovers with the warm;
The parched green restored is with shade;
What warmth, alas! may serve for to disarm
The frozen heart, that mine in flame hath made?



— 'Description of the Restless State, &c.'


I know, and can by rote the tale that I would tell;
But oft the words come forth awry of him that loveth well.



— 'Description of the Fickle Afflictions, &c.'


And to thy health, if thou were sick in any case,
Nothing more good than in the spring the air to feel a space.



— 'Complaint of a Lover that Defied Love, &c.'


Sweet is his death, that takes his end by love.



— 'Complaint of a Lover Rebuked'


For my sweet thoughts sometime do pleasure bring;
But by and by, the cause of my disease
Gives me a pang, that inwardly doth sting,
When that I think what grief it is again,
To live and lack the thing should rid my pain.



— 'A Complaint by Night of the Lover, &c.'


To other lief; but unto me most dear.



— 'Prisoned in Windsor'


But happy is that man
That scaped hath the grief,
That love well teach him can,
By wanting his relief.



— 'The Forsaken Lover Describeth, &c.'


The nigher my comfort is to me,
Alas! the fresher is my wound.



— 'The Lover Describeth his Restless State'


Such as I was, such will I be;
Your own; what would ye more of me?



— 'A Constant Lover Lamenteth'


Truss up thy pack, and trudge from me to every little boy;
And tell them thus from me; their time most happy is,
If, to their time, they reason had, to know the truth of this.



— 'How No Age is Content'



---
| | |
| --- | --- |
| | to Henry Howard |

Site copyright ©1996-2009 Anniina Jokinen. All rights reserved.
Created by Anniina Jokinen on September 1, 2009. Last updated January 2, 2019.








The Tudors

King Henry VII
Elizabeth of York

King Henry VIII
Queen Catherine of Aragon
Queen Anne Boleyn
Queen Jane Seymour
Queen Anne of Cleves
Queen Catherine Howard
Queen Katherine Parr

King Edward VI
Lady Jane Grey
Queen Mary I
Queen Elizabeth I


Renaissance English Writers
Bishop John Fisher
William Tyndale
Sir Thomas More
John Heywood
Thomas Sackville
John Bale
Nicholas Udall
John Skelton
Sir Thomas Wyatt
Henry Howard
Hugh Latimer
Thomas Cranmer
Roger Ascham
Sir Thomas Hoby
John Foxe
George Gascoigne
John Lyly
Thomas Nashe
Sir Philip Sidney
Edmund Spenser
Richard Hooker
Robert Southwell
Robert Greene
George Peele
Thomas Kyd
Edward de Vere
Christopher Marlowe
Anthony Munday
Sir Walter Ralegh
Thomas Hariot
Thomas Campion
Mary Sidney Herbert
Sir John Davies
Samuel Daniel
Michael Drayton
Fulke Greville
Emilia Lanyer
William Shakespeare


Persons of Interest
Visit Encyclopedia


Historical Events
Field of the Cloth of Gold, 1520
Pilgrimage of Grace, 1536
The Babington Plot, 1586
The Spanish Armada, 1588


Elizabethan Theatre
See section
English Renaissance Drama


Images of London:
London in the time of Henry VII. MS. Roy. 16 F. ii.
London, 1510, the earliest view in print
Map of England from Saxton's Descriptio Angliae, 1579
Location Map of Elizabethan London
Plan of the Bankside, Southwark, in Shakespeare's time
Detail of Norden's Map of the Bankside, 1593
Bull and Bear Baiting Rings from the Agas Map (1569-1590, pub. 1631)
Sketch of the Swan Theatre, c. 1596
Westminster in the Seventeenth Century, by Hollar
Visscher's Panoramic View of London, 1616. COLOR