The Life of John Skelton (c.1460-1529)
"[Skelton] is so much more than the brilliant eccentric
for which we are apt to mistake him. He is perhaps
the most considerable poet between Chaucer and
Spenser and comes at the point of intersection
between the medieval and the humanist traditions."
— Maurice Evans1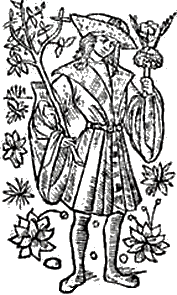 Of Skelton's date or location of birth, there is no certainty. He was born in the early 1460s and his family may have originated in Yorkshire. He begun his education at the University of Cambridge, from whence he moved to the University of Oxford. He was advanced to the title of 'poet laureate' (a higher degree in rhetoric) at Oxford in 1488. The title of laureate was also conferred on him by the University of Louvain in 1492, and by Cambridge in 1493.

Gaining fame as a rhetorician and a translator, Skelton entered into the service of Henry VII in late 1488. The first work that can reliably be attributed to him is the Elegy on the Death of the Earl of Northumberland (1489). By this time, he had also completed his translation of Diodorus Siculus. Skelton became tutor to Prince Henry, later King Henry VIII, and served in this capacity from 1496 to 1501. Skelton wrote a book on pedagogy, entitled Speculum Principis (1501). This was one of many books of pedagogy written by Skelton, but the rest are since lost.

In 1498, Skelton was consecutively ordained subdeacon, deacon, and priest of the Abbey of St. Mary Grace. In the autumn of the same year, Skelton wrote The Bowge of Courte (rewards of court), a satire of court politics, printed in 1499 by Wynken de Worde. In 1501-1502 Skelton was involved in court disputes which led to a brief imprisonment for delinquency in a debt.

Skelton retired about 1503 and became rector of the parish church in Diss, Norfolk, as the reward for his services. He stayed in residence there until 1512. Around 1505, Skelton wrote Phyllyp Sparrowe, the lament of a young woman for her pet bird. In 1509, Skelton wrote 'A Lawde and Prayse Made for Our Souereigne Lord the Kyng' and in 1512 an elegy in Latin for Henry VII at the request of the abbot of Westminster.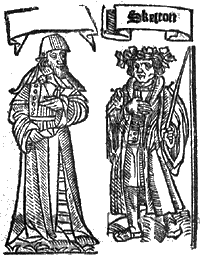 In 1512 he returned to court, and received the title 'Orator regius', King's Orator, from Henry VIII. In the following years he wrote several poems on the defeat of the French, the Scots, and James IV. The only surviving dramatic work by Skelton, Magnyfycence, was written sometime around 1515-16. He began his attacks on Cardinal Wolsey shortly after 1518. These included Speak, Parrot (1521?), Colin Clout (1521-22), and Why Come Ye Not to Court? (1522). Skelton's apologetic and autobiographical The Garland of Laurel (1523) appeared after he had made peace with Wolsey. In it, Skelton lists many works written by himself, which appear to have been lost. Skelton's last poem, A Replycacion (1527), is a rebuke against two Cambridge graduates for succumbing to heretical opinions.

Skelton died peacefully on 21 June 1529, the day that Catherine of Aragon pleaded before King Henry VIII. The tradition that he died in sanctuary at Westminster cannot be proved. He was buried in St. Margaret's Church, Westminster, with a 'Ryngyng off knylles and pealles'.2





Evans, Maurice. "John Skelton and early Tudor Poetry. English Poetry in the Sixteenth Century.
New York: W. W. Norton & Company, Inc., 1967. 39-60.

Kinsman, Robert S. "Biographical and Textual Note". John Skelton: Poems.
Oxford: Oxford University Press, 1969. xxi.

Bibliography
Bevington, David. "Skelton and the Old Aristocracy."
Tudor Drama and Politics: A Critical Approach to Topical Meaning.
Cambridge, MA: Harvard UP, 1968. 54-63.

Edwards, Anthony S. G., Ed. John Skelton: The Critical Heritage
London; Boston: Routledge & Kegan Paul, 1981.

Edwards, H.L.R. Skelton, The Life And Times Of An Early Tudor Poet.
Freeport, N.Y.: Books for Libraries Press, 1971. (Repr. Serv. Corp. 1999)

Evans, Maurice. "John Skelton and early Tudor Poetry. English Poetry in the Sixteenth Century.
New York: W. W. Norton & Company, Inc., 1967. 39-60.

Kinney, Arthur F. John Skelton, Priest as Poet: Seasons of Discovery.
Chapel Hill : University of North Carolina Press, 1987.

Norland, Howard B. "Skelton's Magnificence." Drama in Early Tudor Britain, 1485-1558.
Lincoln, NB: U of Nebraska P, 1995. 175-187.

Walker, Greg. "A Domestic Drama: John Skelton's Magnyfycence and the Royal Household."
Plays of Persuasion: Drama and Politics and the Court of Henry VIII.
Cambridge: Cambridge UP, 1991. 60-101.

---

To cite this article:
Jokinen, Anniina. "The Life of John Skelton." Luminarium.
7 Feb 2007. [Date you accessed this article].
<http://www.luminarium.org/renlit/skelbio.htm>
---
| | |
| --- | --- |
| | to John Skelton |



Site copyright ©1996-2019 Anniina Jokinen. All Rights Reserved.
Created by Anniina Jokinen on May 31, 1996. Last updated January 30, 2019.





The Tudors

King Henry VII
Elizabeth of York

King Henry VIII
Queen Catherine of Aragon
Queen Anne Boleyn
Queen Jane Seymour
Queen Anne of Cleves
Queen Catherine Howard
Queen Katherine Parr

King Edward VI
Lady Jane Grey
Queen Mary I
Queen Elizabeth I


Renaissance English Writers
Bishop John Fisher
William Tyndale
Sir Thomas More
John Heywood
Thomas Sackville
John Bale
Nicholas Udall
John Skelton
Sir Thomas Wyatt
Henry Howard
Hugh Latimer
Thomas Cranmer
Roger Ascham
Sir Thomas Hoby
John Foxe
George Gascoigne
John Lyly
Thomas Nashe
Sir Philip Sidney
Edmund Spenser
Richard Hooker
Robert Southwell
Robert Greene
George Peele
Thomas Kyd
Edward de Vere
Christopher Marlowe
Anthony Munday
Sir Walter Ralegh
Thomas Hariot
Thomas Campion
Mary Sidney Herbert
Sir John Davies
Samuel Daniel
Michael Drayton
Fulke Greville
Emilia Lanyer
William Shakespeare


Persons of Interest
Visit Encyclopedia


Historical Events
Field of the Cloth of Gold, 1520
Pilgrimage of Grace, 1536
The Babington Plot, 1586
The Spanish Armada, 1588


Elizabethan Theatre
See section
English Renaissance Drama


Images of London:
London in the time of Henry VII. MS. Roy. 16 F. ii.
London, 1510, the earliest view in print
Map of England from Saxton's Descriptio Angliae, 1579
Location Map of Elizabethan London
Plan of the Bankside, Southwark, in Shakespeare's time
Detail of Norden's Map of the Bankside, 1593
Bull and Bear Baiting Rings from the Agas Map (1569-1590, pub. 1631)
Sketch of the Swan Theatre, c. 1596
Westminster in the Seventeenth Century, by Hollar
Visscher's Panoramic View of London, 1616. COLOR